Custom Menu E1-E3 & F
John Greengo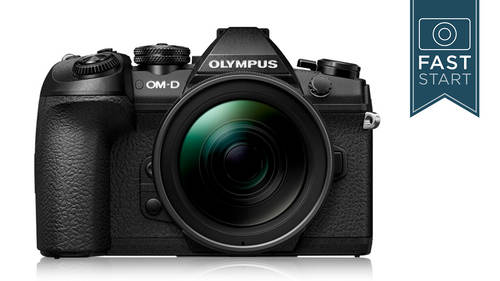 Custom Menu E1-E3 & F
John Greengo
Lesson Info
26. Custom Menu E1-E3 & F
The E menu adjusts different exposure parameters -- learn how to correct your metering if necessary, how to adjust the number of settings available for ISO and exposure compensation, and how to adjust the parameters of the auto ISO option. Then, dive into the F or flash custom menu.
Lesson Info
Custom Menu E1-E3 & F
Alright, Rhonda E. Dealing with exposure. Exposure shift gets us into a sub-menu here. So, if your light meter, your Digital ESP meter is not quite right, you find that you need to underexpose or overexpose everything, you can come in here and tweak it. You will not see this result at any other display in the camera. So my hope, and my prediction, is that you will not need this. This is if something has gone wrong with the camera and you need to adjust the exposure setting. Now, if you need to adjust it on Center Weighted or Spot, you can do it on all of these. I hope and predict you will not need this feature at all, but it can be done. It's the same thing as doing Exposure Compensation. It just won't be visible in the rest of the aspects of the camera. The exposure steps. You can do 1/3, 1/2, or full stop Evs. Normally, the camera is set to third stop, so that you can be as precise as possible, but if you have other devices that you're trying to match things up with, or you just want...
less clicks of the dial to get from one setting to the other, you can adjust this to a different setting. So that's EV steps for shutter speeds, apertures, and here we have one for ISOs. You can have 1/3 stops on the ISOs. I know some people who have taken off the 1/3 stops on the ISOs so that they can change ISOs more quickly, because they don't really need every single 1/3 stop on there. Alright, next up, dealing with the automatic ISO. We get into a little sub-menu in here. If you are gonna use auto ISO, you can define what is the default setting where the camera tries to shoot at and what is the upper limit. The camera starts losing a lot of image quality around 6400 or so, so 3200 to 6400 would be a pretty common number to put in here, as far as the upper limit when it comes to what you want the ISO to go to. What do you want for the lowest shutter speed? Now, you can set this at auto, where the camera will basically look at the lens and the focal length that you're at and set a reciprocal of that for the shutter speed. So if you're using a 25mm lens, it'll try to use around 1/25 of a second. You can go in and you can specifically set a specific second. So if you have, oh you're shooting action, and you want 500th of a second, you can say it needs to be at 500ths of a second or faster when you are using the auto ISO. That's the shutter speed that would trigger it to go up to a higher ISO to get a proper exposure. So, where do you want to use auto ISO? I've never seen another camera that has this feature on it, I don't know why it's here, it doesn't make a lot of sense to me, you can either have it only available in the program aperture and shutter priority modes, or you can have it available in all. I just like to have as many options as possible, so I say set it in all. Alright, so there's an automatic Noise Filter, that is put in when you shoot JPEG images and shoot at high ISOs. I wanted to take a look at what this does to the image. So when at ISO 3200 shooting a JPEG, using the low, standard, and high filter, one of the things that it does is it starts muddying the waters and it starts losing some of the detail but it is a cleaner image. Now you can, of course, shoot a JPEG image and fix it in post production, and do as good a job as the camera can handle. So this is just for people who wanna tweak their JPEGs, I would say you're probably fine leaving it on standard, and you can tweak it up or down a little bit from there, or you can completely turn it off if you want to do that sort of work yourself. Up at 12800, where you're going to get lots of noise, you're gonna get less sharpness by setting it to high, but you're gonna get less noise, so there's a real compromise, and you're gonna be the best judge as to what the best compromise for you is. Now, you're not gonna really have this issue when it comes to RAW images, because you're getting the straight information and that requires you to work in post-production. If you are willing to go through the time and effort to do it yourself, you're almost always gonna be able to do a better job than what the camera does immediately in the camera. Alright, next up is a different Noise Filter, and this one deals with long exposure. So this is, once again, for JPEG images only. So I wanted to give this a test out, so I shot a 30 second exposure and I turned the Noise Reduction on and off, and I had to do a lot of checking to make sure that I actually ran the test, because I couldn't see any difference. It just doesn't do much at all. Its a feature that I really can't recommend unless you see that it works with something that you do. The downside to this is what happens when you shoot a 30 second exposure, it then is processing that image for another 30 seconds and prevents you from shooting another image. In all the tests I've done, I have seen either no, or visually no difference. No important difference between those images. So, that is something that I would definitely recommend turning off unless you found some circumstance that I haven't found, where it does a good job for you. It just seems to waste time in my opinion. Alright, E2. Working our way through these Bulb settings. So what do you want to be the longest setting available in the Bulb mode? You can do up to a 30 minute exposure, but to be honest with you, I probably don't recommend using this camera longer than 15 minutes, just because that's a long time to leave that sensor turned on and for it to be heated up. You can go up to 30 minutes, so apparently it's perfectly fine. I like to do night time photography, but about the longest I've ever done is around 8 minutes. The digital sensors just get a lot of noise when it's been open for that length of time. The Bulb Time Monitor. This is going to adjust the brightness of the viewfinder. If you are shooting in the Bulb mode, you might be in a very dark environment and you don't want a really bright screen on the back of the camera, either destroying your night vision, or disturbing others around you, and so it's potential that you might want to darken that so it's just barely visible and that you can only see it when it's really, really dark outside. Live Bulb. In this case, the camera will build it's exposure as you're watching it. This is one of the coolest things that you will have seen since the days you were in the dark room developing. If you remember going into the dark room and putting that print in the develop bath and then watching it slowly come out like a Polaroid image develop, you get to see Live Bulb on the back of the camera. You get to see your image develop for you and if you're holding down on the cable release, or the shutter release, you can just simply say, ah, a little dark, a little more brightness, come on, come on, come on, okay there you go, and then you take your finger off the shutter, and that's your image. You get to see it exactly developing in front of you. But in order to do this, it kind of works in short spurts. It shows you a little bit of the image, and then a little bit brighter. It's not a totally smooth curve, it's kind of stair-stepped. How big of stair steps do you want? One second, two seconds, four seconds. I've found two second interval is pretty good for a lot of night time photography. It depends a little bit on what you do, but it's a good starting point. Live Time mode is the same as the Live Bulb mode, but the only difference is in the time mode. You press once to start, and then once to stop as opposed to holding your finger down on the button for the entire time. Composite Settings. We talked a little bit before about the Composite. Just real quickly again, if you're shooting a long exposure or a 60 second exposure, what the camera is actually doing in the right hand photo, is it takes an 8 second exposure, stores it, takes another 8 second exposure, and says, hey, what's really dark, or what's really bright? If it's really bright, it looks for other areas to kind of combine with it. So it's a composite of a bunch of slow shutter speeds trying to brighten up all the darkest areas on it. It's an interesting one to try if you're into night time photography. It'll work for some things, and not great for other things. But play around with it. Once again, it kind of builds that image in steps, and you can choose how big are those steps, anywhere from 1/2 second to 60 seconds in size. That'll vary according to what you're doing. We have the different Metering modes that you can choose, and we've seen this a couple times before because it's in other places on the camera. Auto Exposure Lock Metering. So, when you press the AEL button on the back of the camera, that locks the exposure or the focus, depending on how the camera is set up and how you have that button set up. And so, if you have this set to auto, whatever metering mode you have selected is the one that it'll use when you press that button. But if you want, you could have it automatically switch to the spot metering mode, or the center weighted, or one of the other ones in there. So you can have that as that button, as kind of a one press metering override for everything that you're doing. Next up, Spot Metering. Folks, I gotta tell ya. I worked long and hard trying to figure out exactly what this means. I thought I knew what it meant, and then last night I realized I didn't know what it meant, and then I went on the internet and I started Googling. I Googled everything, and there's like a guy who is like the expert in Olympus, and he didn't explain it right. And then I ended up on the DP review forums going through all the comments from people, and nobody there really knew what this did. And so what this does, if I can remember now, is it links your focusing point to your metering point. Okay? So when you select one point of focus, that's gonna be your spot focusing area. So you could spot focus on the left, or the right, or anywhere you want on the frame. Now why we have three check boxes, is, do you want it to link to a spot metering system when you're using these different modes? And so, if you said, I want it to link when I use the spot mode, but not the spot highlight and spot shadow mode, you would check it off as we have here with just the spot mode. And so, if you're the type of person that uses all three of those metering modes, you'd wanna check off all three of those and any time you're using those and that single point it's going to link your focusing point and your metering point in the same place. If you said, no, the only time I wanna link focusing points is in spot shadow, that is the only one that you would wanna have checked off. And so it links the spot focusing with the focusing point of the metering system. Most people don't use the spot highlight and spot shadow very often, which is why I kind of recommend yeah, you might wanna do the spot metering, that's kind of nice, it's kind of handy to be able to take that spot meter and use those focusing points, that box, and move it around the frame. It's a challenging one to figure out because I read the instruction manual 20 times last night trying to figure it out and it didn't make sense until I figured out I, okay, I think I see what they're saying now. Experiment around with that if you're into spot metering. Next up, flash. Flash custom modes. The top sync speed is 1/250th of a second. You can set something slower if you want. I'd probably set it to the top speed. Next up, is what's the slowest limit that you would like to use when the camera has a choice of shutter speeds? Here is where you get to grade yourself. This is an at home test, how good are you at holding the camera steady? I would say an average newcomer photographer should probably set it to 1/60th of a second. But somebody who's really rock solid and steady at holding the camera, especially with the stabilization system, could probably very easily get away with an eighth of a second, which will allow you many options when you get into the world of flash using those slower shutter speeds. Next up is combining flash exposure with exposure compensation. For somebody new to photography, this gets into a very complicated area of photography working with both of these at the same time. If you turn this on, the camera will simply make your images a little bit wider and a little bit darker when you use the exposure compensation system. The more advanced photographers are gonna wanna have individual control for the flash and the exposure. In that case, you would turn it off for a more advanced user who's gonna make those subtle adjustments themselves. When you put it in the flash, do you want the camera to automatically go into the white balance, and flip it over into the flash mode. Some people are like, yeah, if I use the flash, put it in the flash white balance mode. Serious photographers may want to be playing around with gels or mixed lighting, and they may not want their camera changing white balance on them every time they turn the flash on but not when they turn it off.
Class Materials
Olympus EM1II Recommended Settings
Ratings and Reviews
This is exactly what I was looking for - I really feel like I'm not able to control my camera, rather than the camera controlling me! :) I really learned a great deal - some of it was a great review, some of it was crucial information that will (hopefully) make me a better photographer. Thanks for a great class, John!!
Great and very informative class.... John has done a fabulous job explaining all the simple and intricate details of the very sophisticated EM1 II. Thank you !!!
This is a great course on learning about the OM-D E-M1 Mark II. I have watched it many times to get to were I know it by memory the best I can. I like to go over it as much as possible because there is a lot to learn. I do wish that John would do an updated version since now it is up to Firmware 3.1. It is like a whole new camera with the new settings.
Student Work