Advanced Portrait Retouching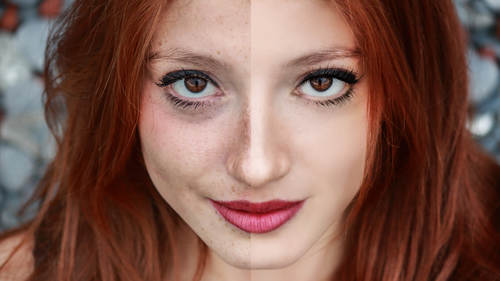 Advanced Portrait Retouching
Lesson Info
Add, Subtract & Paint Hair
So, what I want to tell you first, is that cross-hairs which are part of the hair conversation, I just want to remind you that I do cross-hairs in the beginning in the spotting phase, and I've found, I did not find, someone found the F key for me, so I know that my F key is, so I just wanted to let you know, you can do cross-hairs with F keys, and I do it at the beginning other folks do it at the end, but can we talk about that for a second? If you were to do it at the end, where would you do it and how would you do it? It's a little challenging, for me, for this kind of job flow, the only other recommendation I have, if you're gonna do cross-hairs, and it's not the end, I mean, excuse me, it's not at the beginning, and you want to do it earlier, is, you could do it on the gray layer, the gray layer, the frequency separation and you could do that circle, with the lasso tool and my F key has it at F1. Do you see that? I'm gonna hide the marching ants, just for a second so you can see it...
, and I hit my F key, and there it went, so that is the work around, if someone wants it, if you don't do fly-aways at the beginning you could do it on the gray layer of the frequency separation. That presumes you're doing frequency separation, though, okay otherwise you have to hand-clone it out, on a separate layer. Alright, so let's talk about hair. Hair, glorious hair! I don't know what's going on here. I'm not sure we should keep it, I'm gonna suggest we get rid of it. How I like to get rid of outside hair, is I'd rather not, I would rather not hand-clone or hand-retouch all that out. So what I like to do is, I like to take the background and clone it in, so I take with a very large brush, clone tool, I'm on top, and I click here, I definitely want to have, either, if it's a flat file, current layer, or current below, as we've discussed earlier, I prefer to work on a flat file, it's just my way, you could do it any way you want. And you just option, click, and you bring your edging in, you may get some halo-ing, we talked about that, sometimes I have to go back after I finish this job and clean up that tone, because I might have a little bit of a halo, you could do it later. I like to work in broad strokes, and then come back in and adjust. And then what I do, is, I mask it. I mask it out, and I have this philosophy, where I think when you're masking out the hair, you don't have to do it that tight, you really don't. Do a rough edge. I see so many people really struggling to get a perfect hair edge, and, I've been doing this a long time, I have a hard time getting a perfect hair edge. So, what I find it's easier to do is, mask it out, kind of close, but a little loose, and then paint hair edges in. Paint hair edges in. So, rather than try to mask that, forget it. I mean, forget it, it's going to be crazy. Plus, her hair is already, like, sweet jesus, it's already going, uh, sir, no offense, it's already going all over the place here. I would much rather make a, kind of, more cookie-cutter hair edge, and then paint it in. Now, these hairs are still a little bit sharp, so when I finally paint all the hair, what I would probably do, is blur that layer down, Gaussian Blur, just a little tiny, tiny bit, like a 0. take it down, take it down now. Before, after, before, after. But it makes a difference. Hair, there's a whole workshop on hair, hair is a thing. It is a thing, but please don't be afraid to paint hair, yes, ma'am? So, are you saying that hair on the outside is, like, a separate file that you brought in, or is that her own hair that you just merged over? I'm sorry, you mean, let me see if I, that is her file, that is the original. Yeah, but when you get rid of that, and there's just the little, tiny hairs on the side Oh, I painted this, honey. I just, literally painted it. That's a great question, thank you for asking it. Okay, so, here I am, I'm gonna paint some hair, and I'd like to talk to you a little bit about my philosophy, about painting hair, because it's hard, hair is hard. There's no question about it. How I like to paint hair, is, I like about a two pixel brush, one or two pixel brush, I do not have it on transfer, I have it on Shape Dynamics, Pen Pressure, can I take another moment to say, you must, you must, you must have a tablet. It's absolutely mandatory, because you can not paint hair with a mouse. I select the color, some people like to paint at a different opacity, I paint anywhere from a 35 opacity brush, oh my god, what did I just do? 30 per cent opacity brush, sorry, I just hit delete three times, or, a 50 per cent opacity brush, 75, 77, whatever you want, it doesn't really matter. And, I'm gonna go here, I'm on my Paint Brush, You know what, so that you can see it on the screen, I'm gonna paint at an 80 per cent brush, I hit the return key, I option-click to start selecting some of the hair color, I'm gonna take a moment to say, please, ladies and gentlemen turn off any color correction. Please turn off any color correction, when you are painting hair, you do not want your color correction on. Why, because I am sampling colors. I'll make the brush a little bigger just so you can see it, for this demo. You just start painting. And not only are you guys gonna start painting, what you're gonna do, is you're gonna do a Tauser layer. What does that mean? That means you are gonna do a layer, I'm option-clicking as fast as I can, I'm getting, you ever do gesture drawing, in college, or in art class? (exhaling) (light audience laughing) That's what you're gonna do. You're gonna be relaxed, you're gonna follow her hair. I did this for about five or six minutes, I go like that, I hit the delete key, I do paint hair, and now I go. (light audience laughing) And I'm not kidding, it is the trick of the trade. Give yourself a minute, five minutes to do a gesture drawing to sample, to loosen up, because otherwise, you're gonna be like, I'm drawing hair, and it's gonna look ridiculous. (audience laughing) I kid you not. This way, it means you've got your file down, you know what I'm saying? You got the vibe down. I will tell you, I have, on occasion taken a hairline from someone else's shot, clients will tell you what kind of hair they're looking for, and I've put it over the shot, the file, and merged and worked it, to get it basically in shape, and I've put it at 50 per cent opacity, so I can see it, and I draw over the hair. So, I use it as a guide. Because, I gotta tell you, the whole decision about what do you do, poof, do you not do a poof, do they want it straight out, do they want this? I don't know! So, it's a way for you to have a guide, to draw. Hair is hard, if you're at home, if you're here and you're struggling, you're gonna struggle, it's okay, but you will get there, it's a hand gesture thing. It's a hand tool thing. And, I wanna take this moment to talk about, in this class, we mentioned, 'we', the royal 'we', mentioned this at the beginning, that this is a process class. This is not, like, oh, there's some information, how do you do a color curve, okay got it, now I'm gonna do it and it's gonna be perfect! This is a process. You're gonna try this, your hand's gonna be clunky, you're gonna forget what the controls were, you're gonna have to give yourself some time to get used to this process, and you're gonna suck, for a while, okay? Feel free to suck, for a while, at it, and be bad. And then, I promise, you will get good. I have, on occasion, sucked so badly that I had to hire someone else to do my hair. It's happened. I don't like to admit it. So, sometimes it's gonna be outside your wheel house, and, if that's the case, get some help. Also, sometimes, you're just too tired. And if you just leave it, and go out, and have dinner, have a bottle of wine, glass of wine, go for a jog and come back, you will be amazed at how much, (audience laughing) I'm not kidding, at how much better you'll be when you get back. So, that happens a lot, with hair.
Class Description
Consistently make the people in your portraits shine by knowing exactly how and what to enhance or alter when retouching. Lisa Carney is back with the ultimate portrait retouching class. She will dive into working with a variety of skin tones, facial hair, body shaping, and clothing. No matter the person, lighting or portrait - this class will help show you how to enhance it in your post-processing. She'll explain how to:
Prioritize your workflow
Use the clone/heal tools
Match skin tones
Work with lighting/shadows and volume
Lisa is one of the best retouchers on the Hollywood scene and will be sharing her professional insight into how she approaches workflow and technique to create amazing portraits.
Software Used: Adobe Photoshop CC 2017.1.0