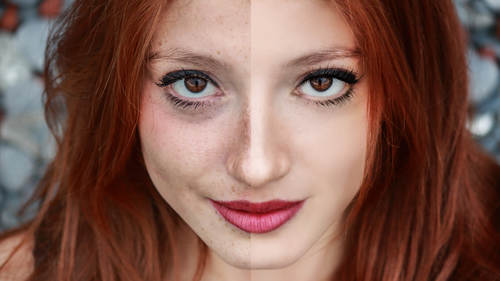 Advanced Portrait Retouching
Lesson Info
Sharpen the Eye Details
Next is sharpening. We did not cover sharpening, so let's talk about sharpening for eyes. Again, it's the same conversation as before, only something different. So sharpening, when you want to add a little bit of detail into the eye area, into the iris, this is really common to do. How you do it is, well heckfire, do you remember that Linear Light thing we did for our Frequency Separation, and chances are you're gonna use Frequency Separation, all you have to do is do a command, I mean pardon me, make a square selection around the eye, command + C to copy, go back, higher up, you want to put this in a separate folder, command + v to paste. There is your gray layer, and do you remmeber when we were doing Frequency Separation and I'd made the copy of the gray layer, and it looked like she, like ahhh, she was all out of the sun, like crazy looking, because Linear Light, makes things crunchy and contrasty, which is terrible on the skin and absolutely beautiful on the iris. So for eye sharp...
ening, copy the Frequency Separation gray, and mask it in. I'm gonna show you a different way of doing that as well, in case you are not a Frequency Separation user, I won't hold it against you. Paint it in. Again, please watch out for the hammock, because what looks good on the screen is not gonna look good on print, most people overdo this. Chances are you're gonna want to have it at minimum, 50% opacity, if not 25%, if not 25%, okay. As a general rule in my work it seems to want to live around 25%, depends on what you're doing, what your file size is, okay. Let's say you're not pleased with the idea of Frequency Separation, and that's all right. As I said, I will not hold it against you. An alternate way of doing the exact same thing is to merge everything you see, merge everything you see. I want to call attention to the fact, there are no color corrections on this file, there are no color corrections on this file, I always leave my color corrections on the top, whenever possible, and I have them turned off when I'm doing retouching. That's because the client may change the color, the usage might change the color, so that's why you don't even see it in this file. I'm gonna merge everything up on to a layer, command + option + shift + E on a Macintosh, otherwise it's under here somewhere. Merge all visible on to a top layer. I'm going to go to that $500 filter I mentioned before, the High Pass filter. It's under Filter, Other, High Pass. I always, it's almost without fail, 1.5. You can write that number down ans take it to the bank, 1.5. Not 10, not 20, not something crazy, 1.5. I don't know why that is but that's, in my life, that's what works well. Linear light, bada bing, bada boonm. We don't want it on the whole file, so we're gonna option click on the mask, option click on Add a Layer Mask, and that's gonna give you a black mask, and then like I always said, you always have a black mask, and you always paint it in and the reason you do that, is your brush is where you are looking and you won't accidentally have this crazy ass sharpening all around the edge that you didn't see. Always have a black mask, cool? All right, so let's go to the next stage. We are sharpening, we are sharpening fools. Often you will have to sharpen an eyebrow, happens all the time. I don't know what it is about eyebrows, they need a little bit of sharpening, and rather than painting them, I often like to try to do the eyebrow sharpen. Ladies and Gentlemen, it's the exact same process. It is that Linear Light, you either do the High Pass we just did or you take it from your Frequency Separation, it doesn't matter, it's the exact same thing, and equally it's the same thing, you're gonna be hand fisted on it. So rather than 100%, maybe 50, maybe 25, cool? Awesome possum. The ubiquitous overlay detail on the eyes. So this one, what I've done on this one, 'cause I think she had enough shadow, I'm gonna put a gray there. All I did was a crescent in the iris outline, because she already had enough of the shadow. You can also do this separate because you're not sure if the client wants that shadow, and it's a little bit of a pain in the butt to erase it well, 'cause sometimes, most times, when I do this, my brush is got a big spray to it, and than if you're trying to mask it, you end up getting a cut line, and it doesn't look too pretty. Eyelashes painted, If you like 'em, if you don't, use that brush that we love. Those brushes, their worth the $3.00, I assure you, absolutely worth the $3.00, and put the back fill on it, and there you're done.
Class Description
Consistently make the people in your portraits shine by knowing exactly how and what to enhance or alter when retouching. Lisa Carney is back with the ultimate portrait retouching class. She will dive into working with a variety of skin tones, facial hair, body shaping, and clothing. No matter the person, lighting or portrait - this class will help show you how to enhance it in your post-processing. She'll explain how to:
Prioritize your workflow
Use the clone/heal tools
Match skin tones
Work with lighting/shadows and volume
Lisa is one of the best retouchers on the Hollywood scene and will be sharing her professional insight into how she approaches workflow and technique to create amazing portraits.
Software Used: Adobe Photoshop CC 2017.1.0