Body Shaping: Liquify Tool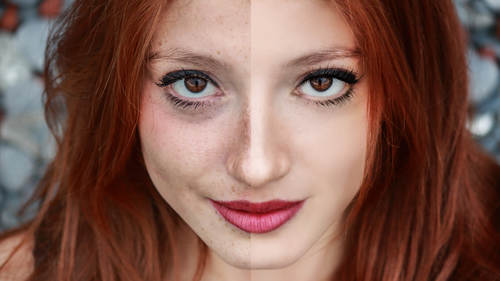 Advanced Portrait Retouching
Lesson Info
Body Shaping: Liquify Tool
Okay, now I'm gonna talk about more aggressive body shaping, and again, I really, really, really like to be clear about this, I am not judging how something should look, this is just some ideas in case you need to do it, and I wanna talk about doing this in a flexible way. I'm gonna go ahead and put her color curves on, and let's just say this file is good as is, client has signed off on this we think. We'll go ahead and take the purple off, and we think is what we've got going on, all right? Actually, that, and now we think we have to do some body shaping, but we're not entirely sure what the client wants, the client is not sure. Body shaping is a really tough nugget. It is really hard because there's so many different ideas of what people's shape should be, and I have clients who go way too far, and I'm like, oh, okay, okay, but I wanna be able to go backwards, and I don't wanna have to redo the job, so what I'm gonna suggest, I'm gonna show you a couple body shaping techniques, and ...
then I'm gonna suggest a way that you could do it that's malleable. So just for the demo, I'm gonna merge all of this up. Body shape, it's really basic body shaping, since it's really a portrait class, and with body shaping you're not gonna have to do much. Let's run through a couple of ways you can do body shaping. All right, let's say you wanna tuck the waist in just a hair, what you can do is on a merge layer, you can select just the waist area, and you can go to liquefy, and you can then have that one area selected. You can take the smudge brush. I do not do a lot of this, by the way. I try to very gently not do too much body shaping. I think in fashion you do more body shaping than in entertainment. So this is just a little tiny little tuck. You could've done this with the mask, but if you do this with the actual figure, what happens is the wrap around light goes with it. So if you have a really nice rim light, and you tuck this in, you don't have to redraw the rim light, it goes with it. So it's really handy, it's just questionable, but since it's questionable, let us try something different, my friends. Let's make a smart object, and let's go to liquefy, and let's zoom in, and let's go, okay, let's tuck that in, just a hair. Can we do that? I'm gonna tuck it in a bit too much, just so you can see it. All right, I think it looks terrible, but if that's what you want, who am I to say? I'll take the paycheck. Two days later, oh, can we get a little lift or flare to the skirt? You can double click on that liquefy, and come in, those romance dresses, you can see it now, oh, nice and flowing. The great thing is, it's all on a code, a smart object. I can turn that off and on. So now I merged everything up, and did it on a single file, that is because I would rather do that than have this entire file saved as a smart object that opens and closes, opens and closes. So I prefer to do it in one, on one layer. Do you remember I told you my files crash a lot when there's too many items? One of the problems I think it is is when they open smart object, that smart object is too heavy, there's too much stuff in it, and the computer gacks. So if you're working on a lower res file, this is not a bad idea. When I do this on huge files, what I will do is I will actually pull that original out into a separate file, I will have some kind of name, like master body shape whip one a, I will pull this out, I will save it out to a new file, I will save it as master file one a body shape, and I make sure the layer is the name of the fully layered file, that way I know it came from master body shape, I know that this file is adjusted, and if I have to go back, there's my fully layered file. Do you understand? I save it out in two separate files. I have too many files where the job you've worked for too long crashes, and it's a nightmare. This is a little bit of a organizational trick. If you're working at home, if you have smaller files, you can keep it all in the same file, you'll be totally cool. For those of you who want to start doing compositing, this is definitely how you wanna start working. Do all your retouching in a single file, all of your retouching, and then do your compositing. So entertainment, gaming, let's talk about that for a second. I will do, let's take an X-Men job, you've got all those full characters. I will have a file very much like this, fully retouched, layered, massed, on it's own, it's got its file name. I will merge that all up into a single layer, name it with that layered file name, and I will then drag that into the composite as a smart object. If they come back, and say, hey, can you make that dress purple? I will say, or lighter, or darker, I'm just gonna change this in whatever way I change it here. Let's say they want this instead, absolutely, I can totally do that, and then I merge it all over again, send it over to the file, if it needs to be a smart object, I make it a smart object, attach that smart object filter, there's the waistband. There you go, I'm done. Oh, don't forget that you have to make the name, and this one wouldn't be one a, would it? Because it got changed. This would probably be two a, because the client had a revision. So I'm talking about a work production thing. I think this is really, really, really important.
Class Description
Consistently make the people in your portraits shine by knowing exactly how and what to enhance or alter when retouching. Lisa Carney is back with the ultimate portrait retouching class. She will dive into working with a variety of skin tones, facial hair, body shaping, and clothing. No matter the person, lighting or portrait - this class will help show you how to enhance it in your post-processing. She'll explain how to:
Prioritize your workflow
Use the clone/heal tools
Match skin tones
Work with lighting/shadows and volume
Lisa is one of the best retouchers on the Hollywood scene and will be sharing her professional insight into how she approaches workflow and technique to create amazing portraits.
Software Used: Adobe Photoshop CC 2017.1.0