Advanced Portrait Retouching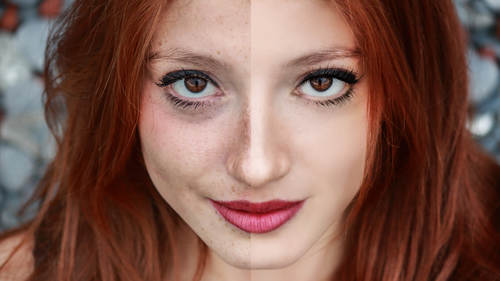 Advanced Portrait Retouching
Lesson Info
Getting Started on the Image
So starting... how do you start? What kind of job is it? Where is it going? What's the destination? There're a lot of questions to ask and first and foremost is "how do you open your file?" Alright, so let's talk about process. Everybody has a different way of doing this and- I wanna be really careful here because once again there's no correct way of doing this and here are the determining factors. Are you a photographer? Are you the one who is processing this image and it's then gonna be handled only through you, you're gonna handle all the images? Or are you a retoucher, and you're doing a one-off? And that same file is gonna live somewhere else or a whole series of files. So this is Sarah, we're using an image of Sarah. This is not the image of Sarah we are using. We're actually using another one in the series. And it brings up a really important question about how do you open the file. I'm presuming you guys are using camera raw files, you might not be, but I'm gonna go ahead and p...
resume we're talking about camera raw. If you're using a regular TIFF of JPEG that's already been processed then this is a moot conversation, okay? So if you are processing camera raw files, who determines the setup? Who touches this? And I don't have an answer for you, this is setting up a question for you. So, as my job, if I were to get this file, I've gotta ask a question. Does the photographer have a DNG? Does the photographer already have something that they have done to the photo, a look, a color, a temperature that they have decided is good, that they and the client decided is good. Do you understand? There's a bigger conversation going here. So, if there has been no conversation, I'm not gonna touch this file, I'm gonna do it as shot, and that's because I don't know where I am in the food chain. I do not know where I am in the food chain. What that means is, if I mess with this and I change the temperature, the color temperature of the image, the exposure, the highlights, and I do it here in the raw setting, from that point I have to do all of my retouching. I'm committed to that color and that temperature. And then if they change their mind or they have some other plan, then I have to put it on top which makes it destructive and perhaps not exactly the same. So, what I would suggest for all of you to consider and especially if you gonna do practice on these images, start with the raw as shot. Again, for some people's workload this would not be how it is. I have a photographer I work with he's fantastic, and I know his files he always processes in his particular way and he does it on set with the client. Why that's important for me to know is if I accidentally get the job without those DNGs without those XMP files, I know to ask. I know to say, "Hey, missing something here." You start. Yeah, I do have a question. Excellent. So by that same token you wouldn't work off a smart object layer in Photoshop either? Before you start your retouching? That is an excellent question, thank you for that. Yes, I do. But I'd leave it as shot. So- excellent question, thank you for asking that. Alright, when I start a file and I open it up, so this is a file you guys will be given and this is file you start with yes I do work as a smart object but I don't change these settings. I take the settings, this is how the settings came to me I leave them exactly as they are. That is an excellent question. Yeah, I like to go back to zero. And I mean zero, like to be able to go back to when it was shot. However, what you will see is and in all the files I have you will see that I convert that file into a regular layer, and I start. This is very important, please do not miss this point. The minute I open up the smart object file I then create a copy of it, and I start working on top of that. That locks in all the corrections but means everything is set but let's say I wanted to go back to the original and I really need to pull out some detail in her clothing. I can actually change this and reopen it. And I'll have detail. But if I've done that uh-oh, I've lost my original settings unless I've saved them. So I'm very, very, very careful about that. How I would do that, by the way, I hope this is not out of synch but let's give it a go here I would pull that smart object out into a new document. Needed for detail. I then open it up, and actually I'm gonna do the shadows here. I do this all the time, by the way. I use this function for pulling out detail in the shadows or for darkening up the highlights when they're blown up. I do this all the time. And then I'll say okay, I like that. This is kinda for the retouching section but I'd like to cover it now while you're asking your question. And there you go. I've got the original and I've got the needed for shadows. And I label it in such a way so I know I can go back.
Class Description
Consistently make the people in your portraits shine by knowing exactly how and what to enhance or alter when retouching. Lisa Carney is back with the ultimate portrait retouching class. She will dive into working with a variety of skin tones, facial hair, body shaping, and clothing. No matter the person, lighting or portrait - this class will help show you how to enhance it in your post-processing. She'll explain how to:
Prioritize your workflow
Use the clone/heal tools
Match skin tones
Work with lighting/shadows and volume
Lisa is one of the best retouchers on the Hollywood scene and will be sharing her professional insight into how she approaches workflow and technique to create amazing portraits.
Software Used: Adobe Photoshop CC 2017.1.0