Advanced Portrait Retouching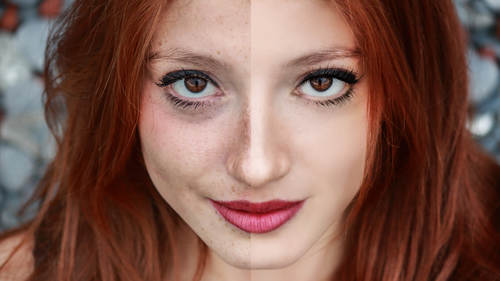 Advanced Portrait Retouching
Lesson Info
Brighten Whites of the Eyes
A couple of different ways of doing eye whites. It's really good for you to have to retouch your own image. Look at my little yellowy cysty things, ugh. Sorry, I shouldn't have said that, I apologize. Everyone's like, "Aaaw did you say that?" Yes I did, alright. Just like the teeth, just like the teeth. Hue saturation is a really popular tool to use. In general, you're gonna wanna look at the yellows, lightening the yellows is good. Sometimes, in eye whites, sometimes in eye whites, they're gonna be really cyan. Kinda blue. Ever had that with people? Their eye whites are a little bluish? If that's the case, then just lighten up the cyans. And, often times, you get that, kinda nasty, red vein. You wanna lighten up the reds. And, then all you have to do is, mask it in, where appropriate. Where appropriate. Now, if you're dealing with someone, like me, you may find that there's some imperfections, shall we say, in the eye whites. Another trick I like to use is, I like to just grab both se...
ts of whites, I'm holding the shift key with the marquee tool, and I'm on the background, retouched, if I did it. Oh, I'm just gonna spell everything wrong. Command J, and I will call it eyes, eye whites. You wanna do this on a separate layer. This is one of those things, where the client may say, "Whoo, ease up on those eyes." Right? Or they may wanna tell you to take it further, so, definitely do this on the second layer. And, what I like to do is, I like to do surface blur. And, you'll see I already have a layer there, surface blur. And if you see, I clicked, last time I used it, I did 17x22, I like to communicate with myself, 17x22. There is zero, zero correct answer for this. This depends on the image that you have. How much you blur it. Again, you gotta know, this is once again, one of those times, take your hands off the computer, and take a look, how much, what am I trying to do. Take a look. Alright, and here's another little trick, lighten it, just a hair. Command M will get you your curves, command M. And just lighten it at the mid-tones, just a bit. Just a teeny tiny little bit. And then, mask it in, as you like. Now, as we have discussed today, I have been doing this a really long time. So, I feel pretty comfortable with my moves. My dance moves, I just did the white curve over by two. No extra charge. So, I actually lightened the whites of those eyes, I did that all in one move. For those of you starting out, you might wanna do, copy it, blur it, and then lighten it on a separate curve, until you're comfortable with your decision. I am very comfortable with this decision, I'm willing to do it all in one move. The other reason, I'm willing to do all of this, in one move, is I don't want 75 layers, I do not want them. I want to keep this file as concise as possible. And, in terms of files, I'm gonna go back to history, file management, go to history. If this was my final file, for the job, for the section. What I would do, I've got 14 eyelashes on, I look like a drag queen, it's hysterical. I would put all of this in a layer set, and I'd call it "detail". It's okay to leave it all expanded, but put it in a set, and make it clean, make it concise, and someone can come in and go, "Holy Jesus, okay alright, let's have a conversation, and see where we wanna go." Cool? Eye details number two, I just want to show you the same treatment, but a different file, because I think it's useful to see. So I just gonna go through and, turn it on spotting. Frequency separation, do you guys notice that, all the work's not done on the same file? Like, the eyelashes aren't done on frequency separation, but the detail's separate. And, this is kind of important. It's important because, chances are, the skin and the blurring of the skin, is gonna be conversation number one. How far do you go? And I wanna keep that flexibility, of hitting the 50% option, so I can pull back. If my eyelashes and eyebrows are in there, I cannot do that. So I, scarily enough, I will have different folders of frequency separation for different things. All within the same file. Okay, this is all about flexibility at the end. So, I would suggest, you have frequency separation for, whatever you need, and then, if you're gonna do frequency separation again, which is perfectly, perfectly plausible, I'm not even gonna try to say that word. Anyway, put it in a separate layer, and call it details. Okay, and I'm gonna run through these details, as I've done them. Now, some of you, if you are gonna go the action route, even though I asked you not to go action route. If you already have files that have the names, that your action want to use. It won't do frequency separation the same way. So, be careful on your file naming, when you run an action. I've run into that. Alright, whites of the eyes. So, on this file, with the whites of the eyes, as I told you before, it's pretty general. The reds are lightened, the whites are, excuse me, the yellows are not lightened because, her eyes were not yellow. Oh, I thought I did a little cyan, but maybe I didn't. She might have had a little cyan, she did not have really yellow whites of the eyes. She had red whites of the eyes.
Class Description
Consistently make the people in your portraits shine by knowing exactly how and what to enhance or alter when retouching. Lisa Carney is back with the ultimate portrait retouching class. She will dive into working with a variety of skin tones, facial hair, body shaping, and clothing. No matter the person, lighting or portrait - this class will help show you how to enhance it in your post-processing. She'll explain how to:
Prioritize your workflow
Use the clone/heal tools
Match skin tones
Work with lighting/shadows and volume
Lisa is one of the best retouchers on the Hollywood scene and will be sharing her professional insight into how she approaches workflow and technique to create amazing portraits.
Software Used: Adobe Photoshop CC 2017.1.0