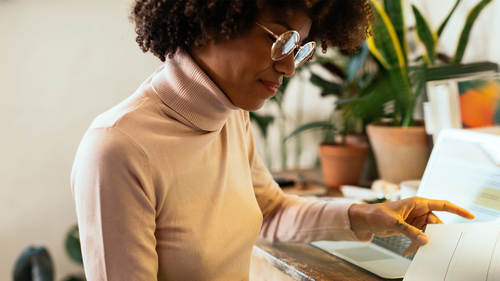 Lesson Info
Q&A
Questions and answers. What you got? Thank you so much. This is great. So much of it is exactly how I feel. I have this laundry list of questions. You can just cut me off when-- You go right ahead. So, one of my questions about social media assistants. I don't have one right now, and I just cracked open my Instagram account after like, four months of not posting anything in it. You're not the only one. So when you're doing a shoot and you have this story that you want to tell about interactions with the client, how do you package information to send to your assistant so they know what you've experienced so they can write about it? So, it's funny that you ask that, because for my copywriter, we have a private Facebook group. And the night before last when I got to the hotel room, sometimes I don't have a chance to dictate and type out everything that I want to say. So, sometimes it's easier for me just to do a video. And in the Facebook group, I tell her don't look at that, es...
pecially when I'm live. But it will say everything that I need to be communicated. Even if I don't have time to sit, obviously this week I was traveling, right, and I needed to make sure that the social media and everything was being pushed out, if I don't have time to do that, there's nothing wrong, I will make a little mini video and say, "This is this week, this is how I'm feeling. "Will you type this out for me?" Yeah, so you just make a little, depending on how you communicate with your team, it could be Messenger on Facebook, it could be text messaging. Wherever it is, you just have to have some space on your phone, and just make a little 20 second video and say, "Hey, I just finished this amazing shoot with such-and-such. "He's a high school senior, "or they're getting married such-and-such date, blah, blah, blah, blah, blah. "Her favorite color is red. "Woo, woo, woo. "Bam. "Done." Just one more question I'll ask, because I have this list. You can ask questions, I'm okay with that. Another question I have is, you have a team of of virtual assistants. And I know for my photography business, when clients look at my website, they want to see that I'm not just a one person business, because it would give them more trust. For example, I work with photo editor, and I list him on my website, and I have a little bio about him. At the beginning, I also posted a link to his website. Talking about trade secrets, I don't want other photographers reaching out to him and using him in my market especially, so they don't have similar looking photos to mine. But what are your thoughts about listing other people, virtual assistants on your website to show that you have a team and providing links to them so that they can also get additional business if they're doing good job. Okay, so, in that situation where you want to show your client that you have a team, but you don't want the other photographers in the area stealing your team, I would put that in a client guide that only gets sent out to my clients so that they know, they're familiar with who's doing what. But if it's someone that I'm not necessarily ready to share just yet, then I would just keep it, not necessarily a secret, but I would let them know in the introduction email that I will have an editor working with you to ensure that they give you the look and quality that you've come to know from my business and for my brand, and this is a link to their website if you'd like to get acclimated to them. But the only way that they would know that is if they sent an inquiry. But photographers do send fake inquiries. Just FYI. But if they know, then they know. When it comes to hiring team members, if you are already on a shoestring budget, you've already made those budget cuts, and you're still pinching pennies literally, can you talk maybe about trade opportunities? Or going about finding Inexpensive help? An internship or what rules regarding a student might be? Absolutely. So, if you're on a shoestring budget, if there is a photographer that, you shoot high school seniors, they shoot babies. It doesn't have to be the exact same. I would find someone that does something a little bit different from me so that it's not too much of a competition there. But if they need help at their wedding, I would go help. And then when it's time for me for my high school seniors, then they would come help me. But we'd have to have a schedule or a calendar available, so that we're communicating, and so that we know availability and different things like that. I would also have that in writing as well, because you will get burned. Also, the best people to speak the language to my high school seniors are other high school seniors. They like food. They don't really-- I mean, money is great, but they really, really, really like food. They really like food. Or if there's an opportunity for me to mentor maybe a new photographer or a young photographer in the area, I will do that. I will trade. Will you come with me and manage my social media for me while I'm photographing? And in exchange, if you need a new headshot, if you need your senior pictures. I don't ever mind trading out services if I don't have to write a check for it. Ever. Because that's zeroed out. So it's just different ways. But again, you still have to say, for social media and teams, you just have to say, "There are some things you cannot post "on my social media as if it's yours. "I run a business, thank you so much, but you can't just like everything. You just can't like Drake all day on my page. Because it's going to change my algorithm, and then I'm not gonna like the stuff that I get to see." So, just those type of things, just making those changes there. But if you're definitely operating in a space where you don't have the extra money, then at the beginning of the semester, colleges, students need internships. So the only thing you have to do is send an email to the college and career center of a university that's close by. There are marketing students that need internships. They would be perfect. There are business majors that need internships. You have to know going into, this is October. If you go ahead an email them now for the spring, they'll let you know who's going to need what for internships. I still now get emails from the university when they need, because they're looking for opportunities. You just have put yourself out there and say, I need someone to help me in this area. Because even the community colleges or the art institutes, they have photography majors. They would love to come and shadow you. They're looking for opportunities to just come and photograph, or come and help, just learn different things. What better way than to do it with you? When you have virtual assistants, and because they're in other countries, you don't really know what's going on in their lives as well as you would if they were local. Do you have backups if one of them who is a crucial part of your business falls off the map, so you can find someone in their place fairly quickly. Do you have a strategy, like a backup strategy for virtual assistants? I wouldn't give something that was super crucial, like studio manager, to someone that I didn't have a referral from, because that person has direct access to my clients, their emails, their phone numbers. So if it was someone that I didn't particularly know and I was trying out, I would give them, for example, blogging. And I would allow them to blog on Wordpress at the lowest level of credentials available. So you can't really publish, the only thing you can do is upload and draft, then I have to publish. Does that make sense to you? Only give those higher tier items to people that you know and people that you trust, or that someone you know has personally worked with this person. If you're trying someone out, I would try something low, like blogging, where you can draft it and you have to look at it before it's pushed out. I mean, there's no foolproof way to say that someone's not going to do their thing, it's just, it is what it is, and people sometimes are not gonna be honest. Also, I would ask for a list of their recent clients. I would reach out to them and say, Have you worked with them? What are some of the good things about working with them? Were there any challenges, or room for improvement? So that you just know in advance. Just a question about working with contractors overseas. And I did pinky promise you that I will contact a CPA for specific information. But, in general, are there specific tax implications for paying overseas work, or is it just like, I'm paying for a service My CPA is gonna handle that question or me. I have no idea. That's her job. I have no idea. She knows how much I'm paying, she knows who I'm paying it to, and when it's time for me to pay taxes on whatever I'm supposed to pay taxes on, she's gonna do that. That is not a Tomayia answer whatsoever. I would be like, oh, I don't know. But yes, she would answer. And that's what I'm saying, building that rapport with a CPA, even if it's just someone that does your bookkeeping or different things like that, so that when you have these questions and you're hiring people overseas they will let you know what are the requirements for what. So if I paid too much, then hey, you need to do the following, or you need to do something else. That's the benefit of having a CPA to answer. Because honestly, I couldn't even fill out my own federal forms. I was like, sign where? Please. Because sometimes it's so much, and it's the language that they know. I don't know those all the time. I'm learning, but I'm not perfect there. I realize you're qualifying, I'm thinking about social media management. I realize you're qualifying them as similar personality and tone of voice is kinda the same. But as far as getting them to understand your level of relationship with certain people you're following, and obviously your friends think it's really you, so there's some strategy there. Are you creating a spreadsheet of some kind where you're like, these are my photographer friends, these are my-- How do you communicate, or do they just hop on and kinda realize what you're doing? Yeah, they just hop on. I did tell her for the high school scene to make sure that if you start following someone, if it's almost time for high school seniors, to make sure that, obviously they're in high school. Or if it's a parent, obviously kind of stalk the page a bit to see. New people that you're following, if that's a parent, if it's a couple that's getting married, if you're doing hashtags and different things like that, but that's about it. At some point you just have to say, this is not going to be perfect. And you have to accept progress over perfection. So what's more important, you posting on social media, and it not being almost perfect, or not posting at all? Are you, how are you kind of like judging if, or what are your expectations on having their help? Is it just having a consistency of voice, or are you looking to grow your following by a certain percentage? How do you know? What's the goal? We have an editorial calendar that we use and before anything gets pushed out, I can see what the 30 days is going to look like. And I can look and see, for me, are these hashtags relevant? Are you reaching the people that you want to reach with the images? Because they're not me. So they're doing the best that they can do without me being there. Sometimes, if it's a client that I absolutely adore, we've gone to lunch together, I go to all of their basketball games, all of those things that I'm really ingrained to that client, I will edit it. Because they don't know that Celeste loves her dog. They don't know that. So I'll have to go in and say, Celeste's dog is named such-and-such. I'll just have to tweak it just a little bit so that it matches my voice. But the most important part is that it's posted. And then I can just go in and edit it if I need to. They don't have a relationship with the couple like I do. So I have to go in and sometimes I'll edit just a little bit so if it needs to sound more like it was me. Go ahead. It seems like you're delegating a lot. But then, you have to check in a lot. So, aren't you just using the time you would've used to post to go in and edit and check up on what they're posting? For me, remember that, for social media, that that 30 days of content, I'm just going in there and checking. I'm just looking. If it's something, 95% of the time it's fine. This 5%, it's really a personal preference, and I'm just making sure that it's my voice. Because I don't want that high school senior to look at that post and she knows that we have a relationship, and I wanna make sure that I'm honoring that relationship. That's really personal preference for me, just making sure that I'm honoring the relationships and building that rapport that I have with my clients versus letting it just fly out how I normally would. There is no way in life that I would be able to achieve everything I do without being able to delegate. There is nothing that someone else does that will replace the time I spend with my children. There is no amount of money available that I will set and edit photos for hours, versus going to spend time with my kids. Point blank. It's no amount of money. So, do you spend a lot of time at the beginning of the month setting all this stuff up? Yeah. And then the rest of the month, you just kind of slide through? I'm just chillin'. And then the next month you spend a lot of time again beginning of the month. Is that kind of your process? So, I front load. Remember, I'm a 10 year teacher, so I front load. And I model a lot, this is what it should be, this is what it should look like. I'll make a video, I'll do this, so that on the days that I'm traveling, it's automated, it's rolling. But in order for me to get it to this point, you have to do the dirty work. It's not going to be, today I'm going to outsource, and everything in my life is gonna be great. It's not. You have to put in the work up front so that you can put yourself on cruise control when you want to go on vacation with your family. You may sacrifice, and it may seem like, well, hell, I'm doing all the work, and I'm still paying this person. You are. You're training them. When you go and get a new job, the person does what? They pay you for your training. So you're essentially paying your new person with you for their training. That's basically it. So that when you have a session and you need to say, hey, (mimics fast talking) Please post this. Thank you. Bye. It's done. But in order for you to get to that point, you have to go through the mud to climb all the way out so you get to the clear water. It's just not an easy process. You have to put in the work. It has to be some times where they don't work out so that you know how to handle and you'll know, okay, next time, I need to be sure, I need to check for this next time. You know, just different things like that. Do you have any final thoughts as we're sort of wrapping this one up? I think the only thing that I want to say is take baby steps. Just take a baby step. I wouldn't recommend going out today and going get an entire list of everybody. I would just find that one area in your business that you know you need a little bit of help in and just concentrate on that for two months, or three months. Then, once you've gotten through the mud with that person, and you have a little bit of room in your budget to add someone else, then I would add someone else. Does that make sense to you guys? Just, don't go out today and say, I'm going to hire an entire staff. How is that going to work for you? You just hire that one person and you mold them, and you make sure they have your vision and your alignment. Make sure that this person really matches your brand, make sure they believe in the same thing that you do. Ask for a referral. It's okay to say, before I hire you on, do you mind doing a few, two or three drafts for me to see if we kinda mesh up a bit? Sure! Because they want your business. And if they don't, say no and bye-bye. Make sure that you really, truly understand because that first person, it's going to hurt if you have to start over. And you may have to. You may just have to start over sometimes. When you start over with the experience that you gained from the person who didn't work out.
Ratings and Reviews
Tomayia is a great teacher!! The way she instructs makes you wanna jump out of your seat and get to work. I loved her encouragement to delegate tasks. Really stuck with me.
I loved it! A punch on the face !
Student Work