Class Introduction
Davina and Daniel Kudish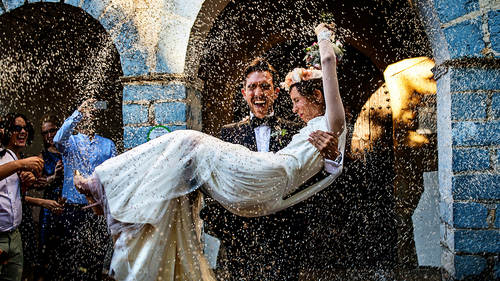 Class Introduction
Davina and Daniel Kudish
Lesson Info
1. Class Introduction
Lesson Info
Class Introduction
We've been doing this for 10 years. You would think that would make us very jaded and bored with weddings. They do get repetitive, but we really don't feel that way. I think I'm more connected now with weddings than I really ever have been and that's because we dig deep into every story, at every wedding. And that's really our hope and our goal for this class is that whether you've been doing this for a really long time or you're new to weddings, that you will find that connection and that you will be excited by every wedding you shoot. And also creating these moments or these memories for your clients that are gonna be so meaningful to them specifically. So the way that we're gonna do this over the next couple of days is really by going deep into what formula we use for photographing each story and how we piece all of that together for the slideshow, which is generally our final product. We're also gonna go over our entire process, so from lighting to composition to moments, how the...
3 really come together to create the best photos possible. We're also gonna talk about creative portraits, which are a big part of what we do as well, aside from the storytelling. We're gonna talk about our workflow and our post production and we're gonna dive deep into the business and building a business around storytelling as well. So it's really the head and the heart. So we shoot with heart, but there's a lot of formula and a lot of technical things that we do to accomplish that. Yeah, you can expect us to get a little bit vulnerable with you guys, how our personal life plays into what we do, and obviously like Kenna was saying, our kids are a big part of what we do as well, so you'll see them come up quite often too. We're also gonna show you guys some behind the scenes from weddings that we've shot recently, we attached a Go Pro to our cameras and... Look pretty good, huh? Little alien like, but... It also rained on those days. The towels. So extra challenging. And so we're gonna show what the scene looked like in real life and how that translated into specific photos. We'll share some successful and not so successful attempts at certain things we've tried out and just how we've worked through those things and how many situations and weddings have taught us very valuable lessons. A lot of mistakes. This class is not for you if you're looking for elaborate flash or lighting techniques. We like to keep things very, very simple as you'll quickly find out. We're not big on fashion posing. Our posing is very, very natural, so we're gonna stay away from fashion posing tips. And if you're not into emotional stuff, this class may not be for you because we get very emotional. (audience laughs) I almost cried at the intro, so yeah. Yeah, if we can get through this without crying at some point, it will be pretty good. Yeah. Yeah. You mentioned our kids and I was almost... I know as soon as you said their names, I was like, oh gosh. (giggles) If you're photographers looking to connect with their clients, this class is most definitely for you, that's something that we're really big on. If you're bored with weddings or you find them repetitive and you're kind of finding yourself a little jaded, then hopefully we can liven up a bit of a spark in you. And if you wanna find ways to have a fresh and creative approach to your photography, we're definitely gonna try to help you out with that today.
Class Materials
Wedding Photography Contract
Ratings and Reviews
Holy Moly! I have been very familiar with Davina & Daniel for several years and I also work closely with Image Salon for the past 3 years. I loved their relatability, raw honesty, human connection, and their teaching method. It was also super helpful to see the GoPro footage on a real wedding day and walk through their thought process with them. A refreshing wind of inspiration has now flooded my mind and attitude. I am excited to begin my 8th year of weddings with a clear mind and full heart. These two are the REAL deal and I am so happy I made this investment. Thanks, CL for always bringing the BEST of the BEST.
I've been following Davina and Daniel's work for years and suffice it to say, they are in my top 6 all time favorites. I was so excited to watch this creative live and it didn't disappoint. From their approach to shooting through the moments, to their stunning locales and minimalist gear, there is something for everyone in this class. Both Daniel and Davina have a tremendous knowledge of photography and their willingness to share and educate is second to none. Oh, and just so you know, they are also the nicest people on the planet. Super sweet, amazingly talented. Thanks for having them on.
Davina and Daniel are fantastic presenters as well as an exceptional photo team (plus they are super nice people, too!). I love their approach and methods and felt like there is so much value in this course. Even though I've been photographing for a long time, I took away a lot of great value gems from their course and look forward to applying several to my own business!
Student Work