Using Exposure and Whites Sliders
Matt Kloskowski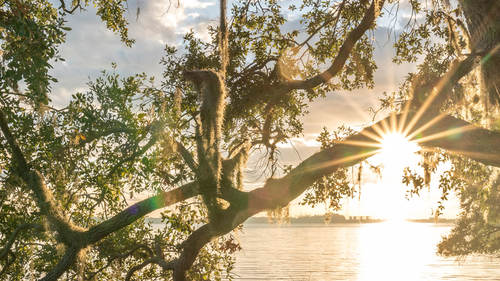 Using Exposure and Whites Sliders
Matt Kloskowski
Lesson Info
7. Using Exposure and Whites Sliders
Lesson Info
Using Exposure and Whites Sliders
Aside from some cropping, which we'll crop in on this, I think, just to me that is kind of the star, the star of the photo right about there. This was, this is Hurricane Ridge, which is couple hours outside of here. I was there last May. I came up for Photoshop. We came out the weekend early and went out there. Went up with my wife, and aside from the eight feet of snow piled up on the side of the road, for two Florida people which is something that we don't see much in May. This was the weather I got. I showed up, got there, did everything I was supposed to do, this is what happened. So it happens to everybody. When I see something like this, I kinda revert to that exposure trick. I know that no matter what I'm gonna do, I'm not going to make this a beautiful sunrise or sunset photo. I know I'm not going to make this amazing color like, stop your expectations set. But there's potential for drama. So when I start to bring the exposure slider back on this one, see what happens? Can you ...
guys see the little highlights on there? So the sun had to have been poking through at some point inside of there, and poking through these little places. Formula for outdoor photography of any sort, when the sun is just lighting something, that's a really good picture. So whenever I see the sun poking through a cloud and beaming on something, unless it's a garbage can, it's usually gonna be a good picture. So now I'm going to bring that back and we go back to something I said in the very beginning of the class, my whites slider will now, when I bring that back up, it's not going to make the whole photo brighter, it's just gonna make those areas brighter. Two sliders: exposure, whites, totally different photo. Part of this guys is just what you can see in it. That's why I'm trying to help a little bit more with the why, it's not just the how. Just drag a filter here, do this. I'm trying to help a little with the why, because if I've learned anything over the years with this stuff, the magic is in how you see the photo. It takes practice. It takes practice looking through the photos and see them in a different way. This started out as a throwaway photo, and this became, honestly, one of my favorite photos that I took last year. I went in here, I kinda boosted the shadows a little bit, maybe not go so dark on the whole thing. To me, that just totally changes everything. We can go over here. Very rarely do I boost highlights, but in a case like this, it actually kinda works. If I wanted to get a little bit more refined with it, I could go to my brush tool, crank up the highlights, and now just paint over some of these areas. It's too bright, so I definitely pull it back, but kinda along those lines.
Ratings and Reviews
Matt is a fantastic instructor who males it feel like a joy to learn. It was very interesting to see his take on how to fix uninteresting lighting. This course delivers on its promises and it's well worth the price.
This is a great class. Matt is a fabulous teacher who explains things very well and in a very likeable manner. With only using a few sliders and basic tools in Lightroom, Matt is able to totally transform an image. I have lots of old photos I didn't think it was worth doing any editing on....now I'm sure I can save quite a few!
Matt Kloskowski is funny, humble, and totally knows his stuff! He doesn't just show you how to use Lightroom to fix undesirable lighting conditions, he walks you through various ways to recognize and work around them in camera/on-location, to make your post-processing even better. I am so flipping glad that I took this class when I did! My shoot last night started a half hour later than I needed it to, and the planning and processing techniques I learned here totally saved it! In fact, this class, combined with Caroline Tran's film class and Blake Rudis' landscape class made the shoot into more than I was expecting, even though everything went wrong on-location! I can't wait to show off my finished image. Thank you Matt for an awesome class!
Student Work