Developing Your Mission (Statement)
Debbie Millman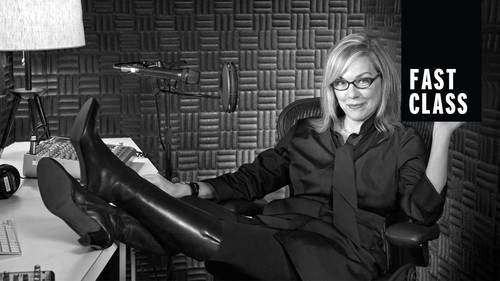 Developing Your Mission (Statement)
Debbie Millman
Lesson Info
8. Developing Your Mission (Statement)
Lesson Info
Developing Your Mission (Statement)
So now we're going to talk about your mission. Your mission as a creator, as somebody that wants to get something made and create something with meaning and create a life that is purposeful and remarkable, who here doesn't want a remarkable life? And I talk a lot about a remarkable life, the only way that you can have a remarkable life. In order to create a more remarkable life, you have to decide that you want one. You have to decide that you want one. Remarkable lives don't just happen. You make them, you create them and then you bring them to life and that's really in a nutshell, what it means about creating your personal brand. It's taking a stand for what you believe about yourself and your possibilities and making things that reflect that and sharing that with the world. So let's talk a little bit about the mission, the mission of a personal brand. And in order to do that, we need to go back to the idea of positioning. Because again, as we talked, branding is the result of a jour...
ney of positioning. And so how are we going to position ourselves in the marketplace? How we position ourselves results in the brand. A brand is the result of you declaring what it is you stand for and having something that you believe in something that other people can recognize and share. So let's go back to positioning. And I told you that we were gonna deconstruct this word by word and that's what we're gonna do now. So this is, I talked about how courage is the birthplace of confidence? Well, the positioning is the birthplace of a mission statement. How you position yourself is essentially what you believe in and what you stand for. So the first part of this, your unique beliefs. Your unique beliefs. Who you are in the world and what you stand for is as important as your portfolio. And I'm going to tie this back to something that I said in our previous session about operational excellence. Consider your portfolio, the operational excellence. What it is that you show to prove that you know how to do the thing that you say you know how to do. But it requires more than just having a great portfolio to get the job of your dreams. You need to be able to declare what it is that you believe so that other people will be able to understand what it is you stand for. What do you believe in? Why do you do what you do? Why do you create the things that you create? Because none of this is arbitrary we might think it's arbitrary. I might think, well, I really love texts so I like to make design with text, but that's not really deeply where the belief comes from. The belief is about the power of a message and the way in which you can communicate in the most fundamental raw way. So when I talk about beliefs, I really mean what it is you stand for and the two best examples that I have are Martin Luther King and the great football coach, Vince Lombardi, I've got range. (audience laughing) So Martin Luther King had a vision, he had a dream that all people are created equal. That was his belief. He was willing to die for that belief. Martin Luther King didn't go around and conduct polls to see whether or not people believed in whether or not he believed in dream. Everything now is calibrated to see what people are going to respond. And then people back off that statement or they back off that stance because somebody might not like it somewhere on this planet. You need to know what you believe in whether or not it is popular. And you need to be able to convey that with sincerity. You need to be able to convey it is if your whole life depends on it, because it does. Vince Lombardi, the great football coach went on the record stating that he never lost a game. He said, stated it "I've never lost a football game." And at first people were like, "Mister Lombardi, coach, you actually have lost a few games." "You know, not many but you've lost a few." And he said, "no, I didn't." "I never lost a game, I just ran out of time." That's a belief, that's a belief. That means that if he had had more time he would have won and he knows he would have won. That's what you believe in. So what is so true about who you are and what you stand for that you can share with others? How can your brain harmoniously resonate with others by revealing what it is you believe to be true? Not only about you, not only about your work, but the place that we have and we share in the world. That's where the birthplace of a mission statement is born. My mission statement when I was only working in the brand design world and creating packaging and products and graphics for fast food restaurants and over the counter pharmaceuticals and salty snacks and carbonated soft drinks, I had a really simple mission statement. And the mission statement was I seek to make the supermarket more beautiful. That was my mission statement. One sentence, should be one sentence. What do you seek to do? You don't even have to say, "I want to." Just this is what I seek to do. So the most important thing for a mission statement is to believe in it so strongly that it becomes part of your DNA. So how can we create a mission statement that reflects that with pride and with sincerity and with stature and with vulnerability and with honesty? So an exercise that I'd like you to take offline is to develop a mission statement that if somebody says, "so what do you wanna do when you're here?" "Or when you're there or when you graduate, or when you change jobs?" You have something that becomes a part of how you describe yourself. And this is something that evolves and changes. The very thing that you decide you wanna do and be today might change in a month or a year or a decade. But the thing is, the key here is to be constantly evolving it and staying in touch with what it is you believe as you evolve. My mission statement isn't, I seek to make the supermarket a more beautiful place anymore even though I still think supermarkets should be beautiful. Now I wanna make change through branding. And that means being able to work on brands that can make a big cultural change in the world. So think about what that statement is, but in thinking about what the statement is, it is absolutely critical that it has a benefit. So this goes back to what I was talking about this morning. You're looking for a job wherein somebody is going to give you money to do what you wanna do, to make what you wanna make, to change what you wanna change. Money. They're gonna be giving you money. What can you tell them about who you are that is going to provide a benefit? It's not about being a people person. It's not about being able to multitask. You wanna think of a unique benefit that you can provide. And this isn't a cookie cutter exercise there's not one benefit that anybody and everybody should have. If you have trouble thinking about what your unique benefit is, ask other people to help you. You don't necessarily know what you don't know, right? So here's where people that you love and trust can help you. What is your unique view of the world? Everybody has a way of showing up that is different from everybody else. How is what you bring into the world something that you own? Take that and create that as the centerpiece of the benefit of what you provide. This isn't about developing a good portfolio. This is about developing a mindset and a methodology and a mission to allow you to compete with everybody else that has really good portfolios, to allow you to ultimately be the victor in the competition for that great job. 'Cause if it's a great job, a lot of people want it. So if it's a great job and a lot of people want it you have to stand out. So you have to have a unique belief and you have to have a benefit and you need to be able to convey that, to say that with stature and with sincerity. So what is the benefit of hiring you? What is the benefit or benefits better yet? What is the benefits of hiring you?
Ratings and Reviews
I was not expecting to get so much out of this accelerated class! Debbie is a captivating speaker who manages to get her points across directly while maintaining a strong sense of relatability with her audience. I really look forward to taking what I have learned here with me as I move forward in my career as a visual artist. Highly recommended.
This class is for a specific audience - young or new-to-the-field designers. It is NOT a branding class for the regular person. The class description is misleading. However, there are bits and tips that anyone can benefit from, but you have to sit through the entire presentation to get those bits and tips. I am not a designer. Because I had the all-access pass, I dipped in and out of different classes, speeding up and skipping as needed. I found enough value in this Fast Class: A Brand Called You to watch it, rather than the long one. I can see how this would benefit new designers as they job hunt.
Student Work