Camera Setup: Flash Synchronization
Mike Hagen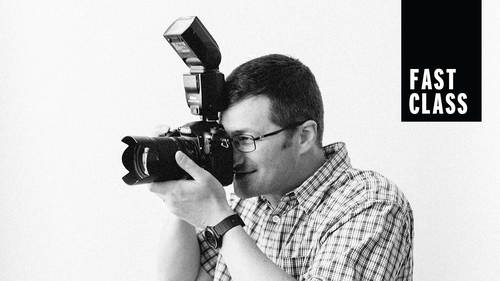 Camera Setup: Flash Synchronization
Mike Hagen
Lesson Info
5. Camera Setup: Flash Synchronization
Lesson Info
Camera Setup: Flash Synchronization
So the next thing that we have to choose on the camera body is what's called the synchronization mode. Okay, so we've talked about shutter speed, right? So when we take a picture, uh, if I'm gonna set the camera for a long exposure and I'm gonna put my microphone here real close to the camera so you guys can hear this says I take this shot. Do that again. Clunk! Clunk! OK, so what would you say? Is that a long shutter speed or a short shutter speed? Long shutter speed? Okay, cool. In fact, that was about Ah, What was that? About 1/2 of a second or so. Ok, clunk. Clunk. And then here's a fast shutter speed. Right. You know, you'll know this. I'm just making a point here. So here's a shutter speed of 1/60 of a second. All right, So what's happening there? Well, regardless, if you have a long shutter speed or a fast shutter speed, the camera still has what's called a front curtain that opens up, and then a rear curtain that closes behind it. And then they both reset to home. So every phot...
o has a front curtain and a rear curtain and then they reset. OK, so let's let's go slow, because that's easy to understand. So front curtain opens and your flash can fire. Right? Then power. And then your shutter can stay open for a while. Half a second, and then it closes. And then they reset. So that's called front curtain sink or front curtain Flash sync. Right. Flash open are the shutter opens flash fires, It waits, and then it closes in bubble block. The other one is rear curtain sink. Okay, Tough question. When do you think the flash fires for rear curtain sink at the rear? Yes. Good. Give her a gold star. All right, Cool. So here we go. Just to make the point. Curtain opens won't and it weights and stuff happens. People move, and then the flash fires. And then immediately the curtain shuts. So you need to decide on most of these cameras. Win the flash fires, and if your shutter speeds are fast, it really doesn't matter. It doesn't really matter to the photo. If your subject is stationary like not moving again, it doesn't matter, OK? It doesn't matter if the flash fires at the beginning of the end. But let's say that your subject is moving. Let's say you have ah, seven year old son and he's into skateboarding. Okay, so now you're gonna go outside and you're gonna photograph your son. He's gonna jump off a ramp. He's wearing a helmet, and, uh, you can tell him a parent. Yeah, Yeah, he's all safety it up, but he's gonna jump off a ramp. Okay, So when you taking that photo it, let's say you're going to use flash. Do you want the motion blur of your son to be in front of his movement? Or do you want the motion burglar to be behind the movement? Yeah. You definitely want to be to be behind the movement. All right, so let's think through how that works. Actual mechanically. So he's he's going, he's moving and he's in the air. Your camera's stationary shutter opens and motion blur is happening. So let's just take the picture with no flash Shutter opens and he moves across the screen and you got motion blur. All right, So where does the flash need to fire to kind of get the frozen part of him. You know, the pulse part of him doesn't need a fire at the beginning of the Blur. Yeah, or at the end of the Blur wall, like my Yeah, that's very impressive. Sound effects. It needs to fire the end of the blur. Right? That's rear curtains sink. So let me talk to do that again. So Shutter opens. He's in the year he's moving, and then at the end of that, the pulse of light happens and kind of freezes them in the frame. So most people haven't really thought through doing need front curtain sink to a need rear curtain sink you can see in the studio. It matters not no impact. But when people are moving or things were moving, you definitely want to use rear curtain sink. So how do we do that? On most camera on most Nikon cameras, there is, ah, flash button here in the side. And if you're Nikon camera or your canon camera doesn't have that flash button, you can Also, you can go into the menu system into the flash settings and you'll find sink. It'll say front curtain or rear curtain. So what I'm gonna do is I'm gonna push this button and then I'll show you here on the back of the screen. How to change that? So info screen. I'm pushing the flash button here and then let's see my flashes sticky too many times in Africa. There we go. All right, so down here it says flash mode. And then I can rotate my thumb here and hopefully the cameras can catch it. You can see him going through different flash modes and then down here at the base, it's giving me a little readout. So here you can see it says rear, rear curtain. So if I take a photo now with that setting, the flash will fire at the end of the exposure. Okay? There. Noticed. There's nothing that says front. Well, the default on all cameras almost is always front curtain sink. So your flash is gonna fire at the beginning of the exposure. Okay, so for more again, for most photography, you front curtain sink is just fine. But the last thing you want is for the you know, when the bride and groom are dancing, when they move this way, you don't want the motion blur to be in front of them. You want the motion blur to be behind them. So the way I remember this is blur to the rear rear curtain sink. Okay, I got a clap on that one. It is cool. Blur to the rear. Rear curtain sink. Those two things work together, blur to the front. We don't do that. It just looks weird. We don't You don't put blur in front of your movement.
Ratings and Reviews
Great fast-class! Mike Hagen got straight to the point and made it super easy to understand!
Great course very informative and so easy to understand.
The class covers exactly what you would expect. Very good basic information about how to set-up and operate a flash on any camera. Mike was extremely personable and communicated very well.
Student Work