Camera Setup: White Balance
Mike Hagen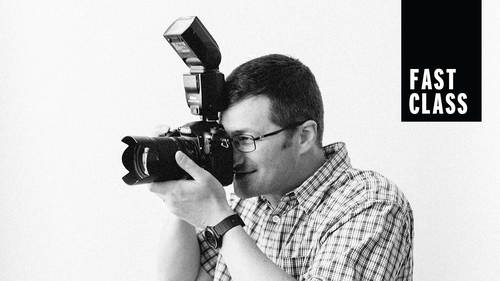 Camera Setup: White Balance
Mike Hagen
Lesson Info
8. Camera Setup: White Balance
Lesson Info
Camera Setup: White Balance
Let's talk about white balance. So let's say that you are photographing a scene and the Onley light coming on or the only light shining on the subject is coming from your flash. What white balance should you choose? Flash. I know they're all pointing at the screen. That's why studying with Mike Hagen is super easy. Like if I ever did exams. But you just have to look at that. It's all open book, so the answers are all there. So you want to use flash white balance. It's that easy. Let's say you're combining ambient light in flash. Well, in that case, custom white balance so custom white balance is a little bit different with custom white balance. You're you're taking a color measurement of the scene you're analyzing What, what what are all the light components? And then the camera tries to give you kind of ah, good white balance or good color balance for all of those different lights. For all of those scenarios, I just realized I didn't really define what white balance is. White balance ...
is color, you know, all this other stuff we've been talking about his brightness control, white balances, color control and flash has a certain color temperature. Flash is color. Temperature is very close to the color temperature of sunlight. Okay, And in terms of a Kelvin Kelvin value, that's around 5000 Kelvin 5400 Kelvin. And that's just techie. Speak for the color temperature. Here's another thing we need to think about. Let's say that your ambient light is really yellow. Okay, so remember back. Let's all go back back to the good old days back to 1970. Remember those days? Green carpet green shag carpet, Yeah, And so all of the photos that your parents took of you back in the seventies, they all were like really like yellow, even warm and washed out Well. The reason why is because the film they were using their camera was balanced color balanced for daylight. It wasn't color balanced for incandescent or tungsten bulbs. So sometimes, even in digital photography, sometimes you have to use the house lights and let's say the house lights. And when I say house, I mean anything that's in the building that you're in. So sometimes those houselights are very warm. Well, what color of light comes from your flash very blue, much bluer. I should say So now let's say that you're taking a picture of me and on this side it's like orangy yellow we And on this side, with the flash, it comes out blue. And now I look like some kind of freak show is like, weird. It's like no one looks like that unless you're trying to do it on purpose. But, you know, if you don't want it to look funky like this side of my face is this color in this set of my face is blue. You have to use something called a gel. Okay, gel and let me just show you. These gels show a couple of options for gels. There's a number of manufacturers of these gels You can go to any big camera store in your homes, hometown or even online B NH, not a rama. All these companies they'll sell gels or filters. If you buy a Nikon or canning flash, a lot of times they ship it out with a gel pack or a filter pack. Okay, so these air there gels and so, like this one is a tungsten gel in the camera. See that fine So this is tungsten. So back to our 1970 photo example, or it's not 1970 more. But wherever you are, if you look in and to see that the color of light in the house is very warm, then you take one of these gels and you just you can just tape it to the front with scotch tape. Um, or you can sometimes thes air designed to actually slide underneath the little little diffusion panel. And now guess what? The color of light from your flash is exactly the same as the color of light in the house. And now you've matched the color so that this side of my face is yellow. And now this side of my face is yellow. Okay, well, we don't want a yellow photo of Mike because everyone knows Mike does not look good yellow. So, what do you set your white balance for tungsten? Bingo. You did it. You just solved one of, like, the most mentally confusing problems in flash photography. If the house lights air, tungsten and you jail your flashed to tungsten, then you're white. Balance has to be tungsten. It's that simple. There is nothing more complicated to gels and color balance than that. It's a simple Is that so? Just remember, houselights is this color you put the gel on for the same color. Okay. Now that you know the answer to tungsten, let's do the same thing with fluorescent. Okay, so here's a fluorescent gel. Okay, So if the houselights air fluorescent and the use of Florissant gel what's your white balance? Fluorescent. Yes. These little gels are very helpful. And I don't want you to be afraid of using these gels. There's all kinds of solutions to gels. Um, this little gel pack that I have here, um, this is a freebie, actually got this for free from the camera store. And there's just all these different colors, So some of them are creative, like this, Red. Like there's really no light out there. That's that color. Or maybe this blue. But others of them are actually balanced to a specific type of light bulb. So you get these little gel packs, you literally tear out the tungsten gel, and you just tape it to the front of her flash and you're in business and it costs you nothing. Now that I said that I'm sure being h not o Rama are going to stop their free giveaways. But so even if they don't give these away free, these little sample packs are often cheap under five bucks. Most the time when you buy these you by men, big sheets and they're designed for studio lighting or movie sets, that type of thing. Also, most are not most but, ah, a lot of flashes. Flash manufacturers sell these kind of plastic snap on filters for your flashes, too. So, like, this is this one's for the Nikon SB 900 or 9 10 and it just snaps onto the front. So you have to use the little plasticky jails anymore. So just snaps on there. So don't be afraid of using these, and they actually help out a lot back to white balance. High level. If you're just using flash, you're going to set your way Bones for flash. If the ambient light isn't too funky, you can just use custom white balance. And when I say isn't too funky, I mean close to daylight color temperature. And then, if you've got 19 seventies funk going on, then you have to start thinking gel and in that type of gel in that special white balance so real quick before I forget, let me go to the camera and show you how a set white balance in the camera. So just show you the info screen here on the back and most cameras, most DSL, ours. Canon, Nikon, Fuji, Olympus They all have a white balance button on the back. So in this case, or maybe it's on the top. In this case, I'm gonna push the white balance button and then I rotate with my thumb. My right thumb usually, and you can see the different white balance modes there. Most cameras use that. This symbol right there, that's the lightning bolt symbol and that's called Flash. So that's flash white balance. The other option is auto and other option, not the other option. But another option is auto. Now, if you are using flash on the camera, recognizes you're using flash, it'll actually default in auto mode. It actually defaults the flash. Okay, so it is smart enough to know so like if you forget and you're in auto mode, okay, it's gonna help you out there, and then here is we'll go to this. Where is it? There you go, That one that's incandescent or tungsten. So you'll use that for your older, older incandescent lights and then the one that looks like a I always wonder what that is supposed to be. A light bulb like a long, skinny fluorescent lightbulb. So that's fluorescent. So get to know your white balance settings and get to know what those icons are, so you can move quickly when you're in the field and then the last one is preset their pre. The Nikon uses the term preset. What is Canon? Use custom? You're right, although no one actually answered, I'm just giving you the credit, giving the audience the credit so custom or preset and and that requires you to basically photograph a card like a white card. And then the camera makes its color assessment off of that white card.
Ratings and Reviews
Great fast-class! Mike Hagen got straight to the point and made it super easy to understand!
Great course very informative and so easy to understand.
The class covers exactly what you would expect. Very good basic information about how to set-up and operate a flash on any camera. Mike was extremely personable and communicated very well.
Student Work