FAST CLASS: Lighting, Logistics, and Strategies for a Life in Photography
Joe McNally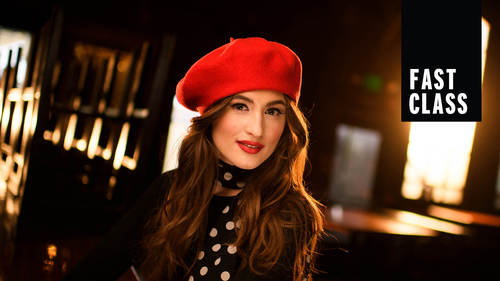 FAST CLASS: Lighting, Logistics, and Strategies for a Life in Photography
Joe McNally
Class Description
FAST CLASS:
Try a Fast Class – now available to all CreativeLive subscribers! Fast Classes are shortened "highlight" versions of our most popular classes that let you consume 10+ hours in about 60 minutes. We've edited straight to the most popular moments, actionable techniques, and profound insights into bite-sized chunks– so you can easily find and focus on what matters most to you. (And of course, you can always go back to the full class for a deep dive into your favorite parts.)
Full-length class: Lighting, Logistics, and Strategies for a Life in Photography with Joe McNally
SUBSCRIBE TO CREATIVELIVE and cue up this class and other FAST CLASS classes anytime.

COURSE DESCRIPTION:
"The best picture is your next picture. If you start to believe that you've already shot your best picture or you start patting yourself on the back at any level, you might as well hang it up."
-Joe McNally
Learn from an award-winning, 30-year photography veteran.
Meet Joe McNally, known worldwide as one of the top, technically excellent photographers of his generation. His clients have included FedEx, Sony, ESPN, Adidas, and Land's End; and his work has been featured in publications such as National Geographic, LIFE, and Sports Illustrated.
The legendary and down-to-earth Joe will show you how to create stories with light and harness the skills every photographer needs for success.
Capture pictures that resonate.
Getting clients to trust your creative vision and technical skill takes hard work and time to develop. You need to prove that you're not only passionate but that you've got the skills to pull off an amazing photo, no matter the scenario with your mastery of tools and control of light.
Create a life in photography
You know deep down that you want to work for yourself and grow your client roster. Don't let the fear of making photography your full-time gig stop you from making progress. Joe McNally knows firsthand that you can't settle for nice pictures to make it in this business. Commit to learning the technical elements as well as the contractual lingo so you can focus on creating images that resonate while growing a business that is built for a career and life in photography.
From this exclusive on-location and in-studio shoot:
See how you can work with light to capture the story of your subject and surroundings
Learn to use multiple flash units to create various moods and looks
Gain confidence by understanding contracts and relationship management with clients
Learn posing and communication techniques when working with a model, client or even a large group of people.
Grow your confidence by gaining the knowledge and skills to create or style photos that resonate. With the technical know-how and professionalism, you CAN shoot in any scenario for any client, and make the leap to becoming a full-time photographer.
Class Introduction Before The Negotiation: Assess Your Assets Before The Negotiation: Diagnose Their Pain Before The Negotiation: Do Due Diligence Before The Negotiation: Interest Matchmaking Before The Negotiation: Prep Purposefully Before The Negotiation: Bring Aids Before The Negotiation: Prime Value Before The Negotiation: Ask, Ask, Ask Before The Negotiation: Leverage Agreement During The Negotiation: Money Talk During The Negotiation: Money Chasers After The Negotiation Bonus Lesson: Email Negotiation Bonus Lesson: How To De-escalate Bonus Lesson: Dealing with Deadlock  
Ratings and Reviews
Oh. Wow. This is a must-see class for everyone who is passionate about photography.
Student Work