The Biz: Personal Work to Build Your Portfolio
Joe McNally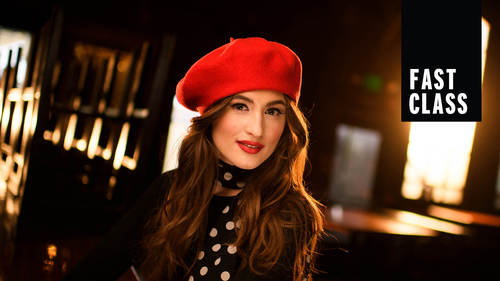 The Biz: Personal Work to Build Your Portfolio
Joe McNally
Lesson Info
25. The Biz: Personal Work to Build Your Portfolio
Lesson Info
The Biz: Personal Work to Build Your Portfolio
one of the reasons we ended up in here in this circus venue was I was looking for notions, ideas that I could hang a project on. And I had just seen that movie water for elephants with Reese with expression Witherspoon and some of the lighting in that movie and the fact that she was ah, performer, circus performer and one of her part of her act was to sort of languish on a horse, you know, in the middle of the arena. And it was an old timey kind of feel to the lighting and the canvas in the background, and I I showed it to Lynn, and I said ID like, Teoh. I want that. Yeah, get me that. Just call. Reese, you know, knows that it was the start of an imagination process for me. And I thought, Well, a circus type environment, if we could create, that would be potentially wonderful, you know, to have a variety of pictures come out of literally one tent, you know? So we kind of moved into the circus tent for a week just like that? Yeah. You know, to my credit, I'm not one of those from like m...
ake it happen. Land Make it happen? No, no, I'm very understanding of the painstaking nature of this one. Falk phone call leads to potentially 60 70 phone calls back and forth, back and forth to find how we could maybe pull this off. And sometimes it's pulled off in in the fullest of possible ways. Other times there's diversions trunk, Asians, etcetera, little say no. That's just not gonna be possible. OK, what we have to do is maybe this and so I try to modify the ideas, etcetera. But this was one of those situations where Lin worked probably for monks. It months, months, we forget to finally get me to the point where I went click. Well, I had no contacts in the circus industry, so it's it was where do I start like, Yeah, I know one thing I didn't have, um but again, like I was saying yesterday, you know, you go into the role index of your mind and figure out, but who do I know who might know now? At the time, the circuses weren't being, uh held anywhere near us. We were thing. We could do it locally. So instead we had to go down to Florida. Uh, what's the name? About 10 out of 10. It was right past Sarasota. Um, it's a big circus community, and they actually built a circus for us. They literally put up the tent, brought in the bleachers, put in the sand, brought in the animals. It was unreal. It was very exciting. And for and for those folks, it's like falling off a log. Yeah, that's what they do. They set up the circus. They leave it, stay for a few days, they pack it onto a train and they move, you know? But this effort, obviously, you know, is a big effort, and we had funding for it. Other things I try to do, I start off. Just I spend my own money, you know, And what you're seeing in some my archive here that presented over last couple of days. I think you've seen I'm very font of the performing arts. I work a lot with dancers, circus people, athletes. I'm very interested in obsession and excellence. And these people are amazing at what they do. I'm also interested in the idea of the notion of someone who feels like they didn't get on stage and captivate people being a musician. Ah, poet, you know. But I do tend, obviously, visually I go more for, you know, the the visual arts. You know, performers who do kind of this amazing thing. I'm I am like a kid, you know, because I could sit at the circus or the ballet or the theater and just be slack jawed all day long of the talent of these people. And you have to give flight to your imagination, too, because, hey, at this point, I don't have a climb. That's that. You know, that's that's the beautiful thing about spending your own money. I'm the client and the art director and the lighting director and the photographer, you know? So I go forward and Lynn grits her teeth and this Look, I just kind of need to do this. I really want to do this. And then I got and John and Kelly were there when we showed up in Vegas and I said, Well, we got to go to a truck rental store, you know, um, garage something. And they said Why? I said, I want a tire. You said you want a tire. Yeah, I think it would be fun to get these athletes to play with a tire. And so we went to this salvage, you know, garage. And I was kind of, like, non plus behind the counter. He's like, Yeah, I'll rent you tire, you know? And he even offered to drop it off, you know, and said I'll bring it overall. Pick it back up was like a £250 truck tire. So we haven't hung hanging from roads from the ceiling. And I got my new under it. Okay. And then, uh, you know, cat balances. I mean, can you imagine, You know? Yeah, Just get on the tire and balance. You know, I'm like, you know, this is fantastic stuff. You know, if you noticed there's a smoke machine in the background, Um, and, uh, they're just marvelous. Beautiful thing. The camera stands in service to them, so this is not gone anywhere yet, but I keep chipping away at it, and I mentioned it the other day. May have interest from a national magazine that might want to take a look at some of the athletic prowess that exists down in Vegas. Will see, I have no idea. You know, one of the things that runs counter to popular wisdom and Lin again, you know, her varied skill set sort of is in relationship to mind. I have widely diverse interests. So she's developed widely diverse sets of contacts over the course of time because being a general assignment magazine shooter, I've kind of grown into this world, being able to shoot sort of anything being interested in shooting anything. I enjoyed time behind the camera, win, lose or draw. I like time in the field. I like looking through a lens. So hence I'm not particularly directed by one absolute aspect of photography. Ah, culture, a geography, geographical region. Or, you know, cause I'm no general assignment, you know, I'm on assignment, guy. That's what I am at the end of the day. So, to that extent, my something I don't preach this because, you know, it's I don't preach to anybody, you know? You should be doing this. No, but I do say, like a notion of I have is diversified and that runs a little counter to maybe popular wisdom, which a lot of folks are out there saying you really have to specialize, you know, you know, because, you know, art director is looking for somebody Shoot apples and you've got oranges. See? I don't know. No, no. You know, when things were at their worst, Oddly enough, that is a time to be most aggressive. Perhaps, you know, again, I can't tell anybody how toe live their life. And again, I just bless the people involved in our studio because we've been through some nail biting times, Definitely. Where we weren't sure where it was all going to go. It seems very likely that it might go south. Numerous instances, So, yeah, after 9 11 You know, uh, there wasn't much photographic work anyplace on, so I just kind of thought fought my way into a project where used the world's only giant Polaroid camera. They used every contact I had to try to piece this together and our tiny little studio, Lynn. And, you know, that was with me at that time. And a couple other people we had we were, you know, backs to the wall. Kind of not without much resource is we pulled off this project in this project, became a book on a traveling exhibit, and it helped raise nearly $2 million which was donated for the relief of downtown public education in New York. And it is a resource now that I am in constant, constant but regular conversations with the 9 11 museum who wishes to acquire the entire archive. Has it been easy? No. No, it has not been easy. This has been a labor of love, But I haven't a emotional This is maybe the way to close out. You know, the business section here is you know, all of these numbers. There's an emotional underpinning all of this. You need to do this. My counsel to you is find something so beautiful you can't help but shoot it. It will save your soul in the middle of all this business stuff. No. One of my very first ballet pictures, you know, just a very simple thing to do. I I met her. She was a dancer. We lived near Lincoln Center. She needed some pictures. I volunteered this. I shot in 1977. Okay. And I'm still shooting dance food for the table and food for the soul. Always to make room for shoot. What? You love. It's the only way to keep your heart beating as a photographer. I just shot that a couple of years ago in Mexico. Simple picture. Just me on the street with a dancer. Available light, No flash. You know, nothing going on.
Ratings and Reviews
Oh. Wow. This is a must-see class for everyone who is passionate about photography.
Student Work