FAST CLASS: The Power of Body Language
Vanessa Van Edwards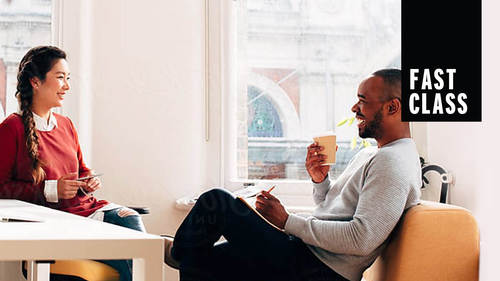 FAST CLASS: The Power of Body Language
Vanessa Van Edwards
Class Description
FAST CLASS:
Try a Fast Class – now available to all CreativeLive subscribers! Fast Classes are shortened "highlight" versions of our most popular classes that let you consume 10+ hours in about 60 minutes. We've edited straight to the most popular moments, actionable techniques, and profound insights into bite-sized chunks– so you can easily find and focus on what matters most to you. (And of course, you can always go back to the full class for a deep dive into your favorite parts.)
Full-length class: The Power of Body Language with Vanessa Van Edwards
SUBSCRIBE TO CREATIVELIVE and cue up this class and other FAST CLASS classes anytime.
How strong is your first impression? In this course, body language expert Vanessa Van Edwards explains how to use non-verbal communication to become the most memorable person in any room.

Vanessa will show you how to:
Read people by gauging their visual cues
Use body language to your advantage in meetings
How to tell if people are lying.
Voice modulation so you can impress clients in phone conversations
"Statement Analysis" to help you write powerful emails, website copy, and business cards 
This Power of Body Language course will positively affect every part of your professional life.  By the end of the course, you'll be able to identify exactly what impression your verbal and nonverbal language is giving, and how to increase it.

Class Materials
Baseline Coding System Chart
The Nonverbal Elevator Pitch
Laws of Body Language Worksheet
Laws of Body Language Answer Key
Course Action Steps and Homework
Ratings and Reviews
Student Work