Class Introduction: Crochet Cardigan Sweater
Vickie Howell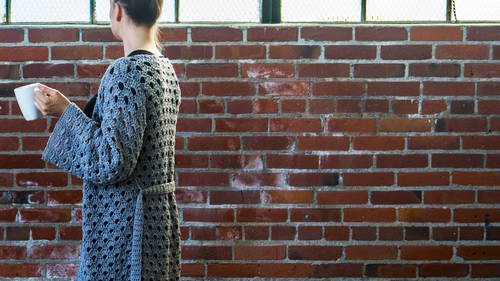 Class Introduction: Crochet Cardigan Sweater
Vickie Howell
Lesson Info
1. Class Introduction: Crochet Cardigan Sweater
Lesson Info
Class Introduction: Crochet Cardigan Sweater
Hey there. I'm Vicky. Hello and welcome to how to crush a an arcade stitch cardigan. This is a class I'm really excited to bring to you, because if you're taking it, you've already become a huge lover of crow Shea, and you're really ready to jump to the next level by learning how to make something wearable. And we're gonna be working on this project that I designed. It's a cardigan. It's kind of aware anywhere for anyone. Project. It's this great card again. It's got very minimal shaping, which means it drapes. It's also pretty forgiving in areas. And I've sized it from a size small all the way up to a three XL. So it really is a pattern for anyone. And I'm gonna take you from the very beginning from the just showing you how to create the arcade stitch all the way to the end to the edging and the seeming up. So I'm really excited to go on the sweater journey with you. I can't wait to see you work on it and wear it and share it. All right. Why don't we go ahead and dive right in? All ri...
ght. So the first thing that happens when you're making a sweater is you have to choose yarn. I'm using a yarn right now that is, it's called. Mrs Crosby is the brand name, and it's steamer trunk is the type of yarn. But really, what you need to know is that I'm working with 100% super wash. Marina will. If you have wool allergies, don't worry about it. You could totally use a different type of yarn. What you really need to know is that you need a you need to make sure that you use a yarn that is about the same gauge. And I've got that in the pattern. The pattern is in the bonus materials, of course, eso just go ahead and check that out online. And you also just maybe want to crush a a swatch or two and just see if you like the drape. This particular yearn has a really nice flowy drape on. That's just something that makes us a really versatile project. So we've got our yarn here. This isn't a Hank. You cannot Cochet straight from a Hank. If you want to know more about winding a Hank into a ball, you can please check out Micro Shea 101 courses, but really go old school style. Just wrap it in the ball, get it done. I've done that in with some urine here. And so what I'd like to do before we actually get started on making the sweater is just show you how to do the arcade stitch pattern, which is over several rows, and it's gonna be the foundation for the entire project. Here's a little swatch of the arcade stitch pattern and this is going to be this is gonna lay the groundwork for all of the fabric for the whole sweater.
Class Materials
Arcade Stitch Cardigan Pattern
Ratings and Reviews
Great video! Beautiful pattern. Wish the camera would zoom in more on her hands when doing the stitch work. I adore Vickie Howell. She is a great teacher. Cannot wait to see more of her videos in the future. I can't wait to make my cardigan!
This is a great project. It gives me confidence that I can do this. She is a very good teacher and easy to follow along with.
Student Work