Sew the Pieces Together
Vickie Howell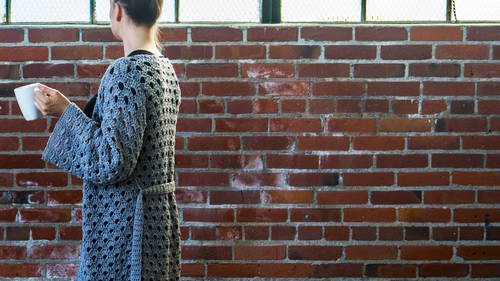 Sew the Pieces Together
Vickie Howell
Lesson Info
6. Sew the Pieces Together
Lesson Info
Sew the Pieces Together
All right. So we've made all of the pieces to her cardigan. We have made our back. Our front pieces are sleaze. And now we need to assemble our beautiful sweater. So as I mentioned before, I made sort of a dull size version. Just it would be easier to see. So I'm going to kind of show you how it all lays out. So we've got our back piece right here. We've got a front piece, we've got a another front piece that right this way. And then we've got our sleeves, and that's gonna end up being your sweater, right? Kind of cute. I mean, come on. It's kind of cute, but so how We start assembling those, we're going to start at the shoulders. So the first thing we're gonna dio is I like to lay my pieces out so that the right sides air up in both peace. You're gonna need a tapestry needle and your yarn, and we're gonna be selling them together. When I'm seeming pieces together, I usually add a little bit of a Not that I'm gonna bury, so I'll turn my piece over to the wrong side, and I kind of just ...
There's really no method to my madness. What I'm trying to do is I'm just trying to weave in the yarn a bit, so it has a really nice firm grasp on the back of the fabric before I start my seeming Okay, so then I come out on the right side of the piece, so I'm matching this up and I've got my needle or my urine rather coming out through the back of the piece. So now I need to come over and I need to get the shoulder of the front side of the piece. Just gonna work under the loops that's on the side that I'm gonna go back over to the back piece. I'm gonna go under the loops of the stitch is on that piece pulling it tight, gonna come down through the loops you can see here I'm going through the loops of both loops of what would be the last stitch of the row when I worked it and I'm gonna I'm just zigzagging back and forth. So now I'm going to go back to the next one, make sure that I get under both and then I get under all applies of the arms news is really easy to split the implies. So you just want to make take care to not do that just because it'll look a little messy and you're just gonna zigzag back and forth all the way across. And whenever I'm seeming a piece together, I like to stop every few stitches and kind of stretch it out a bit. And what that does is that lets the yarn settle into place as if it were being worn by someone. There's some wear and tear that happens through body movement, so if you can already kind of pre settle your yarn toe lay where it's gonna lay with a little wear, it helps not only for the bunching of the fabric, but also for it to not come a nwo oven or unsold while you're wearing it. All right, so I'm almost done with the front in the back, and you want to make sure I know that I still need to go more because you don't want any of that top edge showing right? So one of my ends is poking out. Let's get rid of that. Have some slightly. We're here, and I think that just about does it. So right now our shoulder seam is completely done from front to back, so I'm just gonna flip the piece over. I like to give a little reinforcing whip stitch, which just means I'm coming under some of the loops, once or twice, and then you can, either. Not some Crow shares are adamantly against knots. I am not one of those Chris shares. I like the safety of them, so I'm going to do a little not. And then I'll weave in the ends while I'm there and we even ends when you're working with a really open we've stitch pattern like this, you kind of have Teoh. There's a little bit of them just going with your gut and just finding where you think that you could bury. It's always better to bury stitches wherever there's like a dense amount of fabric. So within a seam or on a single crash a row or in any of our at the bottom, the base of where all of our five DC's were. There's a nice area right there that you could bury and ends, so kind of just look around and be resourceful in that way and just make it work. Okay? Again, I'm pulling at the fabric to make all the yarn settle. I'm gonna snip that. So that is the front in the back piece. So now what I want to do before I work on the side is I need to insert the sleeve. So I'm gonna grab one of my sleeves, and I'm gonna work it in now because we do not have a flat edge to the top of our sleeve. It's gonna be a little scallop e. And there's not scallops on the side of our under arm, right of our pieces. This is where you have to just work with the ease of the fabric, and you just kind of fit it in. Your goal is, though, that you know that you want to inset this piece into this piece and I think that I have some clips here. Let me pull them out. I recommend using some form of you can use straight pins, sewing pins. You can use wooden pins. I actually really like There's thes clicks. Let me see if I have any. I do have some. There are these clips called Wonder clips that I think are actually wondrous. So here's just a couple of examples. These are the clips or I have the beautiful tens that also work just something toe hold your fabric together. It didn't matter as much when you were working with us with the pieces front to back, but because there's a little he's involved in this portion, you kind of want to make sure that you hit those certain sewing points. So I want to make sure this fits in. So I'm gonna go ahead and just clip this so because I have both edges clipped, I know that I could just sees this As long as I get all of its own in there, I will end up where I need to be with that piece set in the arm hole shaping and actually I can probably move it cause I'm gonna start from one side. So just like we did with the front and the back piece, I'm gonna come up underneath and kind of bury the end of the yarn a bit just to give me a really nice stable. I'm beginning rather than just tying a knot and pulling it through it wouldn't take much for a little wear and tear to pull that not right through the open. We've. So I like. That's why I like to do that little additional weaving in. Okay, so I'm easing this. I want this to sit right about here, so I'm going to Justus. We did before come through the loops of the stitch at the top of the sleeve stitch, and then I'm gonna come through loops on the side now because I'm not working from I'm working actually from Roto Edge, It's not gonna be as straightforward. I'm not going to see the top stitches of one side and the top stitches of the other. I'm actually working on the rose the side, so you have to kind of fake it a little bit there. And what I mean by that is there is not a stitch per se. It's gonna be a side of a stitch in. See, there gonna be a post or it's gonna be the top loop of some. So just kind of go where it feels, right. And then you're gonna come back and again, every few stitches giving it a little tug, especially because this is an area that needs some ease because there's the wear and tear of the curve of your arms and the movement of your arms. You want to make sure that it has the room to have that gig. Forgive, rather, okay, ditch that wonder clip, and those clips are available at just your local craft store. By the way, thereby clover is the brand, and they come in all different sizes, and I like them because they don't have. They're not like sharp pens that are gonna maybe snag my turn. So I used them a lot. We're going through, and you can really see how nicely the pattern melts together, even though we are kind of winging it a bit. Because we're working on the sides of the posts on one side and the top of the stitches on the other, it really melts together and will be relatively invisible once you're done. There's also some really subtle color changes in these greys in the gray of this year in, and that, um, actually deflects from any noticeable seeming as well. It's just a little added added feature. Okay, we're getting close to being done. Okay, I think that's leave this completely and so going to do as I did before. Do a little safety whip stitch Thai we not and then bury in those ends. Snip. Okay, so now our sleeve is fully in so we can fold her piece down. And so now the next step to seeming is going to be working up the side and around the sleeve. So I'm going to show you one side. I won't do the whole other side, but I just want you to see at least a completed one side of of your card again. I need to get more year, and I'm running out of it. I want to make sure that I have plenty of yarn, so I don't have to abandon ship in the middle. I usually use probably three times of what the length is. Of what? My overall pieces that I'm gonna that I'm going to be seeming so it doesn't really matter if you start at ham or a cuff. Just whatever you really want to do is fine. It doesn't matter. I'm going to start from the hem line beginning as I have all the times four by bearing kind of the not in the bottom piece. Okay, so then I'm coming out of the back piece and I'm going. Teoh, how can I show this easiest? So I'll kind of show you from the single. I'm going to come through the front piece and grab a loop and go to the upset side and grab. And you. Incidentally, if you wanted to, it wouldn't be the worst idea in the world. Teoh at crucial places like the underarm. You know that your underarm seams won a match. Clip that there you could also, you don't use the clips. You can use this kinze whichever you want to dio just so that you make sure that you're kind of staying on track. Okay, so I'm gonna go back in and seem one of the things that I'm hoping that you'll take away from this class to is is the knowledge that simple shapes can create beautiful garments that you don't have to go crazy with technical levels or was shaping for something toe look really classic and beautiful. And also that you can take a stitch pattern when it is written out and gives you the multiples that you like and you can then use that pattern for something else. You could make an arcade stitch pillow if you wanted, or a bag or a long scarf. This just gives you a nice foundation to show you how you can create a fabric and then do whatever you want with that fabric again. Every few stitches I'm giving it a little time to make sure that it's laying out properly, going down through the stitches on the back, I come through the stitch on the front. Can we remove my pen and just continuing? So we talked a little bit at the very beginning of this about yarn choices, and I know that I mentioned that you could do. You could use another yarn if you had some more allergies, but I thought it that that I would talk a little bit more about what your other options are so really other than gauge, which we've talked about. You really want to also pick something that has a nice drape because this is a crow shade coat. It can get heavy if you use a really dense yarn this year, and although it would be dense if it were much thicker because of the way that it's twisted. It actually has a really lovely drape at this way. And this this is probably, ah, light, worsted, um, like worsted weight yard. So just as long as you get you know, the drink that you want. I'm I think a particular cotton blends would be okay. Absolutely not. 100% cotton. That would be super heavy. But if you had, like a cotton acrylic blend, that would probably be nice. You could use something that had kind of a ray on or a silk blend would work for this project really nicely. Just go and check out your local yarn stores. That's what they're there for for you to go in. And you can show them the projects and to talk about draped. And they're they're super happy to help you. Um, just explore. All right, so I'm coming up to my where my sleeve meets the back. I kind of wish my daughter was into dolls all of a sudden so she could use this little coat. For one. She is not at all. She's way more of like a gamer kid like her brothers, but except for kittens, she is a cat fanatic, so she likes. Plus, she's and she's at This is a total side Now. I don't even know I'm sharing this with you, but she's at, like, 75% cat fur themed clothing. Right now. She's super pro cat. So maybe if she had sort of like a humanoid cat, she would put the sweater on it. Maybe that should be my goal. That's very my next class. Humanoid cats, How you make them. I mean, it's a natural transition from a year in class. It really is things about cats. I think I owe it to the education community. This is this is we're at the stage of the coat making where you get the crash, a slap happy's and this comes whenever you're working with any on any big project on a coat or a blanket, you hit a certain sense of delirium, or we could call it a crush airs. And that, my friends, is where I'm at right now. So we should talk about care caring for this coat to while we're working on our seeming this year in this during that I'm using is Super Wash, which means that you can receipt machine wash it, which I'm okay with you doing as long as you choose a really, really gentle cycle, Um, and promise me that you're not gonna throw it in the dryer, even though it wouldn't felt because it's super wash. I just don't think it's great for the like, the polling in the of the shapes. I would I would recommend that you lay it flat to dry. You could late on a towel or if you have a great or ah, special rack for drying, that's that's what I would do. I mean, you're probably not gonna need to wash up that often, Since this is an over garment. This isn't gonna be warned super close to your body. But it's still good to know. And you want to care for your cruciate items because you put all of this work in tombs so they should last. You can store them in plastic bags if you want a few pack away for, um, warmer months, although, honestly, this is a great coat for the warmer months because you can throw it in your car and it would be perfect for if you were going down to the beach or whatever, and it gets a little chilly from the ocean. This might be one of those sort of go to pieces. So I take back what I said about storing it, cause you're not gonna store because you're gonna wear it forever. Okay, so I've finished time, my little, not we. Even my ends pull through. Not that fast or else it'll not. And I'm going to snip, all right? And so we have a complete side done. So all you need to do is lather, rinse. Repeat that exact same thing on the opposite side, and you will have all of your seeming done and you'll be ready for the next step.
Class Materials
Arcade Stitch Cardigan Pattern
Ratings and Reviews
Great video! Beautiful pattern. Wish the camera would zoom in more on her hands when doing the stitch work. I adore Vickie Howell. She is a great teacher. Cannot wait to see more of her videos in the future. I can't wait to make my cardigan!
This is a great project. It gives me confidence that I can do this. She is a very good teacher and easy to follow along with.
Student Work