Edit using the Enhance Feature
Mark Wallace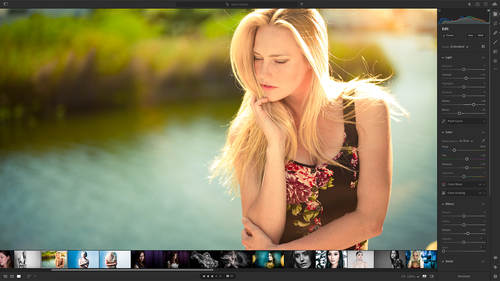 Edit using the Enhance Feature
Mark Wallace
Lesson Info
10. Edit using the Enhance Feature
Lightroom can use artificial intelligence to automatically enhance your image. This is one of the features of Adobe Sensei.
Lesson Info
Edit using the Enhance Feature
let's talk about enhance its a Sensei feature in lightroom that is specifically for enhancing photos for printing in large format. So if you want to put like a six ft print, something like that or if you want super high resolution out of an image that wasn't super high resolution to begin with, you can use enhanced to create a double resolution. So it'll take whatever you have, it'll double the width and double the height. So it is a gigantic file. Now this only works on some raw files, this does not work on Jpeg files and it doesn't work on the images that you photo merge hDR images and things like that. So there are some limitations to this. But let me just give you a demonstration of why you might use this and how it works. So we're hopping back over here into Lightroom and what I'm gonna do is I'm going to go to um some workshop files here, I'm sorry to my travel photos and I have a in my India folder, I have Agra India and I've got a photo of the Taj Mahal. You have this in your c...
lass files by the way. So here's the Taj Mahal, I like that and perhaps I would want to print this out on a poster somewhere, a large photo or something like that. So it looks okay as is but what I can do is I can right click and there is a an option called enhance. If I click enhance this is going to go into the cloud and Adobe Sensei is going to try to enhance this in one of two ways. The first way is it will try to improve the details and reduce artifacts in the raw file itself. So I can click that and see without and with and so what that's doing is it's cleaning up the image so if I print this out uh and a large poster or something it's just gonna print a little bit nicer or I can choose super resolution. And what that will do is it's going to double the image and vertical and horizontal. It's going to double the amount of pixels. So if we look here this is just the normal resolution and we can see these people zipping along. You see this person has a camera and this is a group of friends zipping along. Watch what happens when I go to super resolution, it zooms in and cleans up the image by double. You can see a totally different view of the people walking through here so I can even see this lady back here or this guy back here, I can see this person has sunglasses if I take that off can see it goes out. So by creating a super resolution image it's going to give me a much better large format print for my poster or my billboard or whatever that is. And so once you do that um then you just click enhance to do this one, it's gonna take about 11 seconds to double this. So I'm gonna say enhance, We'll let that go for about 11 seconds and again this is something that you would use if you want the maximum detail in your photo for printing out something that's really large or when you need lots of resolution for printing out something that's really, really large. And so this is specifically when you need the most pixels that you can possibly get at the highest quality. So you should shoot with a high resolution camera and shoot in raw and do your best to get everything captured correctly. So you have all that detail but if you need to you can enhance those photos. So let's go back here into lightroom and we'll just take a look notice, we have a stack here and so we have the original file and the enhanced file, let's go into detail view and let's zoom in here And so I'm going to 100%. You can see down here 100%. So you can just double click or click once on this, it'll zoom in but you can see there's an incredible amount of detail and we can see all these different people, we can see that person with the camera right here that we've looked at and it is just great resolution um and so I can go full screen what an image that we have created here in lightroom just by creating this super enhanced feature. It's really really cool. Okay well once you have your images, you've sorted them, you've merged them. You've done all that stuff. We now need to start learning how to edit our images so we're gonna jump into that next.
Class Materials
Tether Tools Pro Kit Discount
Tether Tools Starter Kit Discount
Ratings and Reviews
What a great class! I've started & stopped a few Lightroom classes up until now, but generally gotten bored, confused or felt I needed to step away to learn something else like Adobe Bridge first. Mark is a great instructor, engaging, specific & very clear with his explanations. I finally feel confident to play in Lightroom instead of feeling constantly overwhelmed by what I don't know!! Awesome! Thank you, Mark, you've also inspired me to dream about travelling again now the world is opening back up :)
I'm glad I bought this course. It was very basic but just what I wanted. My plan was to see if Lightroom could replace my current Lightroom Classic. Some of Lightroom functions are fantastic it looks like many of the functions I use with Lightroom Classic are just not there. So in short Mark answered many of my questions.
Excellent fundamentals course on Lightroom! I really enjoyed Mark's teaching style which is easy to follow and very relaxed :-)
Student Work