How to Line Up Podcast Interviews
Brigitte Lyons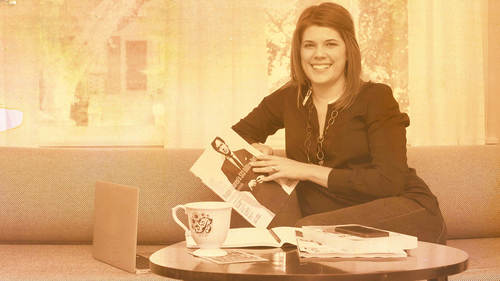 How to Line Up Podcast Interviews
Brigitte Lyons
Lesson Info
9. How to Line Up Podcast Interviews
Lesson Info
How to Line Up Podcast Interviews
So let's look at how toe lineup podcast interviews. I love doing podcast interviews. I think they're so far. They're such a great way to test out your messaging because you're in a dialogue with somebody and you can see what they respond to. So not only are you reaching an audience, but you're getting some live testing in there. And pockets are really a growing area opportunity for your business, right? There's so many new podcast coming out there every day. They're not getting the same kind of amount of different pitches that other kinds of media outlets are. So there's a maybe not as much competition. So it's just this great opportunity for you. So here's an example about podcasts. Unmistakable creative podcast is actually run by front of mine Shrine Row and, as May weighing, pitched him on rewriting or narratives and Brokenness and so stream. He does. You know these profiles with people who have really interesting stories in a variety of different industries. So he really focuses in...
on you know, what's your personal story? What's really unique about you and as May was a great target for this. So this is an example of you know, podcasts on this page two. There was a link back to her website, and I think that his podcast can be up to like, an hour long. Sometimes 30 minutes, sometimes an hour. Save a lot of opportunity to get your message out there. So the benefits of podcasting are there hugely effective in communicating with an audience because you have that personal touch, you know, they're able to hear your voice and people connect so strongly with voice. That's how we're hardwired to connect. Um, you're also likely to get a link back to your website, but you don't always, so you can figure that out. If the podcast is listed on ITunes and it doesn't have its own specific site, you might not get a link back because I tunes doesn't have a space for that. Always, Um, but another benefit is you have to write anything right? You can pitch your podcast too little prep, show up and then do your interview. So it's just a fun and quick and easy way to do it. If you're comfortable talking about your message, the big drawbacks are that, you know, podcast. They might not have as much name recognition. So when you're looking to put those badges of success on your website to put the name of the media that's featured you podcast might not have as much of that. And it just depends on your audience and what they're tuning into. You also have to prepare a little bit of the delivery of your message. You know, what we recommend is that you think about some questions like listen to some podcast interviews. Think about some of the questions you're going to get and practice the delivery. Ah, lot of interviewers will ask the same kind of questions so you can prepare that. And so that takes a little bit of time. Um, the pitch to coverage ratio that I found for podcast. So when you're doing a really great job targeting the right podcast, you're not sending out 100 pitches. Maybe you're sending five pitches. Story podcast, I think, is really high. You can have a lot of success when you're pitching the right podcast, so it's a great way to get out there to start building that moment. Simon, start practicing. So how do we find this podcast opportunities? All right, we're gonna go to my favorite. We're gonna search. So I used asthma as an example here because she does writing. So you know she does not. Or she just fiction writing, nonfiction, writing essays. That's an area that she's really focused on. So I thought, Okay, Best podcast for writers. I just Googled bat and you see, there's a ton of different results. Fortunately, again, it's a little bit hard to read. But what I would do here, then, is just clicking all of these different results and see who is having guess. You know, Is it a single a single voice show where you just have a host or co host? Or do they bring on unique guests? If they bring on unit CASS, it's a great opportunity for you. Another great place to go to is ITune Store actually has list a popular podcast by category. So here I pulled up the arts, but you can see in the sidebar all the different categories. There's arts, business, comedy, education and so forth. And so when you click on one of these, you can even see that their sub segments under arts design, fashion and beauty, food literature, performing arts official arts. So you can click on one of those. Or you could just scan the popular code cast and see the names of them. And right off the bat here, you see ampere, fresh air, the moth Ted talks those air Pretty big podcasts, right? And so what I recommend is you kind of keep going and you look for something like this craft cast that might be something that's a little bit more approachable off. You know, as your as your building it up. So just kind of glancing through them. What catches your eye, What looks like it might catch your customers, I and then checking them out and seeing their content makes sense for you. And then, of course, looking at what your competitors are doing, where your competitors at again. That's my favorite sneaky trick for building up your media list. So how do you submit a question? Yes. No, go ahead. I'm curious. I always assumed that they must send you the questions that they're gonna ask you before hand so you can prepare. But is that not normal? It kind of depends so you can ask for them. One of the things so that will do in any sort of interview. Opportunity is we'll just say, like, Do you have some things that you know you want to talk about so that I can make sure to give you what you want? So I message it that way that it's back on what you can give to them, um, rather than for you so much so you can absolutely do that. And if not, you can just make educated decisions based on the podcast you're listening to. Yeah, that's a great question. It it depends on the person and how much prep work they dio. And you know, some people will. Some people won't. It really depends. We had one client who we had booked it out like a couple months in advance, and we didn't get the questions until the day before, so but we actually came up with a list of listening, listening to the podcast and bliss was almost the same. So you could really tell the trends. It's a great question. So how do you say customize your submission for podcasts again? You want to send three topics that you should cover. So this is another way where you use that approach, you wanna send them, hook them with a headline. Introduce your topic here. You don't necessarily have to have different headlines. You can just say like I can cover Boom, boom, boom. You know, I can cover my, um, my top Europe tips. I can cover how to write a great headline. Or I could cover how to write your author bio, right? That might be something that I would do if I were pitching myself for a podcast. So you can actually give them a couple of different areas of things you can talk about. If you're pitching yourself in your personal story, you know, that's another great way you could do it. So you might say something like, you know, things that I think your listeners might be interested in our, um uh how I learned how to do my craft like, how did I learn how to do my work? Or how do I fit creative projects into my day even when I have all these other focuses. So pulling out like the different kinds of areas of your personal story can also work with these different topics, just different focus and then here, it's I'd love to be guests in your podcasts. So it's just a really simple customization. You're taking that same template and just tweaking at a tiny bit always follow up. So you're gonna hear this from me over and over and over again, and it's because nobody ever follows up and it's so important. There is so little media coverage that we've ever gone for a client that hasn't required follow up, it doesn't happen. People are really busy. They have 1000 prior priorities, which is just so important to send that one follow up email you if you that is just gonna exponentially change the results that you're getting with your media outreach. Since I'm ultimately trying to drive business to myself and I primarily work in the Bay Area, is there a way to search for podcasts where the audience is air local? I would try searching like low top Bay Area podcast. Have local podcasts. Yes, So you could definitely into your search. One that service that way. Yeah, you're not going to find that in a in the ITunes store, so when you're looking at the podcasts, it won't be there. But as you're doing your search, you can find that there are often grouped that way. Great question. All right. Show of hands. Who is going to join me in loving podcasts? Yeah, way. I'm so excited for you guys. So here's how you're gonna follow up on that. The same thing. Find 3 to 5 podcasts you'd like to pitch. Although if you just find one, start with that one, right? Don't let this hold you up. Just get that momentum. Select your to 5 topics that you're going to submit. Now, will we talked about gas posting contributions. We have that question about exclusivity. So I say when you're pitching a podcast topic, you don't have to worry about that so much because the interview is gonna be unique every time you do it. Even if you're covering the same subject, you know you're gonna have different stories to tell. You're gonna different inspiration in the moment. And there's not as much of that like competitive streak as there is with other kinds of media. So I think this is one area where you can really introduce yourself, select your topics and send it to a few different people. and you can totally get away with it. So you wouldn't worry about that as much and then send out that submission. Get going with that first submission setting out to a podcast. Say that this is It's so funny. I've been I've been interviewed for a number of podcasts, but it's just never occurred to me to pitch other podcasts. So thank you. You're welcome. Thank you for telling me that. Yeah, this is all about, like choosing yourself, right? Pitching yourself and you you don't have to have. I know it's more comfortable for people often when they hire somebody like me to pitch them, because then you have that layer of separation. But the people you're reaching out to, they have content to fill the's podcasters need new gas every week, every month. However often they're coming up of content. And so you were helping them do their job. You were helping them create the content that is their products. And they're looking for somebody so you can choose yourself. And I have had podcast myself. Okay. And I can speak to that. I I love it desperately looking for Who are we going to interview next Yes, Absolutely. Another thing you can do is you know, if you if there's somebody out there and you know somebody who knows that actually, they have one. As may I made the introduction for her. And so, you know, you can say like, Hey, I know that you know this podcaster. Can you have them recommend me? Or you can do that for a guest post, you know? Will you refer me? You could absolutely do that. And if you have that connection, use it. Don't be afraid to ask for what you need, but don't let that hold you back. You don't have to have that. Any other questions about podcasting now? OK, well, I see a lot of awesome podcast pitches in our future, and I hope you'll all tweet me or email me and let me know when they come out so I can listen to them because I'm really excited about that.
Class Materials
Brigitte Lyons - Blogger Outreach Bootcamp.pdf
Brigitte Lyons - Brigittes Fave Free Media Resources.pdf
Brigitte Lyons - Magazine Contact Cheat Sheet.pdf
Brigitte Lyons - Pitches That Worked.pdf
Ratings and Reviews
This was great. Very informative and well rounded materials, very accessible and encouraging teacher, and lots of ideas and techniques to help get people started. I got a lot of my questions answered in this class and am excited to start implement her ideas!
I don't know what the other reviewers are talking about - this is a gold mine of information for someone like me, who is very unfamiliar with PR! I can see this helping me out in many facets of my business. Brigitte is an excellent speaker.
Good information. As a women, fashion Stylist who worked for big advertising campaigns like BMW, Nivea... I can´t get over the part that what your wear is part off your success! It makes her for me less believable!
Student Work