How to Write Your Expert Bio
Brigitte Lyons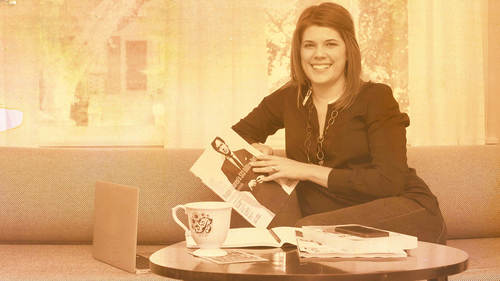 How to Write Your Expert Bio
Brigitte Lyons
Lesson Info
6. How to Write Your Expert Bio
Lesson Info
How to Write Your Expert Bio
So the other component that's really important when you're pitching yourself is writing your expert bio right? It's so important that you're able to present yourself and your expertise, and so you really need to be able to sell yourself when you pitch yourself. So, of course, in addition to your great idea, you need to sell yourself as the right source of the right person to share this idea. And I promise you this isn't really as hard as it is. It might feel, and we have a great template and tutorial for you on how to do this. So your media ready bio is this really short and succinct way of sharing what your credentials are? And again we're pitching. You were pitching your ideas, so we really want to put you in the best light possible. But we want to make it very scannable and easy for an editor or blogger. A producer, you know, whoever your media contact ISS to get the information out of, So what you want in your bio are your credentials. With a name and a link back to your company, y...
ou won't have your most brag worthy accomplishments in there and you also want help in editor, blogger or producer? Understand? You know who it is that you, sir, and ideal you'll do all of this and 100 words or less on, Like I brought some examples of me today to show you how this can be done, because 100 words is kind of scary. So here we have a bio that we have for a client of ours who gave us permission to share this with you. Jenny Do Pozzo. She's the one who's a graphic designer, and this is actually under 100 words, I promise. I know it looks like a lot of tax when you're seeing on the screen. So gender. Pozzo is a founder of the ward. Winning can delete his studio as a supporter would do it. Do it with others. Culture to Pozzo has taught new business owners to build websites. Artist, a code fashion Designers to create interactive garments and Children, make Elektronik toys with crafts. Recent clients include The New York Times in nick dot com. Yeah, she is. It's a really nice extinct. It feels really good, right? She's this graphic designer. She's based in New York and we've used us in a bunch of pitches, so I want to take the pieces for you. So the credentials. So here, you know, for her, it's really clear. Can't elitist studios. It's the name of her design studio. So we have that and we haven't linked back. We have our accomplishments. So the clients of the New York Times and nick dot com if you have big name clients like this, is the place to show it off. If you have big name collaborations if your work is licensed somewhere, if you have a really great client that people have heard of, you definitely want to show that off. Um, and then we also have her focus. So here we were really focusing on this. Do it with others. Culture. That was where most of her pitching was going. So we use this bio for pitches on things that were more than just collaboration. So this is a bio that we were able to use many different kinds of pitches. We had some about, you know, elements that you need for user experience design on your website, and so so we talk about new business owners to build websites here So this was an all purpose heavy lifting bio. But in this case to do it with others. Culture was one of the most important things for your pitching for her. So you can see we hit all of these highlights, and we're really condensed all of her experience into this really powerful impactful bio. Another example I want to share with you is Terra Gentilly, who we've had on the program talking about how she crafts her message. So here you can see Teret and Tilly is a customer obsessed business strategist who's helped hundreds of progressive owners make a bigger impact for less heartache. She's a creator of Kickstart Labs of Micro Business Community and Resource Library. Were over 200 members support each other in navigating the new economy and author of several digital guys, including The Art of Earning an Amazon best selling book on entrepreneurship. Terrorist spoken by South by Southwest Interactive, flog her enrolled Domination Summit, and her work has also been featured in The New York Times bestselling book The $100 start up powerful. I think this is 103 words, so you can see how much of a punch like, Doesn't this make you feel like wow like, this is amazing. And this is a fairly old bio of terror. This is only about a year old since before her newest book, Quiet Power Strategy, came out. Um, and we use this bioterror to dio coverage in Fast Company and Forbes, so it definitely works. So here you can see her credentials in a couple of places, obviously her name with a link back to her website. We also named Kickstart Labs. Sometimes major Medio wants to see, like a brand name. They don't always love it. Personality branding. So if you have a brand name and your pitching something that is like a major major media outlet like fast company, you might want to mention that now, If you don't have it, it's OK. We've had clients who've worked with, like, entrepreneur, and they've been able to get in with their personal your al It's fine, but if you have it, use it. So you've got tear Gentilly kickstart labs and the name of her books over her credentials. You also have accomplishment so places that she's been invited to speak. So this is showing the influencers that other influencers people who are booking speakers, you know, our have always already given her there, like stamp of approval. So this is a great thing to include, if you have it, and then her focus so that she's a customer of sex prison strategist. So that's a right up in front. I know I listed that last, but you do want to get that kind of up early in your bio. You know, what is it that you dio, especially when you're promoting your expertise, You want them to know right away who it is that you're serving? Yeah. So I work with a number of executive CEO CIO CFO in Silicon Valley that are obviously clients that I don't share their pictures and I don't share their names for Obviously, that's why I work with so many out there. How would you put that in your bio? Because for me, my focus is working with families that don't have a lot of time but want beautiful portrait. It's eso in a media bio. I definitely cause this isn't necessarily going to get published, so I wouldn't worry so much about how your ideal customer might react to the spy. Oh, this is really to sell you to somebody to, you know, use you and use your expertise. So, for you, I would just say like, ah, preferred photographer or a favorite photographer of Silicon Valley CEOs. Okay. Wow. Wow. You don't even have a name. Drop any of them over something like that. Any other questions on on the format now? OK, so her action here is really to draft up your expert bio so you can have one bio that you can use to support multiple kinds of pitches and the next listen, we're gonna go into were actually going to show you how to craft an email pitch and put these together So you want to just jot down? You know what? What is your focus? What are the accomplishments that you might want to include in your expert pile?
Class Materials
Brigitte Lyons - Blogger Outreach Bootcamp.pdf
Brigitte Lyons - Brigittes Fave Free Media Resources.pdf
Brigitte Lyons - Magazine Contact Cheat Sheet.pdf
Brigitte Lyons - Pitches That Worked.pdf
Ratings and Reviews
This was great. Very informative and well rounded materials, very accessible and encouraging teacher, and lots of ideas and techniques to help get people started. I got a lot of my questions answered in this class and am excited to start implement her ideas!
I don't know what the other reviewers are talking about - this is a gold mine of information for someone like me, who is very unfamiliar with PR! I can see this helping me out in many facets of my business. Brigitte is an excellent speaker.
Good information. As a women, fashion Stylist who worked for big advertising campaigns like BMW, Nivea... I can´t get over the part that what your wear is part off your success! It makes her for me less believable!
Student Work