How to Choose a Podcasting Mic
Ray Ortega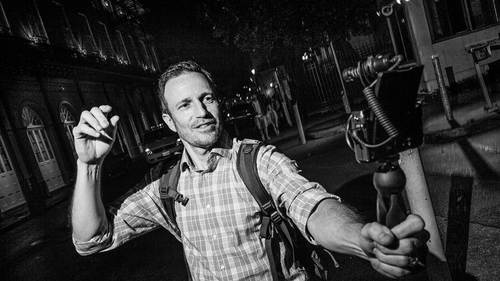 How to Choose a Podcasting Mic
Ray Ortega
Lesson Info
2. How to Choose a Podcasting Mic
Lesson Info
How to Choose a Podcasting Mic
Podcasting microphones, let's figure out how to choose, some factors when choosing a microphone for your podcast. Now these aren't necessarily designed for podcasting. There is one called the Podcaster, so I imagine they made that for podcasting. I don't have it in here. I have the big sister of that microphone, which I think is a little better which we'll talk about and I see a lot of kits that come out of like retailers and they're bundled and they're clearly not made by podcasters. They just don't have what you need to get the best audio. So they're getting better. Again, I showed some of this basic USB microphone here. This one, I think, they either got lucky 'cause it's been one of the coolest products I've seen in podcasting in the last couple years or they designed it for podcasting, I don't know. I need to get them on an interview to find out. All right, which microphone is right for you? I mean, to be honest, honestly it's subjective so ultimately somewhere down the line, you'...
ll be able to decide that for yourself because you might like the way you sound on this microphone and I might hate the way I sound on that microphone, so it's very subjective, but all the microphones that you choose, they're gonna sound good. It really becomes quite subtle differences when you get nit picky about moving up the scale of microphones and the key for us here is basically, we wanna choose the microphone that's right for you right now, so to get started. Again, we wanna drop away the barrier of all this tech so that you can start producing content 'cause that's really what you wanna do. We wanna make this go away and we want these to enhance the content. The content needs to be great and then we want the audio to then support it, not take away from it. If people are noticing the quality of your audio, then they're just pulled out of the story and that's just no good. So these are some factors to consider to help you determine like what microphone is right for me because a lot of times, you can't put your voice through a lot of different microphones. Maybe over time, you'll be able to go to a conference that's doing, you know, has a bunch of microphones. Maybe you live in a big city where you can go to a retailer who has them set up, but if you can't, we need to look at some factors. So budget being the first of those. Here's a spot where I would encourage some investment. Really over all of your podcasts, there's always points of making a little investment but, and I'm not talking about huge investments. So like if you were thinking, oh I wanna spend $ on a microphone, be willing to bump that up to like $75 to get into an entry level microphone that's gonna sound great. So not huge differences because the microphone is the primary connection to the audience and the ultimate result is they only get one thing. They get the audio file. So they don't see the pre-production, the recording, the editing, the show notes, the tagging, they see none of that. All they get is this one audio file, so we wanna make sure that that is good and then, your podcast format. So you might be a solo show, it might just be you talkin' to a microphone, recording that, and in that case, you could do like a USB microphone so it gets you in really affordably and it's easy to use and you start going right away. In person, if you have co-hosts, at that point, you're really looking at an XLR microphone, which we'll talk about the different between USB and XLR, but you want two microphones at that point. Two people, every person on the podcast should have their own microphone. Sure, there are microphones you can set in the middle of the room and it'll pick up both people but unless you wanna have like a very intimate conversation because part of getting good audio is being close to the microphone, that doesn't work. Plus it's gonna pick up more of your room. So getting close to the microphone is key, so everyone should have their own. And just as an example, like NPR might go out of the studio and get audio on street, person on the street. It's very loud, there's a lot of stuff going on and they get a shotgun microphone that's very focused and we're not gonna look at that kind of microphone, it's not what we need here, but this is an example that there is like not one microphone that's gonna do all the things for you. So each microphone does something pretty specifically and it does it, you know, really well, that one thing. And so I mentioned USB, so USB or XLR. There are pros to using a USB microphone. This one here is USB. It's a little cable that connects into your microphone and then it goes into your computer and it's plug and play, is what they call it, 'cause really you plug this in, it doesn't need drivers or anything else, and you open up some free software or premium and you start recording, very easy and sometimes this can go direct to mobile, some mobile devices, iPads, probably some Android devices, but then there's a lot of cons too. This has an XLR connection which is just a better connection. USB can be more prone to interference so you're dealing with noises that you don't want. You can't run long distances, so if for some reason your setup involves some of your gear being over here, XLR lets you do long cable runs. It's balanced so it avoids some of that, a lot more of that interference issues and you lock in the XLR cable, whereas a USB can become loose or come out, not generally a big problem but XLR is more pro. It locks in here and it locks in the other side so if you're movin' around the microphone, you're not worried too much about the cable coming out. And generally with the USB, you're limited to one microphone. People ask me all the time, can I use two USBs into the same computer? Okay, technically you can but it gets really weird. You have do these software processes and then even then, it's finicky and it might combine the channels and to me, it just becomes a mess and you don't wanna deal with that. It just gets in the way of actual production. So you wanna get into, you're gonna get into XLR when you're up over, you know, one microphone. It's just too finicky to do two USBs into one. So in general USB is also less adaptable. Everything that happens for the recording, happens inside this microphone. It has a preamp and an analog to digital convertor. It's all in here so if something fails, you're kind of out of luck. Now these that I have here have good warranties but if you wanna change the tone of your mic, if you wanna do things like, I mean the XLR will give you a little bit better sound. I talk about those differences are pretty subtle but XLR will do that and you can change the devices it plugs into. I mean, you could even plug right into a video camera, so it's just much more adaptable of a connection. And then we'll talk about the way it transfers your voice into a signal is dynamic. We'll talk about dynamics and condensers but you're limited in your options for dynamics and dynamic is one of the things we're gonna want for our non-ideal recording environments. So again, dynamic versus condenser, just making this really simple. Condenser is just more sensitive. It'll pick up more of what's in your room. It's gonna pick up more mouth noises, they're just hypersensitive. This is what singers use. It has really broad frequency pickup. They sound great, but the dynamics are more tailored for spoken word and talking into so they have some frequency response items that'll give an advantage for talking and for us, it's the best way to start because it's going to be less sensitive, that's the key. You just go dynamic, make it easy. If you have, again, a million dollar studio and you have a condenser you love, you can certainly make a good podcast with that so go ahead and use it if that is what you are already using and like it. Polar pattern, I'm gonna describe a little bit more. Instead of just telling you which polar pattern we want, I wanted to look at them a little bit real quickly but on the left, you have omnidirectional and this is just, you can see the circle. The yellow is where the microphone picks up its signal. So the audio comes in and its sensitive basically to audio coming in this way, sensitive to audio coming in this way, which is not something we really want. On the far end, I talked about shotgun microphones. You're going out in the field, it's hyper-focused. You can see the polar pattern where it picks up this audio, it's very, very narrow. So especially you're in a podcast, you're recording over an hour, you can't really go off microphone, you can't be very comfortable and you can see it actually picks up audio in the back too. So that is actually gonna create more problems for us in a situation where our voice is bouncing all around. Cardioid is sort of the Goldilocks of polar patterns and that's what we want. You can see the polar pattern is wider than this shotgun one, so it allows us to be a little, has some play on the microphone, but you can see it starts to also start to reject, falls off on the sides and in the back, you almost, you know, it's gonna pick up your voice off reflections, but my voice is not really getting picked up by the microphone. You have to be in front of it. So that helps us in rooms where they may be a little bit of noise, may be a little reflection. So, this quote here, Neil Tevault, he's an NPR engineer, I hope I said his last name right. This sorta solidified in my mind, I just like this. He said, pickup patterns are like lights. Omnidirectional, that's the full circle one, is like a bare light bulb, shining on all things equally. So if you have a bare light bulb, wherever the light goes out, that's where audio is coming into. And he said, cardioid is like a flashlight. You shine it forward in a wide but focused pattern. If you're shining a flashlight, no light is coming out the back, so that's exactly. If audio was coming this way, it wouldn't really be picked up. And shotguns are like lasers, they're narrowly focused on one spot. So, it's just another way to visualize polar patterns. Helps solidify the concept that I thought was kind of neat. All right, frequency response. So another aspect to evaluating a microphone, you'll see next to the various microphones that I show, I have a little hand-drawn frequency response. It's very basic, just to demonstrate some basic concepts. Again ideally, you would try before you buy but you can't, so we use some of these factors to maybe determine, that microphone might be better for my voice or not. And you're all kind of used to frequency response. You get in your car, you probably have an option to turn up the bass, turn up the treble, right? So that low end or that high end. Different mics will handle these frequencies differently. So each mic has its own frequency characteristics that'll enhance those different things but it can also enhance problems. So when you get really close to a microphone, it can get really muddy and almost sounds like you're talking behind your hand. If that is the case, if you have to be that close to the microphone, you probably don't want one that's gonna enhance that frequency of response. Sibilance, it's these really sharps S's, if a microphone is really bright, that might not be good for you if you have heavy S's, so go with something that's more flat. And again, different mics will provide you with an opportunity to define the sound of your podcast. Now you've probably heard the term, the NPR sound. It's very specific. We won't be looking at their microphones. They use like $2500 microphones, like insane, and they're in million dollar studios, their condensers, it's all controlled, and these things have a switch on them that actually controls the frequency response. It drops out some of that low end of your voice, so their sound is really bright and crisp and clear. Actually, a lot of people will complain that they hear mouth noises but that's just the sound, whether you like it or not. There was a great interview where the engineer says he would take that switch and glue it shut because you'll get a host come in and they'll turn it back on so that they're full and they have more of a radio sound. NPR doesn't want that so a lot of the frequency response, the kind of mic they use, let's them define their sound and you can do that too. So those are some of the factors to look at. As we start off here, again all these mics are dynamic and they're cardioid, so they're less sensitive and they supply us with more rejection. So if you go out looking for a mic that you don't see on here, that's a great place to start. Look for dynamic cardioid microphones. And also some of these microphones, they're the most common I see in podcasting. So from the person who is in their basement, producing a show by themselves to something you're gonna see on HBO, podcasts are now going on HBO, which is fantastic. So, these sort of span that spectrum and it spans everything from sub 100 to up to about $500, depending on your budget. So the ATR, which is the 2100, which is the one on the far left, the silver one, mine is here. It's really beat up, but that's a good sign because it's taken the abuse. It's a USB microphone. All of these are USB microphones. The AT2005 is the same microphone, it's just black and they charge more because of the color, I guess. I have no idea. So if you like the look of that one, it looks a little more pro, you can pick up that one, it costs a little more but the ATR2100, again, it's USB and it is a budget option, I would say without compromise because I have another microphone up here which you'll see, this is Heil PR40. This looks awesome, right? I did a thing on my show where I put these two mics together and I did a little post-processing to match them. You're not picking out the difference. You're not gonna tell. So this has a very characteristic sound but this can sound like this. 300 somethin', 80-ish, $60, whatever. So it doesn't have to be again, those differences are subtle as you move up sort of the chain when you're looking at different microphones. The Samson Q2U which is this one here. This is actually the new all-black version which I guess is to compete with this one. No one even knows about this one yet. Every time I show it, they're like, what is that? I love this microphone but it's basically the same. So if you're looking for the ATR and you are overseas or out of the U.S. and you can't find it, this is the one. It's a different brand but basically the same inside. Actually I think this one is slightly better. It's a little more sensitive and you can see, if you're deciding between the two, that frequency response, so the right side of the chart is the high frequencies, the treble. Left side is the low end, the bass, just to be super basic. You can see the ATR is pretty bright. It gives a nice little boost. A lot of people will like that sound, it's very bright. If you're in a car and you listen to a podcast, that bright sound helps get over the sound of like, the road noise, right? But if your voice is, you know, already really bright, you might want a flatter response like the Q2U. It's gonna give a deeper, darker sound. I feel like I'm describing wine. Like it's hard to describe but that can be the difference if you're deciding between the two. One may just be available to you in your country. One might sound better on your voice. Let's see, the Shure SM58. So this, I have this microphone. This is the rock and roll microphone. This is, I would say, the first step into a professional option. Why, because it's just built so much better, a lot of craftsmanship. This thing's also been tested. It's probably the most popular microphone in the whole world. This is the microphone emoji. Have you ever used microphone emoji? It's based on this microphone, that's how popular it is, but I really love this. I recommend it to people all the time 'cause it is, you're still around that $100 mark and you're getting something, my daughter, I heard a big thump in my studio the other day and I said what is that? She said it was the mic but it's fine and it was this one. It was this one, so I knew it was fine. You drop the others, I'm not so sure. So if you are taking your podcast out of your own space or you have kids, whatever, this one. We literally used this as a hammer in one of our productions. My boss hammered something in and then we used it as a Q&A mic, so it's just great. It is XLR only, so if you're gonna get into that situation where you have two people in the same room, you know you're gonna be in an XLR, and you just go ahead and grab the Shure SM58s and they're fantastic and they sound great. You can see the frequency response in this one has a dip in that low end, it already sort of helps you. This is the stuff you do in post-production but it's nice to get it as right in mic as possible. That low end will drop out some of that rumble while you still get a little bit of clarity. I think most people sound great on this microphone and we'll learn a little bit about proximity effect and microphone technique, but you can kinda change how it sounds by how you work this microphone. You'll see this in every rock stage, every comedy club. This one is, it's just time tested. It's a great mic. It's also better shielded than these others. So there are a lot of things inside a regular home office that can cause issues that'll come through the microphone. This is, I think, the first in the broadcast style. Something you'd typically see in a radio studio. That big barrel, typically they're on an arm like this and it's in a shock mount so has definitely a pro look but the larger body and it has a larger diaphragm, just the thing that receives your voice. It all contributes to the sort of that more of that radio sound, very full. Now this one kind of does that but also is very clear. This one sounds amazing so you'd have a hard time picking out the differences probably, most people, from the 58, the SM58, to this microphone but I definitely hear this one being a slight bump in how much better it sounds. So the podcaster, the one I said this is the big sister, they have a USB version of this. For me, the frequency response, it seems like it really cuts out so much of the low end. I'm just not a big fan of it, but there is an option to have this microphone in a USB but I think you get a better sound out of these other USBs. So this is the Procaster. I would say it's an affordable entry point into these bigger broadcast style microphones and it's the gold standard. You'll see that microphone in pretty much every radio studio so if the SM58 is the standard on stage, this is the gold standard in a radio studio and you notice that the Procaster looks a lot like it. So a lot of 'em sort of copy this design and this gets close. It's not as good as that other one, but this one is less than half the price and again, you wouldn't notice much difference. It's the law of diminishing returns. Like as we go up the price, so you're in about a couple hundred dollars here, as we go up, you're gonna spend much more and hear much less of a difference. But again, each microphone can do something different that can help your voice or your environment which we'll see a little bit of here. So gold standard there, we'll look at that again. This is the same family. This is the RE320 and so if you like the RE and you want that broadcast big sound you're getting from and RE20, this is half the price and it does some really cool things. I think this is probably the Procaster's a great entry level, the one we saw before this, if you wanna spend a little bit more, this one has some great advantages. It has a higher output. So these microphones are not sensitive. They're very low output. You have to give them a lot of gain which is the volume to make them come up to the level we need them to record good audio. That can be hard to do. We're gonna use what I would consider more consumer gear. Anything that's under $1000 they can certainly do the job but you have to give it a lot of that gain. This one you can give it a little bit less. The RE20, its big brother, you're gonna spend more on the microphone and you're probably gonna have to spend even more on an accessory to get it up to the level that you need to produce clean audio. So I like its higher output. It has really nice frequency detail. It bumps sort of in the highs and then knocks off that low end, but also you can be, this one is more friendly to if I have a guest, I would probably put them in front of this microphone if they're not used to being on a microphone because they can sort of wander off and it still sounds the same. Tone sounds the same. You still pick 'em up and it has to do with the magnets that's inside, blah, blah, blah, but it lets you wander off microphone. So your mic technique can be a little off and I think that most people would interpret the sound of this one, again, it's a little brighter, you would interpret it as that sounds really good and I don't know why but it's got that clarity and that's probably what you're perceiving. The Heil PR40, which again, it's become popular in well, my nerdy podcast about podcasting space. Leo LaPorte has This Week in Tech, he made this mic pretty famous in podcasting. He's one of the more successful podcasters in the beginning and this one is a great microphone. You can see its much smaller form factor than this so it's more convenient. It has more affordable accessories that go with it. You're in the mid-range, in the $300 range, but this one I think, has the most character. I guess that's what I'll call it. I have this 'cause I used this for a long time but then it became like not me. Like it's really, a lot of that high end but it also has a lot of that low end. It combines everything but you'll notice this one. That quote where you notice if you change the microphone, put this into your production and you'll say, whoa, who is that? So for me in podcasting, since I feel like we are a little bit of more of an authentic medium, I want a mic that's gonna represent my voice pretty much the way it is. Even though most of you will hate your voice when you listen back to it, we all do, right? And that's one of the reasons why I was looking for something to enhance those things that I don't have. Then I realized, you don't wanna meet someone, my wife said, she heard the podcast in the car and she's like, it doesn't even sound like you and I was like, oh man, that's not good. Like I don't wanna meet people in person who listen to the podcast and they're like, who are you? Like you don't sound like the person I listen to every week. So I like that more authentic but you'll wanna go and listen to this. It's very distinctive and you might love it and I think on first impression, people love it and it is a great microphone. I have had several female co-hosts for whatever reason and they sound fantastic on it. So it's a good microphone, mid-range. Those others, I think this one has become, I would call the podcast standard. I feel like if you went to the top 10 podcasts and Apple podcasts, probably five of the shows are using this one, the Shure SM7B and maybe the other five shows are using, one's using SM58, one's using a Procaster. I just see this one all the time and out of the package, it's a really great microphone because it does so much. On the back, it's got some switches. So this is its native frequency response. It's pretty flat. It has a wider frequency response so you get that condenser sound but with the benefits of that dynamic. It rejects really well and it's not sensitive at all which is also a caveat to this microphone. But it's optimized to be near a computer screen. These pro mics are shielded from again, some of that interference and I think this sounds good on most voices but even if it didn't, you can, it has a presence boost on the back. It's has basically a high pass filter on the bottom which drops that low end. You can really come up with a combination that sounds good for you. So this is my most recent microphone but it's not one I would say most people would get into in the beginning because they can be difficult. That gain I talked about, not being sensitive, this thing is a gain monster. It needs tons of it so you might need more professional gear. So you might end up spending a little bit more. You are spending more on a mic, then you need more to support it, so it just depends on what you're looking for. So this one also however, there's some accessories you don't need to buy. It's sort of shock mounted internally and all of these pro mics will say they are and it helps you if you're handling a microphone, you won't hear it but I find most of the microphones like the PR40, the SM58, you will hear it if your hand moves. This one and this is a shock mount, so in here, manual movement, you won't hear it. This one is sorta built-in so you can move this microphone and it does actually work. It comes, that's the big giant wind filter but it also has some pop protection. So those plosive sounds, the Ps and Bs that come out of your mouth, so put your hand up and just say P, you'll feel it. That goes in the microphone, that's not good. This does a good job of rejecting it 'cause it's sort of built into this microphone as well, so you need less stuff to add on. But again, you could end up having to buy more to support it and that really is, oh you know what's funny also about this microphone? I feel like podcasting has driven up the price. This thing's been around for like 30 years, I think and it's always been, I think it's always been around like 350. I just bought it and it was around 400 and I think over the last couple of years because so many of the podcasters are using it, 'cause it's highly effective if you have multiple people in the room, someone sitting next to you, you don't want their audio going into your microphone as much as possible. These microphones are good but the dynamic cardioids in general are good at that, but I think they added $ because of podcasters so I'm gonna consider that a win I guess but it's too bad you know. I want a better deal. And again, this is that gold standard. Now this microphone, it usually, it tends to wend. Microphones shoot out. That site I told you, Recording Hacks, it won the ultimate podcast mic challenge. Sounds amazing but it's the most expensive and again, it probably needs some other stuff to support that gain that it needs. So you could buy this and not go wrong but again, I don't think most people would enter at this level. If you ever get a chance to put your voice through this, see what you think 'cause most people almost inevitably they're like, okay that sounds amazing without it being super characteristic, over the top. Just has, again it's back to the wine. Like how do I describe it? It has a super smooth, it makes you sound like your best self. I don't know, sounds fantastic. All of these are like made of steel. All these pro microphones above the USB, they're something you're gonna will to your grandchildren. If your granddaughter goes up in the basement and finds your old microphone, she's gonna pull it out and become a podcaster. The USB one, I don't know, probably the dust. Who knows if it's gonna still work but these are time tested so they're made super well.
Ratings and Reviews
Thanks Ray, Great gig, simple and very informative a very good place to start, for someone like me who is considering adding Podcasting and looking for a place to start..
Thank you. A helpful introduction!
Student Work