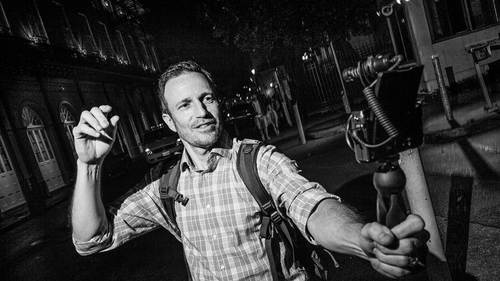 Lesson Info
Q&A
If I'm doing a Yeti... Yeah. ...through USB, through Audacity on a Win machine, in what order should I look at cycling in some of the new stuff? So you'll... This is a Blue Yeti. It comes recommended by a lotta people. It's a condenser microphone. It's a little hard to work with. It's on this big stand. It's hard to mount in a position that's comfortable and can pick up desk sounds. It's more prone to the sounds that are in your environment. It does have the cardio puller pattern, but you're also paying a lot more than what you would pay for one of these USB microphones, and it's easier to work with. What I would say, I mean, if you, if you're, you can certainly get good results outta that microphone in that setup. So I don't know if you're not happy with the results you're getting and what the issue is, but, I mean, you can certainly stay with that. But what is, why are you thinking of upgrading, I guess is my question. Well, I've been doing one-on-one, and we have to come in ...
pretty close, so I got egg foam to surround... Okay. ...the place where we do the recording. So you're two people in the same studio. Yeah. Okay. And we might be upping to three. Okay. And then on top of it, the Audacity... Yes. I mean, I love Audacity. Wherever you are, I love you. (audience laughs) It's in the cloud. But it's, I, like, I can't wait till post-production 'cause it's so rudimentary and I don't really know how to finesse it, and without taking a class, I may just go the Adobe route, like... And then Windows, well, that's a whole nother... Yeah. One thing I can say about the editors, too, and all those have free trials. People tend to stay with what they learn on, right? So Audacity, like I said, is powerful. Your recordings are gonna sound just as good as if you went into Audition. But it's clunky. It's, you can't be as efficient. It doesn't have as many tools. So consider one of the upgrades, the premium editors, because you're gonna learn on it, and then if, 'cause if some point you decide, oh, I want to go to something else. She's considering going to Adobe. You got that whole learning curve again, because it is completely different. I mean, at bas-, editing's very basic. You do some basic stuff. You cut and put other stuff in for a podcast. But I would encourage you to learn on the one that you probably think you wanna end up on. You know, Audacity... So again, that setup, as I mentioned, you want each person to be on their own microphone. You're putting up the egg crate foam. It helps a little bit. But more likely, each person, you'll wanna be close to that microphone. We'll work through some mic technique when you're doing that, 'cause that can create its own issues. But, you know, you can get in, you know, probably if you're doing three people, you know, maybe a recorder that handles three people, and then, you know, to keep the budget sane, you know, these are also XLR microphones. They reject fantastically. So that's what I would look into. Just put 'em on some cheap desktop stands, and we'll talk more about how to record it tomorrow. But that's what I'd be looking at. And the main thing there is you wanna get people onto their own microphone. You know, otherwise you're... Let's really date myself. Otherwise you're in a Kenny Rogers/Dolly Parton situation. (audience laughs) And you guys are, like, way up to, you don't, it's, that's not how you wanna record your podcast. I'm old! Yes. (audience laughs) I had two questions. The first one was about the Neutrik. Yes. When you're looking for XLR cables. And I'm wondering what makes that better than, you know, your regular cheap USB, or not USB, XLR cables. Sure. Second question was what are you... You know, there's, like, 16-bit or... Yes. ...32-bit or 56... We're talking about that today. Oh, okay. I was just wondering what you were recording at and how are you... You can do 16-bit and be fine. We are opening Pandora's box on that one, I'll tell you. Okay. (laughs) I'm getting highly... People are yelling at me on the internet right now. 24-bit, man! Okay. You can do 24 or 16. You're gonna go down, your lowest is gonna be 16, so just one's gonna eat up more space on your card or your software or something. Right. And then the first question... Neutrik. The Neutrik. It's just, the company makes really good connections. Again, I don't get into the deep stuff about how it's made. I have an audio engineer friend of mine, and he makes his own cables, which I'm not going to do. I wanna try it someday. I'm not doing that. So I know that cables that generally have a Neutrik connector, it's a sign of quality, 'cause the connector itself is really good, so usually the cable that goes with it, I mean, people get insane. Like, they'll buy these cables that cost $ that are super shielded. This is, like, the, where you go into the audio electronics store and they try to sell you the HDMI cable that's in one department, but it's, like, 100 bucks less in another one. So the Neutrik just gives me a good indicator that I'm buying a cable that's good without breaking the bank. Cool. I've had good success with all of them. Thanks. All right, so we have your case studies of things. Yeah. You have the solo host with remote interview, two or more persons in the same room, and then two or more persons with a remote interview. What about three people and all are remote, so two on, or all three on Skype. What do you do with that? Yeah. I was like, wait, where do I fit? It's gonna be... So every one of you is in a different location. Yeah. You could do Skype. Remember I talk about how you wanna separate the tracks ultimately. It can get as complex as a mixer because you're bringing in both those Skype channels on their own track and separating. It gets kinda weird. Once you get over two people, remote gets funky. But there are some services that work in a browser, and they let you, they do the separation out of people who are remote. No one has perfected that yet. That's why I'm cautious. But we do our, if you build in your redundancy, then you will at least have everyone on the same track, and when one of those doesn't work, you're fine. You'll still have your file. It won't be as easy to work with in post-production, but you'll have what you need. So there are definite options for that. Yeah, it gets a lot more complex. I have a host in New York City. He's a professor in Columbia. And his, if you go to office hours, it's just his podcast studio. It's just gear everywhere, and he brings in so many people from online and they're all separated, so, Leo, who I mentioned, he's got this thing called a Skype-a-saurus, 'cause it separates all the people, and he does video. It's crazy. It's crazy. But there are definite solutions for you that doesn't have to go that crazy. All right. Hello. Thank you, by the way. Great info. And I wanted to find out what might you suggest if I wanted to collect sounds to be used in my podcast, like a creaking door or, you know, a campfire? Awesome. This, that's that H1 that I showed you. They're all Zoom. These are condenser microphones. These are, if you went to a, if you wanted to go to a concert and record it, it's stereo microphone. So with sounds like that, you want a stereo sound. This, it comes with this. These have different attachments. This comes off. I mentioned the shotgun microphone. You can add one of those. Shotgun microphones are often used for Foley sound, which is what you're talking about. Like, I wanna get my footsteps. Use a shotgun mic. But this, that comes with it, and it comes, this comes on the, comes on the bottom end version I talked about. Even that tiny single one that doesn't have XLR connections in it, it has these on top. When I mentioned you could use it to record a podcast if you had to, but you wouldn't. In that case, you would use these onboard microphones for that so you get a nice stereo recording. The condensers are super sensitive, so in that case you wanna pick up all the subtleties of the sound. So a recorder like this would be the best way. And again, you can get into that for, like, $100. Like, you don't have to go crazy with the channels. Yeah. Some questions online, as well. Can you talk a little bit about waterproofing and if you are outdoors sort of in the rain with some of these things, whether that's your Zoom recorder... Yeah. ...or other things? Put it in a plastic bag. I don't know. I don't know how much I'd wanna get that wet. That's, like, highly specialized to someone, if you're, again, collecting Foley sound or something. Right. Some of the more pro end gear, like the Sound Devices stuff. Yeah, you'd have to look into weather sealing on these things and whether that, I would be really cautious of getting my electronics wet. You know, they have all kinds of little bags for these that let you see through, so they are weatherproof, right? You can still see through the screen, make the connections, but it's protected from the elements. So a lotta these recorders will come with their own custom bags that you can add on, you know, just little cases or something, that can help with that. Great. For sure. And Randall had asked, have you used or do you have thoughts around headphones that have a built-in boom mic? So they keep, he says that will keep the speaker from moving away from the microphone. Yes. In a pinch. I try to work people through sort of a, what's the best quality you have when they're gonna do a remote interview. Do you have a USB headset? Cool, use that. All you have is the microphone that's on your ear buds, which I think maybe they're talking about? You can use it. You'll get decent audio. I mean, the key again for most of the time, most of the factors are getting the microphone close to the source. That's, the further away you get is when your audio starts to get pretty bad and you have to bring it up. It doesn't sound good. That can work. There are issues with it that you wanna be careful of. You need to be a more savvy producer when you've got someone like that. Someone with long hair is gonna brush it. It brushes on clothes. It has a lotta issues. But yes, it's one of the steps. Do you, if they don't have a headset mic, do you have ear buds? Everyone does. Use those. 'Cause we're gonna get better audio than if you talk to me through your computer that's three feet away with fans going crazy and a mic that's picking up the whole room, so. Yeah. I'd like to follow up on that. There are these headsets that do have that built-in mic... Yup. ...that's kind of at a certain angle, and we did talk about doing Skype calls where you would send a headset. Yeah. Something like that to the other side so you know what they have. Do you have any recommendations for something like that? Yeah, it's funny. I do this at work. So, it's so funny, because they used to, Plantronics used to, it makes a whole series of these. They're cheap. We do this at work. I buy, like, four or five of these that are, like, $20 to $40, and we ship them out ahead of time before the interview. So my host, who's not a technical person, they know how to set that up on the other end, they know what they're listening for, and they know how to get what we need out of that interview. And is it the best microphone, no. It sounds pretty thin. But it's better, again, than the option that that person probably has, right? And so look at Plantronics as a brand. But these are a dime a dozen. And so the one that we always use, one of my New York-based hosts just sent me an email. He's like, do you have another one? That, it's discontinued, the one we used to always use. Which, again, is one that Leo used to use 12 years ago. It's been around. So I've seen it come and go. Plantronics, somewhere around $40, 30, $20, in that range. That's usually a solid brand to go with. And they have, they'll build in, like, a noise canceling, which is not something you normally wanna use in your audio. You wanna capture it raw and you don't want this processing happening. But for a guest who is also in a, probably an environment where it's not made for audio, it can actually help in that situation.
Ratings and Reviews
Thanks Ray, Great gig, simple and very informative a very good place to start, for someone like me who is considering adding Podcasting and looking for a place to start..
Thank you. A helpful introduction!
Student Work