Tissue Fitting on a High-Low Round Back
Pati Palmer, Marta Alto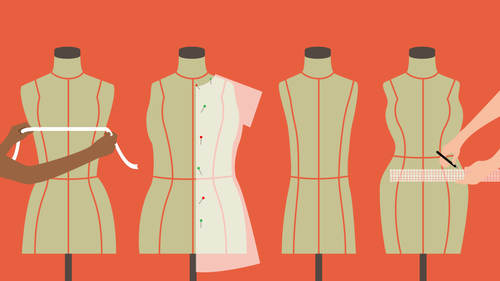 Tissue Fitting on a High-Low Round Back
Pati Palmer, Marta Alto
Lesson Info
7. Tissue Fitting on a High-Low Round Back
Lesson Info
Tissue Fitting on a High-Low Round Back
Come on up now on your body I don't think you need to move this back out of the way but you could put nancy's nancy who you see in a bit uh teaches the prom reflected tissue feeding method in seattle and she had this great necklace and you don't have to undo it to put it around everybody's next so I'm gonna go find one if it's missing no she's looking at me like uh I'm going to just take the class and move it forward so it's just a plain necklace in the back will you tell us again the purpose of the necklace yes and you probably see it actually think she'll show it but it's basically to mark where through the bone at the back your neck and most people like around neck to come up to that spot and if it's the necklace really marks that spot so you'll see this on her okay again the first thing we always look at the back and b pattern if you bring the mac up so that neckline seem is at the necklace which is part of the reason we use the necklace it's easy to see the neckline scene can you ...
see that this line is running uphill and this is because she's more rounded where's kenna was straight she's rounded and so if I make this come so this line is horizontal to the floor then this line is way down there so we need to do some alteration to the pattern get the line up to the neck and we call that high round and low round and if you look turn so sideways here actually that's turned sideways she can you see that she's rounded here and also some roundness in the shoulder area so we're going to add some length in both places now turn so front on the next thing I want to check is how deep is the arm hole because how tall are you? Five one five one and a half it's always those half so they're important to the short people I think the arm hole is a little deep and so I'm going to shorten the pattern a little bit right here on the front and the back but once that's done the waistline will be at her waistline. We don't have the elastic you have a problem but I think you can probably do the I look around and it was you decided on five eighths for the high round and it was about an inch and a quarter all together totally if if you just need a high around it'll use will be no more than five eighths of an inch but if you need both high and low it'll be more than five eights and then you put five eighths in the high and the rest of it in the low we'll see that a few more times you just put that on and overlap velcro on your left side so it's out of the way of our city I'm going to demonstrate how to do the back alterations and it seems tedious but you can't cheat you have to take all the pins out and make the tissue flat if it's wrinkled at all you need to take it to the iron lay it on so it's wrong side up because all of the tape is on the right side and I just quickly scoot the iron over the tissue to press it so we always press on the wrong side tape on the right side playing again anchor on a grid line can I use your finish sheets? Huh? The low round I like this length everybody has that on their body it's easy to measure and so that flying is right here and I do the low round first we're going to do five eighths and five eighths cut to the same line and I'm gonna lift five eighth I like tio he's a pin to scoop the little tissue in I do them separately these this is an alteration I do on myself every single thing I make when it comes to posture type alterations like the low round in the high round which are caused by being bad person it's got it's actually all these years of sowing and leaning over but the computers are adding to it so we're having posture issues with younger people sooner now because them too if they're heavy because of them to do that so I actually unp in it then I put this on the straight grid because you're always lifting you're not pulling the bottom of way you're always anchoring the bottom part of the pattern and lifting the neck area that makes sense because you're lifting the scene up so that you're gaining that brown mrs that makes sense now because of the multiple sized patterns the high round line hina got marked wrong and we're sad about that it's not to be negative but we try to do the high round one inch below the neckline and so this particular pattern it's one inch below the neckline on the long lowest size what happens is that the further away from the neck that we do the roundness the more skewed the seam line becomes and I'm gonna do it here and then show you and then do it again the reason I'm going to change where I cut the high round I'm cutting again to the same line and lifting so at the neckline were separated by about a fourth oven anche when it has a centerback scene that's not too bad because it could be a curved seam and I actually like a curb seen it fits better however if I bring this back and cut my high round on the neckline straight over to a scene it's, not the arm hole seen now it's the shoulder seam and lift this. No, I taped it to the table and I left here. The neck line is still right on the center back so there's, no distortion. So that's what we're moving towards it just makes it easier, especially when the center back is on the fold. Now we have one more thing to do is to shorten the arm hole, which I could have done first. And there is a length and union shortening line marked on this pattern. So I'm gonna fold right on that line. How much are we short? A shortened three eighths. Okay, that's, front and back. Correct. So, patty, tell us again what your writing down and what what you got. I'm so excited to use the sheet for the very first time, and my daughter designed it added color and all kinds of things. So you see every alteration you could possibly make, and what she's done is she's put, um, for example, uh, length shortened arm hole, page one ninety two in the book and the line for how much? So I have written in three eighths of an inch on both back and front, and then, um, for the high ran and low round I just wrote five eight seven inch for low round and five eights for high round and then they made a note in the note box ray's thie high round alteration line up to the next scene so we're documenting some of the things we do so you know people don't remember even if you're doing it on yourself and I think if you use this sheet and trust me if we find it any better things or more to add we'll send it to creative live and when you download something if you've got the class you'll get the latest at all times because digital age allows us to do that right without too much cost or anything. So yes, I love it it's never been this color before and nancy helped us and you found several things oh, how come this isn't there and how come that's not there where there should be no way always appreciate it and nancy actually should be saying with this when you're up here but do you want to come up here and you're slipping? All you don't have to but nancy is we now have three locations republic fletch workshops and nancy is one of them we have one in philadelphia when in michigan and then our original portland location so we're so excited to have nancy here and she let us do all the altering and studio in her home the last two days to prepare for the class so I don't know what we would've done without you, nancy yes couldn't have done it if we had had had to go to san francisco, so I have I've anchored the fold and with pins before I taped it so that was the shortening this is the low round this is the high round and that's shortening, so we're going to put this back on and look at the front when you're marking the side seams I marked one inch on the back piece I don't have to mark one inch on the front piece I can see through the tissue to pin it back together with the one inch I have on the back so it makes things a little quicker, but I do like to have it mark because it reminds me that I'm supposed to pinning one inch, not five days. One thing that altering is it it does take time, but you know what? So far it's been easy, hasn't it? And what you've seen you could do, especially now that you've been fitted you'll know what to do and you know you can see things on yourself, but if you can't and there's somebody near you that understands how to evaluate you, then why not, you know, thank god you're back down so that armel crease will automatically capture this arm hole of the pattern so you can see that the site the back is the right length because I've got a five eighths inch seem at the center back and now at the side seam the waist is at the one, inch because we did that little shortening what play didn't short in the front? Shame on you too anxious to put it back together, we'll let you get away with it because we do have it already done on when we all die today, you just saved a little time oh, I don't know I'll have to do it because you're gonna do the best. Okay, so the front fifth at the neck not too bad here, so that looks good, but again, we're short across the fullness of the bust and notice that it's also short at the waist because she's using some of that length, it's the right length at the side scene, but it's coming up at the center front so we're going to add inch and three quarters that way. Yes, perfect three quarters I'm thinking, since they've seen the best to justin already, who except this one is not the high round, but why not the why, then you need to do that well, repetition is good anyway, I like him just like that okay you know marty doesn't like to mix her pin color no no no it's not that it's easy to pick up off the table but sometimes she has a whole pin cushion home just with red in it because she wants it to look all the same I think it's okay shorten here now easy by white pins but I bought a bunch of multi colored pins because we thought the white didn't show up very well on camera and the multi color would probably show a little bit better and I used red pins depend the patterns together because I thought the red pins would show up better anchored the shortening okay, wait full booth so again I'm anchoring on the center front on the table line if if the center front of shape there's usually a grain line on the pattern that I'd put the grain line on the grid and on jeanette, we're not doing the y dart so we're doing just a straight full bust adjustment cutting on line one to the arm hole, whereas on kenna we cut to the shoulder in order to move this section over. We're just moving here and we're going a inch and three quarters and that's what happens is this is the apex according to the pattern and when we do this alteration when you swing this over notice that the apex has now dropped almost an inch and in some cases that's important because often if you're fuller busted your lower busted again you want these to be parallel so the same incheon three quarters anchor anchor anchor and here it's just flying free in student happened remember how it was too short in the center front? Well, this is going to lengthen that five eighths of an inch it's gonna be all right now you probably want a three inch you have three spine making this pending the answer here too. Howdy remind us your do you have different sizes of the tissue different with so you're saying you had a three inch and at one of the different what's you may well, you could do half inch for little teeny areas you could do it but two inches a bunch of incheon half of into two inches of three and a few for depending on you know what with you need and happy to do a few patterns and then if you have a place just to pin him to the cardboard coupling word and just let him be free it makes a little bit quicker to grab him but we store them usually on the noodle because they stay nice neat you don't have to press him and then you can take off the with marty's got an inch inch and a half two inches three inches and some four inches take it back and forth the class that way so I have him and nancy when we were fitting in her studio in her home she had pre cut a whole bunch of strict sports and had him when they're ready to go so we used up all her strip so I gave her an uncut package of pattern paper I could cut them for you I suppose little piece there he's actually just uh get to work pattern paper came out because I was teaching it to couture pant class and the lady said why don't you just get a roll of tissue from mccall's and weaken design on that so I called kansas where they make you know print patterns and I said I want to buy a roll of tissue and the guy says well they're twenty thousand pounds a role and I went oh when he said what do you want to use it for and I said well just to draft patterns or alter pattern jesus well what would you like printed on it and I said oh he said what about a grid he said eighth inch half inch inch etcetera yeah and he says well, the largest sheets we print any patterns on our fifty four by aatif or something like that whatever it is and so they said, well, how about two per package two sheets per package that go a long way and so that's how well that isn't all we designed the cover in the packaging and I was sitting in new york in somebody's office and the president came by and he didn't want any products unless they were really gorgeous walks by didn't even stop this is yeah that'll work walked off things happened for strange reasons in strangeways okay, murder a question we often get is what do we do with this dark here? Um so this is how the dark extension is formed you pin the dart leg and then if the dark is going to be pressed down, which I always cut it for that because then I have extra tissue if I need it cut like that and you have the dart extension in the end when I'm sewing it remember after I have penned it, then I've sewn it and I checked it and I like it then I'll press it up and cut off this part and this part notice when you're pressing up it's this way but I don't like to pre cut this because if I need to change the angle of the dark, I lose some control so I like I'd rather have too much not enough so now we have the pre altered one way really this together just save some time for your front, so now it comes to the waste of the center front it's all looks pretty good sitting at the neck at the center back this is horizontal little sway back tuck at the end let's check the side of the shoulder to see if you have a forward shoulder yes, a lot of times when we have that high round back our shoulders are more forward and you want his shoulder to be in the center of your arm and so by moving it it gets in the right spot and marty can tell you why that's in this case what I did it's just pulled up the front this is the back length is actually correct and that could be because of the high round the high round in the forward shoulder correct have you ever had a garment and you're spending all the time pulling it forward because it's writing to the back of this fixes that okay, very good while she has it on can I just add? So when you said in a sleeve now that circle that marks the top of the sleeve which mark's shoulder seen you martin, you mad that same circle the top asleep to the new shoulder seam and then you're seeing your sleeve will hang down the same way your arm is falling from the shoulder and you won't have wrinkles in the sleeve other point on that the question we get well then do the notches match actually it's not all that bad generally if you before word shoulder your flatter on this part so it's okay to take some there and more rounded here so you need a little more ease in the front shoulder anyway so I just redistribute the ease and something about a quarter to three seven inch extra that you're getting in the front that's not hard to ease in sometimes I scooted into here I can ease in an inch and a half without a problem may takes a manipulation but it can get done well thank you and have a altered pattern I'll put it in her pile okay there yes they're fabric thank you jeanette jeanette show you know, it was interesting when you were talking about the why kenna maybe it's best line or maybe it's broad style or whatever you have more fullness from the bust up here and I'm noticing on jeanette you were flatter in this area so you really just didn't need that extra with up here and you'll start seeing the more you feel you start seeing those things just don't go to the mall and look well another close fit because once you know how to do this you just go around oh my gosh they need a forward shoulder or they need a full bust or for me when I do pants oh my gosh they have smiles in the crotch we need to let out that front crutch it's just terrible you just try not to be obvious, so we're next we're doing s so we've now seen making so much. We've now seen two different body types and fitting the bodice, too. But both of those, as well as the different areas that you have teo, look specifically at and learn the importance of patients and diligence and pinning and then trying on making sure you like it, pinning again. So that's wonderful. In our next lesson, we're going, teo goto, get another body type being another full bust. All right, so thank you so much, thank you.
Class Materials
How to Buy the Right Size Pattern
Sheath Dress Press Release
Body Map Pattern Alteration Worksheet
Tailored to Fit Y Bust Tips
Ratings and Reviews
This is one of the best courses I have taken online; I just wish you had the ability to make notes or tabs so you could refer back to certain sections more easily. I have met and followed Pati Palmer for many years but this was my first experience listening to Marta Alto and I see why they work so well together. Thank you both for sharing your many years of experience. It was interesting to hear Pati's history on many things and I really loved Marta's sense of humour it makes watching so much more fun!
I sew very well, imagine the disappointment when what I have sewn just does not fit well. Everyone who sews and wants what they have sewn to really be a joy to wear should take this course. It is like being there in the actual workshop. I am only half way through in the viewing and am anxious to apply what I have seen to my own sewing. It has been presented so well and in such detail that one comes away with confidence that they too can do this. I am also impatient, making a muslin takes time. Time is so precious and time to sew is really hard to come by. I have tissue fit pants in a workshop in Michigan and used a Palmer-Pletch pattern for a princess line dress I made in silk on my own. Both items fit my mature figure beautifully, and I did not have to make a muslin first for either one! When you hear, "What you see is what you get" believe it. Take this class, it will improve your fitting ability immensely and you won't believe how easy it is.
Love this program! Being able to watch the lessons multiple times is like taking the class over and over. For those of us who have a hard time learning something new this is sensational. Thank you, thank you, thank you. Rose Mellor
Student Work