30 Days to Design Your Portrait Business
Lori Nordstrom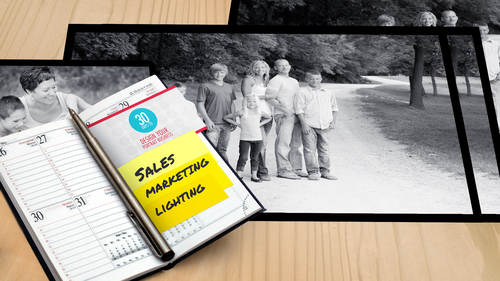 30 Days to Design Your Portrait Business
Lori Nordstrom
Class Description
The strongest portrait photography businesses have one thing in common: a dedicated, strategic plan for artistic and financial success. Join creativeLIVE instructor Lori Nordstrom as she goes through 30 Days to Design Your Portrait Business, an intensive course that will give you the step-by-step tools you need to survive and thrive as a portrait photographer.
Over 30 days, you will work with Lori to develop a plan of action for marketing, branding, and pricing that will keep your clients happy and your business growing. Lori will outline the lighting, posing, and shooting skills she uses to make sure clients come away from a session with photos they'll love. During each daily segment, Lori will discuss the topics covered in her 72-page workbook (included with purchase).
By the end of this course, you'll have the concrete skills you need to attract clients, build a successful, satisfying business, and deliver stunning results every time.
Class Materials
CL_LORI30 Desktop Screen Saver 1.jpg
CL_LORI30 Desktop Screen Saver 2.jpg
CL_LORI30 Desktop Screen Saver 3.jpg
CL_LORI30 Desktop Screen Saver 4.jpg
Day 3 Weekly Calendar.pdf
Day 3 Monthly Calendar 2014.pdf
Day 4 NOTECARD INSIDE.jpg
Day 4 NOTECARD INSIDE.psd
Day 4 NOTECARD OUTSIDE.jpg
Day 4 NOTECARD OUTSIDE.psd
Day 4 Thank You Front.jpg
Day 4 Thank You Front.psd
Day 6 BUZZ WORTHY BABY.zip
Day 8 Gift Certificate.zip
Day 8 Mini Accordian Book Square.zip
Day 8 Promcard Digital and or Print.zip
Day 10 Accordian Album.zip
Day 12 8X8 Econo Layout Album.zip
Day 13 Grateful Worksheet.pdf
Day 14 Call Log Worksheet.pdf
Day 16 Square Collages.zip
Day 17 Certificate of Authenticity.zip
Day 18 Consultation Phone Scripts.pdf
Day 18 Consultation Planner.pdf
Day 19 Wall Cling Ruler.zip
Day 22 Designer Collections.zip
Day 24 Workflow Envelope.zip
Day 25 Record of Sales Workbook.pdf
Day 26 View and Choose Appointment Card.zip
Day 27 DVD and DVD Case.zip
CL_LORI30 Model Release.jpg
CL_LORI30 Model Release.psd
Day 2 Workbook Sample.pdf
Ratings and Reviews
This course is amazing! Lori covers so many essential things to have a successful photography business. She goes through everything in a very methodical way. I also appreciate ALL the free stuff she gave to help make my business successful. I also love how she shared how she gives back in her community and worldwide. Thanks Lori!
I cannot say enough GREAT things about this course!!! I've been in business for over 10 years now, but still need to check in on the business side of things periodically. This class reminds us just how much fun marketing, sales, and planning can be. It has rejuvenated my passion for the BUSINESS side of this business. In fact, I'm so inspired by what Lori has to say, I think I will recommend this class to my COMPETITORS down the street. We will all be better for it and the industry will be better too! This is perfect for those just starting out AND seasoned pros :)
I have loved so many creativeLIVE courses but I have to say this has been THE BEST for me. Lori thank you so much for sharing your wealth of knowledge! I am feeling more confident and excited about moving forward and making my photography a real business finally. I have been crippled by insecurity and fear and with this course I feel like I have finally been given the ok and the KNOWLEDGE to do what I need to do. Thank you!
Student Work