Advanced Content Aware and Cloning
Content Aware Extend & Move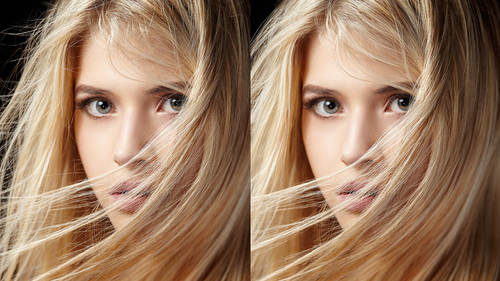 Advanced Content Aware and Cloning
Content Aware Extend & Move
Lesson Info
Content Aware Extend & Move
So let's talk about content aware extend, using that move tool. And I promise you there's gonna be someone, someone who has a job in a minute and this is gonna be the perfect solve. And it's only 'cause you saw it. So this might be a, a function where it's not perfect but it gets you there. So patch content, so I just did the move thing on this. So what I mean by that is grabbed a bunch of it, I'm gonna go ahead and do it on this background copy, and I extended it, not move. Move, let's be very clear, move thinks you want it gone. You're moving it. Extends means I want more of it. That's kind of a, a, an important little distinction there. Move wants it gone. Extension means you want more of it. And me talk pretty. And when you do that what I think you'll find is that's not bad. You definitely have a tonal issue. Going on here. But then you could use another fill method and I just basically copied over the wood. You can refill it. You can do, that's what the first one I did. So, the fi...
rst one I did, and this is where this gets a little tricky and it's not very precise. Look, do you see this? And I didn't drop it in the exact same spot. Does that matter for your workflow? I don't know. It might not. When I look at this, adding a little tone and cloning out this, I can do that. I can do that pretty easy. So I'm not worried. So this is worth it to me. This is fast. And what happens is, you don't get quite the same feeling as step and repeat. I have a step and repeat here, here, and here. That's really noticeable. But for the most part, okay, I can deal with this. I can fix that. And that's not killing me. So I think for large patterns, do you remember the crop we did on the wood? That beginning and I had the sad face. So that wasn't so good. You can do it with this. Okay, I need to move on if that's okay. Those are the two danger areas. And then you just have to fill it. That's all. I just want you to see what you have to watch out for. Moving right along. Thank you. Again, so sometimes you'll need to do multiple methods to get the result you need. And please, please, please be aware on content or filling on any of this. Do you see this step and repeat? It's dark here. It's dark here. One, two, three. So get rid of your patterns. It's a little heal tool. A little spot heal tool. It's all gone. Fast. Fast. Spot heal tool, your friend. Your friend today. I do find for grass, I think this is fantastic. I don't know how many people live in the land of I have to extend my grass. But I live in this world a lot. And I would like to suggest you guys consider doing this kind of experiment. Here's my grass. Here's content or fill. What does that mean? That means I went command J. I always make a copy. I selected it. Shift delete. Content aware, fill. That's what I got. That's what I got last time. It changes every single time. Okay, I might be able to live with that. Maybe. This is moving. Remember I said, move it, it wants to change. Do you remember, we just did that? I selected a part of the wood, or the, the window, and I move it. So it filled in. And I know on your screens this might be a little difficult, it just went ah. Ah. So no bueno. Content aware, extend. Hmm. So what is content aware, extend? I grabbed a chunk of grass. I used the patch. Little arrows. Extend. I slid it over. And it did this one. That was my winner, winner, chicken dinner. The only issue I had was down here. And I just fixed that small. Cool. That's all. So, we're, I know I'm repeating myself a lot here on the same tools, but I want you to know which one do you use. How do you know? You don't know. You know because you open up your file. And you do this. Now what we used to do in the old days is we'd mask out that grass. And then move a copy of it and slide it over. It's an exact step and repeat. Everyone could see it. Can you imagine if I took this grass, masked it out, and moved it over? Everyone and their mother is gonna see exactly the same thing. Yeah, you can transform it, but, no one's buying. You can see it. Look on movie posters. You see it all the time. All right. Thank you. Before move. Bad. Extend. Good. Cool? I like to be very clear about how I feel about these things. All right, content aware, move again. I think I've gone over it so I think you could see. Not always best result on complicated. It works better on simple images. And again, this is, I just wanna stress this 500 times, can you live with this? I think for this image you actually can 'cause it's a garage and stuff. And is anyone looking to see if those bricks exactly line up? If they're not, don't sweat it. All right. Here's a move, here's one that worked. I think it worked. Do you remember I talked about low-fi versus hi-fi? This is where it works a little better. So what I'm gonna do, loosey goosey, take your hands off the computer. He knows my favorite face. Hit return. Step away. Don't touch anything. 'Cause you wanna be able to undo. How do you feel about that? I'm gonna command H it. Skier right in the middle. Rock on. Why did that work? Low-fi. Basically low-fi. There's not a lot of stuff there. No problem. Can I preach for a minute? Will you please, I beg of you, will you guys please practice? Please practice this stuff. You're not gonna remember. Those six content overfills, I promise you, you're not. Print out the handout. Put it on your door. Go, I'm trying number one. And I'm trying number six today. And then try, because then when the job comes, you'll be ready.
Class Description
Elevate your command and understanding of our old Adobe® Photoshop® friends—the Clone Stamp, the Healing Brush and the Content-Aware Fill. Lisa Carney will investigate these toolbar control leverages, which few have explored past the "option-click," "shift-delete" and "hot key." In this class, you'll learn how to use quick Content-Aware Fill action to make crosshairs headaches a thing of the past; fine-tune cloning tools to do exactly what you want; expand your expertise of the entire army of healing tools, and utilize different methods to extend backgrounds for layouts. Freshen up your capabilities, speed up your productivity and improve your asking price.  
SOFTWARE USED:
Adobe Photoshop CC 2018
Reviews
Content aware was one of the best things to happen to Photoshop and this is a great comparison of the different tools that use it. I've been using the content aware fill action regularly since taking this class and now I want to go find a project that uses the vanishing point tool. Thanks Lisa!
Just the best. watch. rinse. repeat. try it out. watch again. You will learn something new each time. Eric
I've watched several of Lisa Carney's classes and she is a great teacher. No BS and no fluff--just what you need to do the job correctly and efficiently. 2 thumbs up!