Free Preview: Organizing Your Photos for Digital Scrapbooking
Traci Reed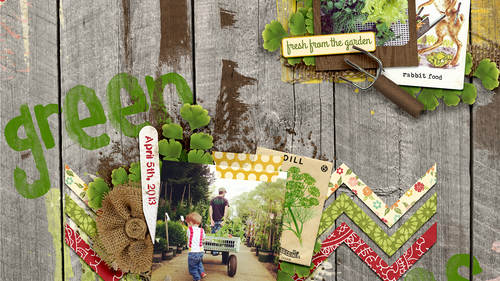 Free Preview: Organizing Your Photos for Digital Scrapbooking
Traci Reed
Lesson Info
1. Free Preview: Organizing Your Photos for Digital Scrapbooking
Traci shares a useful technique for keeping track of your layouts so you always know where to find them.
Lesson Info
Free Preview: Organizing Your Photos for Digital Scrapbooking
Well let's get started with photos um I have a question do you keep every photo you ever take? No yes you doing well except for the really really bad ones? Well, yes, the really bad ones where you can't see anything right or where you put the camera in the air and missed the whole shot multiple u s o you delete the ones where you've taken four of the saying just pick the best one out off that and delete everything out exactly so that's my very first before we even get into organization is that you do not have to keep every photo you take if you take five pictures of the same thing because you know with cell phone cameras sometimes they get a blurry so you need to take five just to make sure that one turns out why are you keeping the blurry ones if you have one great one, you don't need to keep the blurry one, so you need to make sure that before you start we're going toe organizing or while you're organizing you purge all your bad photos all your repetitive photos now I'm not advocatin...
g it is the only photo you have and it's not great and but you really want to record that memory? You don't have to believe it I'm just talking about the excessive photos why why do we need to do that first hard drive space of course we're always looking to make sure that we have our hard drives running perfectly and not overloading them but also because of digital photography we have so many photos and when you have that many photos that actually detracts from your legacy and detracts from you know how we as a generation have very few photos unless we're very lucky we have very few photos from our childhood we have maybe a ten twenty thirty forty if we're lucky blurry not great not awesome snapshots but how wonderful is it toe look at these photos and to know that somebody took the time to take this picture of you because they really wanted to remember this but when we have so many photos lt's do our photos become as special as they once were? If every moment of our life is documented are we still special? Yes to an extent but we don't need to have everything and we don't need tio if we took this snapshot and we're never going to scrap book it it's not probably necessary to keep it although I am just a zeal to use everybody else of keeping things I probably should've race so I'm not going telling you to go home and just delete everything off of your hard drive I'm not saying that just be more selective on what you keep being more picky about the things that you want to leave in your legacy so let's, talk about organizing the photos that we are keeping. I have found a method that works for me, and now I know that there's a lot of external programs and there's I photo there's, picasa, there's, a cdc there's so many external programs that you can use to organize, but I'm not going to talk about any of those, because I want to make sure that everybody can organize in a way that's effective for them. So we're just gonna be organizing via photos are via folders today. So, um, the way that I like to organize, as I have a folder for every single year, that of photos that I have and then within every single year I have a folder for every single month, and I like to put the numbers in front of them so that they say in order, if you just put january, then it's going to get out of order, and I'm a little bit to ocp for that, so I put the numbers in front and then within the folders, I have my images. Now there are a few things that you can do differently. It depends on how organized you want to be some people will go in and renamed their files with the date. Instead of the way that it comes out of the compete out of the camera, I don't do that because I just have it set to auto organized by date and then if you drag it into photo shop, you can see what dave it was taken, so I don't necessarily do that, but I will pull out photos in for special occasions, so I got family photos taken this year and so they're in their own family photos section. But don't let your computer or your camera name your files. I know that there's a lot of programs now where you can plug in your camera and it will automatically download your photos and a lot of times they will put those in a folder that has the date on them. But it is the date that you downloaded the photos and not the tape of the photos, and that is terrifying that gets everything out of order for me. So make sure that when you're pulling things off of your camera, you are actually making sure that they are going in and they're not being renamed by the date that you downloaded them so there's also other things that you can dio um oh sorry there's also other things that you khun dio um to organize your photos if you are so inclined, you can add tags both in on a mac and on a pc uh, you can right click on a mac and you can color code your pictures or you can add a tag and I'm not quite sure what's going on in that photo but let's say that it's a school picture you can add the school tag and forever more you'll have school assigned to this photo and if you search up here in your search bar, then school will come up with your photo if you want to get super intense like that, maybe you want to tag all of your photos of one son with his name so that you can just look up his name later and you can find him easily that's another great way to organize I don't personally use tags I find the folder system to be enough, but it can really help when you're organizing your scrapbooking kits and we'll talk about that later. No, what do you do with all of your cell phone photos? Do you organize them or do they stay on your phone forever and you forget about them? You don't know them every month when they sync up with my computer all the air every day anyway? Yeah, but I also make a backup folders, okay? So just in case if I deliver by accident or something, I still have it let's talk about that s o they're two different ways that you can make it brainless, you never have to think about it, they automatically up upload if you have an eye device, they have icloud I even when I had an eye device, I haven't android now, even when I had a knife phone, I didn't like the way that the icloud named the files, so instead I use dropbox and now drop box is an app that you can install both on your phone and on your computer. There are two separate programs if you install it on your phone, you could have it auto upload every time you're attached to your home wireless so that it will put them in your dropbox folder. And if you have the drop box app on your computer, it will automatically download into your computer as well. So you never have to think about your photos are always going toe automatically upload, so if you lose your cell phone, if you drop it in the toilet, anything like that, they're already going to be uploaded to your computer and you don't have to worry about it now what's really cool about this is that you can also hook up your kids, phones or your husband's phone to your same dropbox account, or if they don't want all of your pictures as well, or you don't want them to have all of your pictures. You can set up a shared folder in dropbox as well, and you can prompt them every few months or every week or so. Tio hey, do you have any photos for me and it's? A really simple way to make sure that you're including everybody's memories in your scrapbooks? I always am bugging my husband to upload his photos for me, and he doesn't take very many, but he'll take some of the sun or he'll take some of the dog in there. It's a fun to get somebody else's perspective now my kids photos normally they're not usable, but when they are, how fun of it to have a picture from a six year old in your scrapbook like his perspective, he's so much lower than everybody else, he takes pictures of things that I would never take pictures off really fun, but you want to make sure that this dropbox folder it creates a separate folder, not within your photo structure. You want to make sure that you're cleaning it out every month and you're putting it in the correct folders. So these are actually my cell phone pictures up here, and you can see that the way that dropbox has named them is with the year first, then the month than the day, and then actually the time that they were taken. So even though if you organize by name and your ones off of your big girl camera are named, I am g and so they don't necessarily line up correctly. You can still see the date in here and you can always find ok, this was on the twenty ninth it's, especially helpful if you're doing weekly. Scrapbooking. So, do you ever scrapbook anything other than the photos that you take? Are there other images that you including your scrapbooks, check messages, text messages? You can take screen shots of the weather there. Here? Yeah. Text messages. How about making breaking news? Yeah, or means that you happen to, like, on the internet. Maybe somebody sent you mean, and you thought it was appropriate for that week. You can also dio video stills via this really cool app. That crystal hardly showed me it's only for my devices, but it's called video picks, and it allows you, tio, if you have a cell phone video, you can go through frame by frame by frame and find a decent picture that you khun scrapbook it's called photo b h o t o that runs through all your videos and gives you the available stills oh, that's funny, yeah, so we'll give you, like, fifty stills out of a two minute video or something like that? Well, that's. The beauty of the age that we live in there. So many different maps for the same thing. So you just have to find one that works for you.
Class Materials
Bonus Coupon - Sweet Shoppe Designs
Traci's Photo Workflow Actions
Ratings and Reviews
Great series of classes! For anyone from beginner to advanced Photoshop user, you will get something from these classes! Traci is a great teacher and easy to understand why she works the way she does. I would highly recommend these classes to anyone wanting to learn tips and tricks from a great scrapbook designer!
I'm currently halfway through the courses, and I am so glad I decided to watch these. I haven't been scrapping for very long, and am mostly self taught through tutorials found on the internet and youtube. I found that various concepts weren't explained to me (how to really use a template, designer intentions, how to use other layouts for inspiration) and so I sort of hit a wall trying to get further in scrapping digitally. This course basically broke down the walls and provided me with so much info and inspiration that I feel really comfortable in taking my efforts further. Whereas before I was thinking that I might always be stuck with a mediocre result :) thank you Traci!!
Student Work