Conquer Your Fears
Vanessa Van Edwards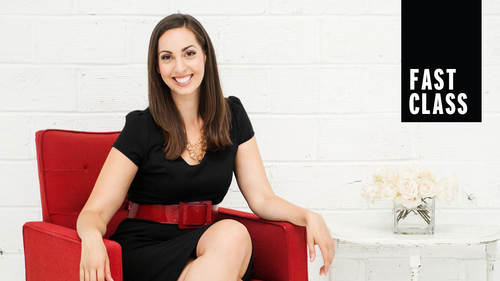 Conquer Your Fears
Vanessa Van Edwards
Lesson Info
13. Conquer Your Fears
Lesson Info
Conquer Your Fears
Okay, so today is day 13. We're talking about fears conquering your fears. And I know fear is not a very sexy topic, but I promise I'm gonna make it worthwhile here. My three goals for today one I want to show you how to make love to you a fear, right Bringing a glass of wine and take it on the day We're gonna make love to your fear Second, I want to show you how to be socially fearless Get rid of that anxiety And last, we're gonna talk about imposter syndrome how to stop feeling of fraud and harness our inner worth. So the reason why I have this question is because I think that when we have fear is this Copa Alice Walker, the most common way people give up their powers by thinking that they don't have any when we have a fear and we think that we can't solve that fear or harness that fear or make love to or fear, we feel that we lose all of our power. And that is absolutely the case. In fact, what happens is is we have what I call gremlins that all these things were worried about? I'm ...
afraid I'm gonna be too loud or too quiet or awkward. I call all those little thoughts in your head gremlin. So even that today is called conquering your fears. I actually think it should be called conquering your gremlins. We're gonna talk about those little gremlins in your head and here's why. That's so important. We're we've been going along the path to connection from the start of the course, but if we don't harness our fear, we can never make it to the final level. We stay in shallow connection. We stay in connection that doesn't fulfill us. We have to be able to cross the boundary to face our fears, to conquer our fears, to be able to connect on authentic and engaging level. And that's why today is so important because the gateway to get us to that final level of connection The reason we have fear is because we're trying to protect our core. We've been talking about the inner part of our Matrix. Just we've just learned the intelligence, but also we have our values and our love language. Our fear protects us, and what happens is something called the Imposter syndrome it's the imposter syndrome is a psychological phenomenon where people feel unworthy of their accomplishments. There's the low road in the high road, in our brains, and they do two different things. The low road when we feel fear is automatic intuitive. It's our primary fear response. It happens in a snap that happens incredibly quickly and it helps us survive. Right? So if we see ah snake on a trail, right were like walking. We see a snake and our Magdala goes into low road fear response. We jump back, we open our eyes wide. We might scream, right. That keeps us safe. We make sure we don't step on it. We yell for help. Then the 2nd 1 kicks in, which is our high road are high road is logical. It's thoughtful. It's our secondary fear response, and this helps us thrive. So now we've seen the snake. We've taken a step back. Now we go. What was that poem in elementary school like? Red and black is safe and yellow and blue is poisonous or we started. Think, is this a poisonous snake or not shy? Tell someone, should I warn other hikers are brain starts to go into a secondary response mode of what to do next. Why is this important for us? Let me explain these. So let's see. You see an accident. You're driving your car and you see an accident right in front of you in 12 milliseconds. 12 milliseconds are low road fear response kicks in and we break. So we hit the brake, our blood starts pumping and our eyes widens. Weaken. Taken as much of the scene as possible. It takes 30 to 40 milliseconds for are so high road fear response to kick in. And we think should I call 911? Should I pull over? Shy turnaround. Right. So this is how the fear responses act ones in 12 milliseconds ones and 34 30 to 40 milliseconds. Daniel Goleman coined the term emotional hijacking that what happens is when something makes us afraid and it could be a snake or an accident. But it also could be awkward pause. It could also be someone who gives you You think a dirty look at a networking event. It could be walking into a big room, people. Your low road fear response is triggered. And because of that are high road is not able to connect with people are low road is in such fear mode that we can't move past it. Our physiology, our body is like but we're a little bit afraid. So we have a really hard time connecting. So at an event, your fear mode goes. I'm scared of rejection. I'm fear of awkwardness. I'm anxious at all those fears that we just listed. So instead of being able to connect network and build relationships, which is why we're there, we can't because our Fear road is blocking it. Our fear road makes us unable to go into that high road response, which is more logical and thoughtful and emotional. So how do we take back control? How do we get our low road into gear? And I do this every day to make sure I don't have hives all over my body before filming? And it's called Fear Vonna. All right, I want us to go into fear of Ana, and this is skill number 18. Enter Feel fear of Ana. We know 33 different people. Skills and fear of Ana is about examining, interpreting and reframing our fears with compassion. Okay, So here's how we do that. The three step process. We're gonna do it together first. Introspection. Introspective introspection is when we examine or observe our own mental emotional processes with curiosity instead of judgement. So here's what we're gonna do first in your fear fire file, we're gonna talk about your fear. Triggers your social fear triggers what happens with people in any way could be negotiation. It could be pitching. Could be mentioning your price. It could be interacting with someone. It could be an awkward pause. It could be asking a girl out on a date. Whatever it is. What triggers your fear into low road pitching? Flirting, teasing as I mentioned. And then how does that fear dress up? So does it come across as anxiety? Or does it come across his defensiveness or anger or superiority or people pleasing or being a yes person? How does that fear translate? Defensiveness, shine mean as hell pleasing showing off. So I want to give you an example of how this works. So a fear tree or could be negotiating, and how that dresses up is defensiveness. People are afraid they're gonna lose out negotiation, and I get really defensive, and then we're gonna talk about a re frame name. So how do we reframe that reframing interpreting your inner happenings for emotional clarity? So stand for researchers found it's easier to reframe thoughts than repress them. This section is not about repressing your fear. Your fear is there. All right, we're not gonna try to repress it. Believe me, I know that only makes things worse. It's about reframing it, and this is called naming and taming Matthew Lieberman at U. C. L. A. Did research on what naming our fear does, but it actually changes are physiological response. He found that labeling your emotion lessons physiological reactions in the amygdala, which lowers our fear response so clarity this anger is showing up a sphere. This anxiety is showing up a sphere. This defensiveness is showing up a sphere noticing how it cross dresses, turning that negative self talk into clarifying self talk. I don't need you to do positive self talk. I just wanted to be clarifying what triggered it. Why did it happen? It's making me feel sick to my stomach. That's interesting, right? Clarifying self talk and then lastly. And this one takes some guts. It's renaming your fear to something else. So I tend to call my fear, my 10 year old self or my eight year old self from like up there is my 10 year old self. Here she is. She's back. You know, I'm 29. My 10 year old self is still here, so I want us to make love to that. Making love to your fear is accepting it, saying, I hear you, I feel you. I get you and then deciding how you want to rename it. Because research has shown that self compassion helps take the sting out of our fears. In your workbook, I have your support system that I want you to build, actually want you to write it down, and we need support in a couple different ways. We need emotional support, needed problem solving support. We've logistical support we need inspiring. So what? We know listener, I want you to think about who are the people in your life that are really good at those areas. Do you have a friend that you can call or person your life? Who is in a wonderful emotional supporter, High agreeable? Do you have someone who's a problem solver who's really good at fixing things when you're overwhelmed with that high conscientious, Do you have someone who's the inspirer who's really great at taking a step back and saying You can do this pep talker? Typically, I had extrovert. Do you have someone who is a great listener? Typically, a low extroverts could just be there When you event, I want you to go through this in your workbook and fill out who is your support system. And the last aspect of self compassion is a personal pep talk, right? So this is going into your success routine and your superhero activity list and Segment five. I talked about how to find your own fire had a light your fire. Once you've gone through introspection and reframing, you might be ready to go into that success routine to find your fire again. Your challenge today is to build your fear file, so I want you to fill out your triggers, your responses and your renames. I want you to identify your support system, have those people in place because when we're in fear, it's very hard to think because our low road is going are high road has trouble thinking about who could we reach out to? So when you're in low road fear you worried, done it. You already know who exactly, exactly. We need to call Your high road doesn't need to kick in. They can help picking your high road. And lastly, I want you to rewatch this near your birthday. So we all have fears. They come up, they change their new. So I wanted to set a little timer for you. Re walked us on your birthday, starting a new year with wishes and conquering a new fear every year. That's my wish for you.
Ratings and Reviews
I enjoyed this Fast Class version and am interested in taking the longer course. Vanessa provided a lot of handouts, which I greatly appreciate and found helpful. I feel more informed and empowered as I make a career change.
Student Work