creativeLIVE Cocktail
Genevieve Brazelton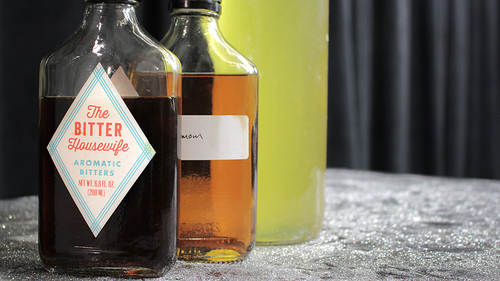 creativeLIVE Cocktail
Genevieve Brazelton
Lesson Info
7. creativeLIVE Cocktail
Lesson Info
creativeLIVE Cocktail
This is the moment that I think John Murray and I have seen wrapping up four cents since nine o'clock yesterday morning, doing exercises with my right generally has promised a special creative life host Cocktail. Oh, yeah. Sorry to everybody else, but we will try. And in part to you. How wonderful. With way to take it away. What you going? All right, we're going to go. Very simple, but festive today, we are just going to do the limoncello in the Persico because it's nice and refreshing and light, and it looks awesome in these glasses. So I'm doing about announce of the lemon shell. Oh, that one's a little heavier, Will make sure jk Okay, it's that one. And then we will add our Persico. It was Italian sparkling wine with just a hint of sweetness to it. And they're getting all dolled up in their, uh, their holiday. Clear. All right, You ready? Let's get cocktails on. While you were away, we changed into our very fancy not only our party here, but we've also got our wonderful headdresses ...
from yesterday. Maybe Genet. All right, We have a little lemon cello and Persico to toast beginning teachers to be. Oh, thank you for joining us today. I've been saying all afternoon. I don't drink. That was it is going to go straight to it. Actually, this will just be mine. Wonderful. A state a desperate to get out here and get maybe will be able to do that later on. We'll watch you actually share that with them as well. But generally we go back to our post, do several, but please share it with your final thoughts on holiday cocktails on how you've enjoyed this course. And please, let's hear from our students as well how much they enjoyed it. Any any inspiration you've got now for moving forward? Just another holiday, great holiday gift idea, and D I y and yeah, tons of them now, Yeah, I I had an awesome time being here, and it's really fun just to talk through everything. And, um, it's, you know, it's always nice to kind of think about it more and slow down than just be in the kitchen and do what I dio so, um, cheers to everybody and have fun and play and make awesome cocktails because they should be fun and exciting. Not scary When you've made your own versions of the limoncello is you come back and share them or with us as well. So in chance of the last couple of days, I mean, you've been wonderful students who really appreciate having you here. We've done so many different cross. What's really inspired you in the last couple of days? Like this Here from Holly first everything. I mean, it just makes it so much more. Um, I guess just tangible and, uh, makes me think I can stop thinking about it. I can start doing it. So that's I guess, maybe the biggest thing, and I want to take more classes. So if what do you think has really been the craft that you think you've adapted? Teoh Fastest because you came into these pretty new um, I think the crowns were pretty easy. Um uh, yeah, pretty pretty easy to dio and fun. And, um and then also I guess I'd say everything, but the embroidery Kirsch sang for me was easy and fun. So yeah, I definitely got hung up on was probably the only thing. I think it's very unfair for me for with Lisa because she made it look so easy, and I'm sure if I just have more time to practice, I could have bean stitching, too, because I had that you actually did some really great change very quickly. That something you've never done before as well. It can't be done. Christian. How was it for you? It was lovely. I'm really excited to kind of persevered with the crush A and kind of finish some projects that I had been wanting to do for a while. Um, and then I also I make ice cream. So I love kind of combining flavors, and I'm excited to kind of transfer that into cocktails when it gets a little colder out. And it's not quite ice cream. Weather. Booze is this Cream is awesome. Really? My own personal favourite is the Humphry Slocombe Secret Breakfast. So you know I make a brown butter pecan with bourbon in it. That way, coming to your place way. Need to weigh. Need someone to drive us around. How's it been for you? It's been really great. I feel like I've learned so many new techniques and I'm ready toe take on my new knowledge home with me and make some handmade, crafted holiday present people. And I've also actually made no to, you know before. So I'm really excited to try the Brazelton things called jq. Marie. Yes, Ugo. Think of ideas or something. I was really impressed by the way that you embraced the crow shape, because that was something I think he was struggling with being a left hander, and it wasn't quite so easy. But you really, Within just minutes. Then they got it going and got that chang going. And I thought that was really something. Yes, it was inspiring. And I definitely want to continue learning new, um, techniques for crushing I normally net. So it was also different using just one hook, but it seems way easier, actually. The knitting. So gonna continue on testing. I'm a size small. Just help it. I Christina, I am just so inspired and so excited to make holiday crafts, and I've learned so this is so awesome. I can't wait to make more bidders, and I'm It's exciting that we got a little head start to. Yeah, fantastic. Well, a big thank you to all of our students. Thank you very much, Holly. Thank you. Kristen. Thank you. Have a thank you, Christine. And we really appreciate you being with us on really sharing your talent. Not actually. Even being afraid to just risk making making something wrong, because if that you're did it such a great job. We really appreciate it. Thank you very much. And of course, thank you to all of you out there as well. You're the reason that we're here. We really appreciate our global audience, that creative life. It's been wonderful having you here for this last couple days. But most of all, let's give a huge global creative life. Big round of applause to our instructor this afternoon, Genevieve Brazleton.
Class Materials
Aromatic Bitters Recipe.pdf
Ratings and Reviews
Many home producers don't keep track of recipes and then try to go semi-commercial. We deal with these folks all the time when they need to know the proof of final product or sugar content/calorie values. They need to register with the Tax and Trade bureau and test regularly. Limoncello and Apple Pie the most common products. Seek advice if going commercial or even selling small batches to friends. A no-no unless you are registered.
Student Work