Student Shoot: Kiss Anticipation
Roberto Valenzuela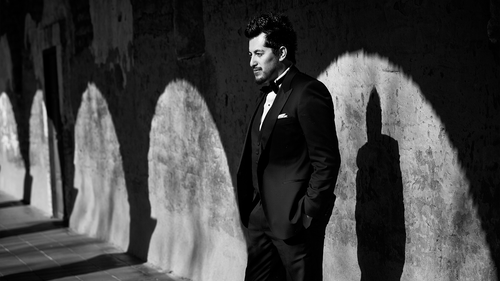 Student Shoot: Kiss Anticipation
Roberto Valenzuela
Lesson Info
19. Student Shoot: Kiss Anticipation
Summary
(Generated from Transcript)
The topic of the lesson is location, posing, and execution in photography.
Q: What is the instructor's reaction to the improvement he saw in the students' photos from the first day to the second day? A: The instructor was extremely impressed with the transformation and improvement in the students' photos from the first day to the second day.
Q: What is the instructor's view on talent in photography? A: The instructor believes that photography is not just about talent, and that talent is not a determining factor for success in photography.
Q: What is the instructor going to discuss in the lesson? A: The instructor is going to discuss the training process of how to best train the brain to learn something and keep it in memory.
Q: What are the practice sessions going to involve? A: The practice sessions are going to involve using fruits and bananas as subjects, so that those who don't have access to models can still participate.
Q: What is the importance of execution in photography? A: Execution is like the glue that holds all the knowledge of photography together, and without it, the other elements may not come together effectively.
Q: What is the instructor's goal for the students in terms of analyzing their own photos? A: The instructor wants the students to be able to analyze their own photos and identify what is wrong with them, as this is the first step towards improvement.
Q: What did the instructor and students work on in the previous day's lesson? A: They worked on taking a photo that had a photojournalistic feel and creating movement in the photo by having the subject move.
Q: What are some issues with the example photo discussed in the lesson? A: Some issues with the photo include competing patterns in the background, lack of focus on important elements, and lack of emotion or feeling in the subjects' expressions.
Q: What is the instructor's analogy for improving the language of photography? A: The instructor compares improving the language of photography to converting words into a poem, where the photo becomes a form of art that communicates and evokes emotions.
Q: How does the instructor describe their experience as a photographer? A: The instructor mentions that they have only been a photographer for about six or seven years, indicating that they are relatively new to the field.
Lesson Info
Student Shoot: Kiss Anticipation
first when I say that when I went home last night I wasjust about us happy off since a human being as I could possibly be more than that I was happy to see what just happened yesterday I don't know if you mean you obviously realize because you did it yourselves on uh we did it together on that transformation that I saw yesterday from day one I was just mind blowing phenomenal I especially went home last night I mean we're not home don't live in seattle but come to my home which is my hotel room on I took a look at the photos you submitted for like for the first day and then I saw the photos you took yesterday and granted those photos the use of million were photos that you needed help with still you still took him about a job I now the photos that you took yesterday it's leaps and bounds on dh I just feel like we're starting to believe that it's really not about talent somebody put on twitter today report I'm so happy to see how untalented you are just like awesome I love that that's t...
hat's an honor because now people realize what they're sitting at home when they give up and they say I'm not talented I might just might as well just give up now like I'm not as talented as this photographer that photographer so why don't I just give up now now you know that that's really not true in forty eight hours or really only twelve hours of instruction I feel like we have taken miles off knowledge of photography I don't think from that from today on you could not possibly see your environment the same way no way on dh from downtown on when you take a photo and you know you could do it better you will not give up you will continue to push which brings in tow one thing that I wanted to discuss today today at near the uh at some point actually we're going to be going through the training process of howto best train your brain on howto learn something and actually keep it in your head okay we're not just going to talk about howto do random things we're going to do in a very strategic way so when you finish that little practice session we're going to do you're going to go it will be very difficult for you to forget it it would actually be difficult you will have to try to forget it and you will not be ableto okay they're certain parts they're certain ways to hit the brain that if you hit him all in the same way if you hit all the right courts your brain just goes to long term memory okay on we're going to go through that another thing I want to go through it we're going to be working on we're gonna be doing some practice sessions today later on on we do have models but we're going to do practice sessions without models which is going to be using some bananas and stuff okay we're going to use in some fruits so everybody out there who says I live in kentucky I don't have models or not kentucky there's nothing wrong with kentucky by the way um I may be in the middle of nowhere I don't have any people around me no problem we'll take care of you too right um let me go over something really cool I want to go back uh today we're gonna be talking about the execution we spoke about locations first and we broke them all down right we talked about posting yesterday on we broke that down andi I'm ran out when they start asking what we talked about to recall it right that's the whole memory thing we're going to do today we're gonna use those two things we talked about how we're gonna put him in the framework of execution if you do not know how to execute everything you know you're gonna have a hard time putting it all together this is like the glue off all the stuff we talked about ok without the glue this could disappear so it's very important that we glue it all now and he's like since cement okay let me show you once again the let me show you once again what we did let me see this go here let's go here school student reviews school here do we see that we see the perspective now granted these are photos of you submit that you needed help with right but they're still photos we took or that you guys took at a job I don't think you could even possibly take this kind of stuff at a job in if you tried now you know I mean because when you see that super bright red green and blue you're gonna be like oh heck no we're going somewhere else you see what I'm saying um there's a lot happening here that I think now everybody in the audience and everybody watching online can definitely break it down decipher just be able to totally say this is what's wrong with it right on by you doing that it's the first step for your improvement if you don't even know what's wrong that's why this download for creative life is going great because you can drilling people on how to be able to be your own like detectives of your own photographs because you need to know what's going on right yesterday we did something where we tried to take a photo where it looks very photo journalistic but we tried to kind of post a photo journalistic and then he wasn't working so what do we do we have the bride move we created movement into the photo right and that made that movement happening that brother for journalistic aspect the women were particular all of that let's take a look at uh let's take a look at that lighting now on the background what did I see what do you see julianna what do you see now if you were looking at this photo with all the knowledge you learn thing creative life now why would be what you would say to someone backgrounds there's a lot of different patterns going on the collars the similar but one is the way to more bright than the other where is the gift of the location here the gift yeah it's hard to tell right yeah because there's like seven hundred thousand gifts in this location right you are they are they the brightest definitely they're very bright very bright on the bagman is very bright and it's competing with him yeah if you were to open up his photo in photo shop and you want to blur it with caution blur you would not have you would have a hard time deciding wench important part off this photo it would almost be like everything's important or everything is not important it's one of the two do you see the arms and stuff you see that arms just hanging down and everything what else do you see pepper just go what else do you see in this photograph that's not working for it uh uh just the eyes just the whole looked straight to the camera kind of thing is no like I don't see no feeling there and uh just the way they're they're standing pursed slouched the young lady's kind of she slashed last aside yeah best of all is this is this is a photo finessed is iffy nest no it's not it's put together but it it's not fi nest into a nice little package right remember we talked about the whole language theo this is like just words we need to convert him into like a poem right the photon is to sing to you needs to say mr have poetry in it right um how about these guys keep it a shot mallory give it a shot um you know a lot more now yeah they're invisible plane definitely good invisible plane we have twenty one little items we call the lucky sevens right that's what people in the internets having calling them in the internet like anyway um what do you see no um she's slouched her neck is gone um they are the brightest they're the biggest they are in focus all those three things were good they make a very strong point or quick I've only been a photographer for about seven six years old seven years something like that not even that much
Class Materials
RobertoValenzuela_LPE_Charts.pdf
Roberto Valenzuela creativeLIVE Keynote Slides.pdf
Ratings and Reviews
Im a freelancer and have studied photo school several years ago and also been working as an assistant for a few years. I think you always have things to learn and keep you from getting stagnant in photography, and i find creative live is a great source for that. Been taking some of Lindseys classes and watched several others from Sue Bryce as well as other classes for equipment and about shooting people in general. I always read what others have said before to avoid any classes that are not informative etc or have a teacher that leave out too much, i was drawn to what people said about Roberto walking the students through the shoots and that he had this great system you could use and take with you when you go forward. I actually never heard of Roberto before but were mainly interested cause of what he was teaching here. I have now watched almost the whole course and first of all let me say i do recommend it a lot. Its a great system to use in my opinion, and i have learned some great stuff to think about that will enhance my own photography, and its a great reference to go back to when you need it. Roberto as a teacher is relaxed, intelligent and has great humor that i can relate to. So you you are not "bored" which is also very important, he keeps it interesting. Some things that i did not like about his way of teaching was that he was a little too impatient at times when the students tried shooting themselves , he reminded me of other photographers i have worked with in past. They were also very impatient sometimes when people around them were moving to slow for the shot to get done etc. I understand during the course the students had limited time to get every shoot done. But many times i was frustrated with that Roberto almost always stepped in too early to "help" them out but instead kind of took over telling them what angle would work best or what light that should be used. It was almost as he wanted his system to show up as flawless and felt as he was scared letting the students try it out on their own because that would somehow show a flaw in his system. I would rather have had him let them try first and later he could come in and suggest the different angles and light. But now many times he would take over and also take his own picture and pointed to the strengths of that picture and why it worked. Still, you learn because he explains at the same time, and walk you through everything. I just find that you would learn even more letting the students fail first or do it right on their own. Also sometimes he would choose a location and say: You can use this wall and these props etc, then when the student would start he would suddenly limit them and instead tell them what to use and how they should crop so that the location itself would not make much difference. Otherwise though, great course. I think i would buy another course from Roberto as well if it was something i needed from it.
I have seen many of the creative live workshops, and attended many great workshops by photographers, including Jerry Ghionis. It was Jerry's wife - Meliisa Ghionis who suggested that Roberto's course on creative live should be a must see. This course was by far the best on creative live for improving your photography of couples, it is just brilliant and has improved my photography in leaps and bounds. There are many great photographers, but most do not know how to pass on their knowledge to others - Roberto is the exception I would consider this course a must see for any wedding photographer, no matter what your experience.
Love Love Love this class!! The way Roberto integrates class participation into his teaching is such an amazing teaching technique! CreativeLIVE has some amazing teachers, I have learned so much from many of them, but Roberto's "hands-on" approach put's the on-line audience in the moment. Very captivating teacher! By far I would say this is one of the, if not the best photography class I have watched!! Thank you!!
Student Work