Networking Tools
Steve Rennie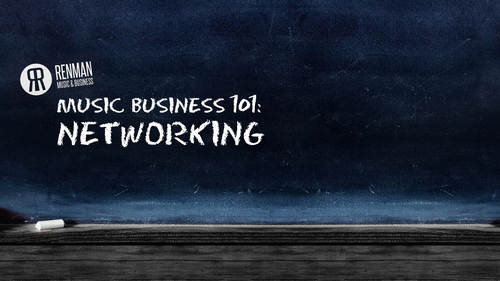 Networking Tools
Steve Rennie
Lesson Info
8. Networking Tools
Lesson Info
Networking Tools
So you've been at it for three hours. You were now heading into the back nine here, and I thought we'd do a little re capping here with the folks we have here in the studio. We're tryingto kind of get to work through pain. Come on up, they're my friend. And, uh, maybe we should pick somebody from the web a little bit later, so we're going to start with you guys will help us fill us in dave dream in a word. Make a band grow the singer's big singer of a big band there we go find a big they got words in your mouth and then I something better than okay alexa from australia no that's not that's back there so I am just talking am okay bangle exit dream manager say louder manager alright manager love it okay you're gonna be one of the kind hearted manage that we could use a few of those I suppose michelle beltran a manager guys I couldn't talk about a manager all right that's a little bit tighter than when we started good eva lovely from melbourne, australia yeah, I perform a performer okay, ...
so that's what you're gonna put on your passport what'd you put on your passport when you add in america um students when you go back to next time he's going to say I'm performed before my time okay? Nathan and our executive love it and our executive you're gonna pass on that accounting gig as it stands right now maybe alright good and is ooh uh touring slash recording artist touring slash recording I so you're gonna be the whole package you're gonna sing and perform all right love so we're gonna put performer there song singer and performer alright great targets you know I'm talking about your or targets because we know they're moving you know we kind of get that's here that's that's the tree out there now we're like tightening up a little bit so for you dave your target in the short term your first target on the way to the big target what's the one in front of you right now uh get an album made getting out these guys yes we'll talk about that that selects that's doable and and actually more controllable than a lot of them yeah that winds up coming down the talent of money which you can solve that you don't need any more you don't need need a few folks alexa quiet election I'm gonna turn into a screaming banshee by any of this okay uh finding artists find an artist that's what you need to have if your manager ok uh all right michelle belt I guess the same fine artists yes there it is you want to be a manager uh gotta have an artist right you know by the way easiest point of entry and the whole music business when all those record execs get fired you know what they tell away I'm gonna be a manager all right so I don't really have to do anything you say you're management helps to havenaar's eva um I think my yet to get a good product album so make it yeah make it now I have done some recordings and I've got a live album but nothing I'm still waiting for that perfect thing which I think we know about yeah we're gonna do is close to perfect as you want to make a record yeah okay yeah I need teo don't put words in ok so you want to you want to go past live record you want to make a record with producer and yeah okay great nathan short term started the bottom work my way up okay I already did a couple days free at our place exactly up at seven o'clock very impressive tim short term again I started the bottom learn from the inn are great I mean yeah I'm not a short we're going to say in our in our world that's what we're going to put going to get in there you already started a little bit the madden a and r guy that's a start did you send him in el tenia nice to meet you I'm gonna get email after this okay all right all right now we're coming and finally a zoo uh performing I guess and getting a buzz on starting to get an audience perfect okay now so today right now we're gonna fill out the rest of us before you down maybe you could grab one person on the web I know you've got a bunch there evelyn but you're a good judge of talent finding somebody on the web and we'll put them on their cells let's go with the first person that I saw absent munk munk drummer of a successful band. Okay, who wants to be a drummer of a successful band okay so we're gonna put them you know what we gotta have it will keep you up there monk got it all right okay so I want to talk about we talked about where you want to go on were going to try to make this happen we know we gotta meet people we know we've got to find a way and they're well because we need him to do stuff for us right so I want to talk about some of the tools that I've used over the years right because there's a whole arsenal and the truth is you can put bits and peaces of you put them all into play here but I'm going to talk about a couple one I'm gonna call it old school right all the talk about the internet and social media and things that you know we couldn't dream about what you saw in cartoons face time and skype and all these things that you folks you've grown up with they're no big deal those they're kind of the things that everybody does I watch kids my own age nineteen and a seventeen year old in there texting everybody and their instant messaging and the literally being the room together or you know thirty feet apart sending notes to each other right were lots of people in my generation where there oh I don't tweet who is it dave don't tweet yeah I have friends of my big players in michigan dude, I just have my gal print my email lt's up in all that stuff right? So you guys aren't part of that world I was but the point I'm making is that for your generation of folks some of the old school tried and true methods of networking you guys dismissed like those old guys that go hey, I'll have my gal print my email upright and one of them is this face to face thing that goes on the old school of I want to see you in the flesh or you know the old and you might send on an e mails opposed to a letter but that little hey just nice to meet you thanks for taking the time or whatever it might be that old school what we used to call manners okay he's gone away from your generation because you don't have the time to do it right well that's crap okay because most effective tool you've got I'm here to tell you face to face in person where I can look in the eye you talked about trust you know what your eyes could be wrong but when I'm looking somebody in the eye and they're telling me their story I have a better sense it doesn't mean you can't get hoodwinked, but the chances of it happening with experience radar in the flesh is mitigated someone so that was all school tricks. If you will your generation needs to spend some time with okay and when you're sending that letter making sure that you've taken the time to spell their name right taken the time to make sure that you spelled the words right there's nothing that drives me more crazy then having somebody pitching me on a job and telling me how smart they are mis spelling my name which is easier to get over then them misspelling words not having proper grammar because I don't care if you never went to school you could do spell check so I think one of two things either there they're lazier dumb neither one of which are things that are on my checklist of what I'd like to see and somebody that's representing ultimately my company or my client right so I want to play a little clip from a lady by the name of jodi gerson jody started in the business years ago we grew up in the business together and she started in the business just like you on the outside looking in she had some some help because your parents and ben's had some connection to the business and so forth but she is succeeded succeeded wildly she's the president of sony a tv music which is the biggest most powerful music publishing company in the world she has the quintessential big gig she was a woman the whole time. Okay? She had all the benefits and all the curses that came with it to the questions you asked she's a pretty lady all of that stuff going to have kids okay she didn't go out to strip bars with all the promotion gets the all those things but she succeeded at the top level so I want you guys to play this little clip from jodi gerson talking about what I'll say are very old school but very important trades go ahead tell me how you got started in this wacky music business jody I get started um I graduated from college and chicago went to northwestern and I moved to new york and I met I networked it was all about networking and I laughed because I used to meet people who would take me to parties and I would meet all kinds of executives and every time I met someone the next morning they would get a note for may dear mr davis it was so nice to meet you at the t j martell dinner I you know we had a conversation about so and so every single person got a note for me and eventually I got a job I mean the thing is in when I first graduated from school everybody wanted to work at mtv yeah I really wanted a job in tv and there were jobs at mtv you know it was kind of a lean I just couldn't get a job and then I thought I could sell anything why don't I go into record promotion and then I started meeting all the record promo guys at the time now it's like a female business it's amazing how many smart fabulous women do promo now but I met those guys at the time I was like oh that's a very good job for may yeah not the job for me and then someone introduced me to sew so I spent a lot of time I don't remember steve backer who still he was that he was running the college department at epic records and friends of mine before may and then maybe used to hang out in his office after we graduated from college and he would introduce us to make phone calls and take us but so he had a friend who had gone to camp with who was leaving chapel music to become a songwriter and he was able to get like one hundred dollars if you brought in a new person and so I went in and I got the job xeroxing lead sheets I had no idea what chapel music wass and no idea what music publishing lists all right so there is a little lesson for all you young punks out there all right that the tried and true having good manners having follow through making it personal right is something that still works it worked for her it'll work for you right um having good manners you know, being appreciative. You were going to talk a bit later about how you network without being annoying when you start with little steps. Somebody gives you a moment gives you a piece of their time well tell him your whole life story tell him hello making nice and russian get out while the getting's good and follow up right that's that's a key lesson to learn here okay so I'm going to ask each of you or maybe I'll take a few years dave you trying to get an album made you talked about going to clubs and stuff are you using the personal touch have you identified the people that can help you get where you want to go or you think could help you on are you trying to connect with them on a personal level you're setting an evil had love to get together with you to talk about this you doing that? Yes and that's I mean that's how I found the guy who's been are I guess kind of producer he's been our sound engineer and that's how we got hooked up with we've been recording a high treat studios and we got a really good deal to go in there big studio and it was because I just met this guy was doing sound in our show and I got to talk into his sentiment e mail the next day and he said yeah once once you guys come along and and I will get you in here soon I'm still working on trying to find someone to fund it but that's a separate when we can talk about right so you're using that approaching but I say that because that's an approach you should keep using over and over and over again and every time somebody helps you if you aren't taking note of the fact that she sent him a note then you're not paying attention I'll tell you my own career right when I was just starting off is a young constable to raising money to do a show one at a time never knowing whether there was another one I take the same approach the jodi gerson that's why after one week that we were had such a great time talking is it was a similar approach it was we were almost the same age a little bit younger but it worked and so part of it is this notion of acting like you're coming back again, right? So I sent a million notes I do a show sent a note to the manager that took a chance might say dude, I just want not dude I'll take sir thank you business when he was great love that the band was great I attend a note to the agent that was the reverend hey, just a quick note say it's great working with you guys look forward to working with you again not knowing whether I was coming back same with the building man there, same with the radio people that the station that I was paying that might have given us an interview so that personal touch personal approach is important where you put your best foot forward here right? Ever you're in town you're meeting with some other people how did that happen? Um when I first arrived I did a live house concert which we actually filmed and there was a live recording sir we we couldn't find anyone teo record the sound and we found him on craigslist actually um and he was this really gentle guy who had had a lot of experience and was yet owed us so I guess I knew the older industry and we were editing the live recording and he's like I think you should really made up with my good friend he's a manager he's done all these great things he's in l a you should give him a call and he contacted him this manager checked out my stuff tonight send him in a mall and yeah he liked what I was doing and go so I'm actually going to l a and we're having a little mason so that way you have a meeting we have a meeting yeah I'm going to ask him to help me do something you don't ask god and when you're done I know you're going to be sending him a little personal note as you ladies doing that great cool that stationery that you know that has smells good something all us guys do right? Perfect. All right, excellent. All right anybody else here between all of you using the personal approach the old school send an e mail say thank you all of you are always okay I can't text message but I mean I meet that air end up you know, possibly networking with the people that I met at a party yeah yeah I'd say you know the text messages good phone call better in person the best right because the text message is it's just too easy you know I mean you don't get a chance to put any more you know personality so not to get lost on that but it's what I'm trying to get across is that that personal approach to things right now we're going to talk about some of the bigger tools because you folks that kind of know where you guys were happened I don't want it to all be about you you selfish people I want to talk some of these folks on the internet you guys are all out of college you guys were out there doing it so you're a little bit different breed of cat you little bit further but I know we've got some folks that air back in college, right? We anybody there rust plenty we have cb music eleven who's in college for music, business and audio production technologies we also have kelly v music who's currently saving up to go to musicians institute what do we have we've got well contest went to full sail for music business in two thousand seven and then went back for a film degree so has already gone to music school nose back staying within the entertainment business um and I think that I think that that that about sums it up ok now it's an interesting phenomenon kate when I was back in college you know they didn't have these music business classes and they didn't have full sail university and all that stuff right? So I'm going to give a little editorial is going to get all these colleges you know a little uneasy right never hired a person in my life and check there too great right nobody ever asked for my music business degree right um did you ask those guys were in your band if they've been to a music college I don't know how do you know they could play dave because they came in and showed me because they came in and show you the reason I say that is folks because when I hear people and I'm not taking the piss out of these folks were just bringing something up when you are constantly learning people hate me for saying this but you risk getting into the professional student zone as opposed to getting in the professional duer zone okay? I didn't finish college how could I be here? Because I did I just decided I was going to do so good stuff there. The point I'm making is that there's lots of people in college out there that could start their networking for their first gig in college because it when I was in college I wasn't in college to get smart I was in college because I wanted to get somewhere and as soon as I thought I could get somewhere without finishing college I was gone okay so I wasn't waiting for the degree because holding the piece of paper up didn't mean as much as going out and doing something right so the reason when I go and speak it colleges all the time the first thing I asked everybody's you're in college are you on the you're working at the radio station oh no study in the music business right or hey okay you are you are you with the radio section you booking concert so I know I'm in the music business class right? And I say that because when I was in college my first gig in the music is all countess in my thirty five years of professionalism was being the concert booker it's santa monica college and I just thought this is the greatest thing I ever have in the world I got a sixty thousand dollars budget no conscience and and that you're going you're going toe I could just spend this money the way he's crying about it hey can you guys do that here created to spend all that money and I go yeah, spending we don't care doesn't happen in the real world so I say that for you folks there in college not to piss in you know on the people that are studying music business because that's good cody romney this study music business but he didn't show me his degree and I didn't care okay and most people won't so being in college is a great place to start your career we talked to that guy bruce floor early I won't show you the video but he started as a radio guy that got him in the door for his first gig which led him to the a and r gig with desmond that he was ultimately looking for and then when he became an an argy decided that he really liked dealing with the whole of the band's korean ultimately came a manager right moving target find your entry point make it somewhere in this zone of what you're talking about so college is a great place to start but I'll say this I mean it seriously I know I'm gonna piss off all my friends at s c and a berklee college of music and full sail don't fall in love with education fall in love with doing okay and recognize that some of the greatest people in the music business didn't finish cause not because they were stupid because they were too impatience they wanted to get to the doing okay that's the message you're okay I pissed those people off trinity guy is green with you're saying if if music go for the skill and connections not the degree value the degree is great only here I wish I had so many clips that come to mind conversations we've had a bill silva great promoter okay started promoting shows when he was back in college why because he liked party in he had a little sense of business he liked getting all of frat boys together so you became a promoting did in college okay and I'm not sure he ever finished college but the point is he talked eloquently about how colleges great college is a place for dreamers right that's where you go because mom's pan for dad did your mom pay for dad pay for college okay that's worked out pretty good right but the point of it is is that's where you start dreaming but what I'm telling is that's where the smart ones the doers start stop looking I'm due just hit it out here they start going to the tree and their sharpshooters the snipers they're taking the bird off the branch on the tree and that's what you need to get teo okay so college a great place to start start in the you're a media person right go right for the school paper gets your skills together right when I was a usc I was such a little shyster man I got on that concert committee and I was went from the us santa monica the usc came in there and took over I just I'm going to be the head of the committee and the person that was ahead of committee the spreading my mara makayla and she goes okay because my reputation that proceeded from usc so we did all these concerts I was booking shows an agent I booked to your point with the kid that said should I take some gigs I like I booked a ton of horrible freaking band because I wanted to meet the agent ok fabulous poodles okay I can think of some ones that were horrible train wrecks right I sat there decided that I was going to be broken down I had this idea we're going to start the business of entertainment seminar training and usc the best panel right and it was just excuse for me to invite an agent a manager promoter all these people to usc so I could course come say well, you know I'm the guy that never know organize this and would love to have you here and then send him the no thanks for being here but I know that in the first gig I almost got it william morris was that agent gal carol said low where every our helo that brought on all her friends that stacked it with her buddies she was the one that got me the interview to go in a mill met william morris and it's the only time anybody ever asked me for my degree and I didn't have one and you know what I said gatekeeper I'll start my own company you clowns I don't care about you guys best thing that ever happened to me because I have been a horrible agent right so networking in college okay now the questions just got a question from j gorski what do you see as the biggest differences between the old manager mindset compared to today's a young managers coming up I'll tell you one that say that I've noticed and to proof positive that you can learn some new tricks in the old days the manager is where the behind the scene guys although the really divided devoted fans of a band knew who the manager I knew who the manager led zeppelin was I knew who the manager of journey was I knew who the manager of you two was right but they were largely behind the scenes guys because the bands did the show mtv was the place you saw the places where you could be seen were pretty limited so the managers were behind the scenes you read about and you heard about you saw their names on the back of albums today one of the biggest difference with the manages they grew up in your generation with social media right so people have asked me steve how does it feel to be like more like a cz well known is the band well it's not I've been doing exactly the same things I've been doing my whole career except the internet gave me a chance to talk to our customers right and all of sudden there on the phone or the skype with the manager of incubus well the truth is I was here to get information right I was there to sit there and go instead of sitting with a bunch of forty five year old guys in the records go well you know okay, you know those kids out here today or doing this so I'm thinking I'm doing what I don't want to hear some forty five year I'm gonna ask this kid hey dude you want to see the band yeah you know to man we want all these people in south america want you to come down here and play well ok then tell your promoters and this is how it started so the big changes that the managers today look like they're in the same I don't stay in the same league because they're nobody's coming to see scooter braun but scooter bronze got fifteen million followers so is I started to build out my little web page and so forth and even with the incomes I built to facebook page for one reason so the kids in south america had a direct connection to me so for all my friends from soo in america today when is thea's life they have you'll be down there soon but the point of it was a tool that we use and so that's. Why that's a big change in how the man is because you can shape public opinion. You can read your customers. I can post something from brandon boyd's record on my side, and then they posted somewhere else and you get buzz, you get people talking. These are the things we used to spend thousands of dollars to get happening and you can do it on your own. So my fifty, some years old, but he's going, dude, I don't know if I'm seeing you, don't you think it's weird, steve, fifty eight year old man tweeting and I'm going, man, I'm not b f f, and I'm spreading the word out here, man. And by the way, they brought down some tin horn dictator ships with this stuff. I'm I'm interested in doing things that are working so that's, one of the big differences, the rest of it pretty much the same.
Ratings and Reviews
Unbelievable course. Steve easy to listen to. He's funny, easy going but incredibly smart. I'm not a musician but have worked with many in photography and this man knows his stuff. Any creative should take this course and take notes.
Student Work