Why Is Networking Important?
Steve Rennie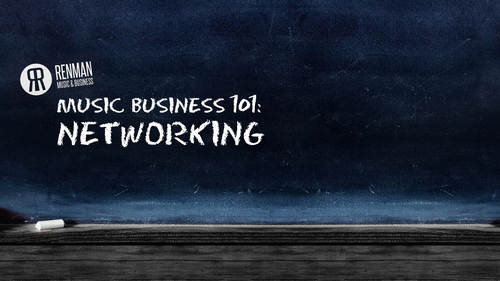 Why Is Networking Important?
Steve Rennie
Lesson Info
3. Why Is Networking Important?
Lesson Info
Why Is Networking Important?
I asked you guys, how would you describe networking? What would you say, mr lud asthma, striking up a conversation with a stranger just to see where they come from, where they're your problems got cross, okay, I wouldn't do that on a new york subway, but, you know, all right, r friendship tell if you're friends with them. That's, how they get help, okay, dave knowledge. I mean, I agree with her friendship. I don't go anywhere without business cards of some sense, okay? That's gotten me everything that I've ever gotten from alexa alexis. What they said french and left just talking getting it's great to be friends don't have to be friends but getting to know the person getting to know the person okay yeah I'm talking and um yeah two strangers gotta initiate you got there okay that's what I'm trying to get at you sell you want to be a professional you've got to get out there and shake some pause right yeah all right well that's what it is okay uh okay I just thank us I'm okay I got your b...
ack elvis who's come back from the dead to say building relationships and not expecting anything tryingto offer something before asking for something I'll say this you want to expect something but the fact that he understands the food chain I love that elvis god it's good to have you back wade got somebody else trinity guy says I would describe networking is the ability to reach a common connection with someone love it love it it's all about making friends on the way to get it's ok to want something out of him that's okay but as long as you understand you gotta give to get right and tony romano tony romano says mutually beneficial relationship way I love you tony you know I love that these are all things that make sense that's what network is about let me tell you why networking in my opinion is so important not just in the music business but in general in life is that if you're looking to do something great in your life if you're looking to do something great in business it's typically bigger it's a bigger job than one person right you're in a band you need you can sing unless you want to hit the button saying that you need a band right and then when you get a band you gotta worry about whether those guys could play right and then you gotta worry about do they show up right and then you gotta worry about whether they're a jerk right? Okay, those are all things that come with it okay, so, uh if you're starting a business you want to have a marketing guy kid that they have a great professional team here but have a producer and an executive producing a real cameramen another you're doing a fine job by the way to have people that are doing it that takes it makes it a bigger job so networking and finding those people that can help you do that is really a key part of the whole game here, you know, I see you have a question what your eyes were on networking do you think is the best way to approach someone who's successful in the music business who's used to people constantly getting at them we're going to talk about that a little labor it later it gets that whole thing that you guys kept posting on creative life so I put it on my slide presentation last night brian okay they're they're actually prompting me hey how about that toby do networking without being annoying we'll talk a little bit about that later so you know I'm gonna make you hang around till what segment is that well that's a way that third thanks third segment but we're going to talk about how you do that because it's not you don't have a relationship by because I answered your email okay I have good manners all answer an email okay and people ask me to do things for him you know it man we'll talk about what would spur me tio go beyond saying hey thanks for the email okay let me go talk a little bit more about this idea of networking as I mentioned earlier if your business guy right like maybe people would expect you to be out there network and that's you know that's why you hire a manager so he can go and get you the agent the manager you know the publicists and all of that stuff right one of the things that I've learned over the years and that is that musicians sometimes get they get weird by they don't think that's not there thank man I'm on artists right you said that not bad I bet you did I bet you the man is going to be all right but you know what I'm talking about big company I'm singer, singer dude, you're supposed to get me my coffee, right? And so you don't think about never, but I'm here to tell you that if you're a musician, okay, networking is important for you as well. So I want to play a little clip from a buddy of mine by the name of ben kenny, right who's, the bass player and an incubus and and ben is, is a really interesting guy, because he's fun, he's, outgoing, but he's, a little cynical, like may, but what's interesting is that ben understands the essence of networking at a top level view. Play the video if you wait, please. Like anything in the entertainment industry that I've gotten to see there are people that are doing it that kind of end up being in charge of who comes into the fold is not like it's just like like a supermarket and anyone could just walk in and be like I'm here you have to kind of introduce yourself the people and meet people in developed relationships with people and that is probably the hardest part is people knowing what you do to get serious and wanting to make music with you know and once you get a chance to play with people then you can do the thing you love but there's a lot of not playing music involved in a lot of just being a good person and not being on time like a lot of stuff that you don't associate with music is being on time and being reliable and responsible my whole path tio here has somebody me meeting somebody and getting along with them first and and from there it's like I like you let's try to play music together and a lot of times it went okay let's keep playing music 00:06:00.96 --> 00:06:03. on a few times was like, good to meet you I'll see 00:06:03.58 --> 00:06:05. at some other point down the road, you know yeah, 00:06:05.72 --> 00:06:09. you gotta take it all right. Dave was over here smiling 00:06:09.15 --> 00:06:11. on that one so you are talking about right? So exactly. 00:06:11.66 --> 00:06:15. Okay, been there done that okay monk saying that is 00:06:15.11 --> 00:06:18. so true being a good person says it all and elvis 00:06:18.32 --> 00:06:20. I like that he said that yeah well I'm going to show 00:06:20.24 --> 00:06:22. you another video a little bit later from another 00:06:22.1 --> 00:06:24. musician that talks about how he's managed to actually 00:06:24.76 --> 00:06:27. build a career and meet all those people as a general 00:06:27.93 --> 00:06:29. by the name of blasco we'll get him a little later 00:06:29.65 --> 00:06:31. okay anyway thanks a lot bin for helping out on that 00:06:31.65 --> 00:06:34. one okay network it wasn't important okay I'll tell 00:06:34.75 --> 00:06:36. you one of the reasons network he's important and 00:06:36.82 --> 00:06:38. I'm not saying that just because I'm fifty eight years 00:06:38.84 --> 00:06:43. old time okay time every second the other one goes 00:06:43.59 --> 00:06:45. by another one and another one on that clock they're 00:06:45.98 --> 00:06:50. gone forever done okay never get him back okay and 00:06:50.25 --> 00:06:52. when you're young you dumb about you think you got 00:06:52.96 --> 00:06:55. forever on everything you think I'll be fine I like 00:06:55.78 --> 00:06:58. your mom's going oh he's only eighteen oh he's just 00:06:58.14 --> 00:07:00. being showing they were eighteen turns thirty thirty 00:07:00.2 --> 00:07:02. turns forty forty turns fifteen then you know boom 00:07:02.91 --> 00:07:06. lights out so time is your most precious asset in 00:07:06.05 --> 00:07:09. life more important than money anything else networking 00:07:09.77 --> 00:07:12. can help you make things go faster if you're on a 00:07:12.77 --> 00:07:15. mission you're here and you need to get to there and 00:07:15.12 --> 00:07:17. he wanted to a fast you need help so networking can 00:07:17.79 --> 00:07:21. help move that process along in the music business 00:07:21.49 --> 00:07:25. this notion of speed and upper route is critical we're 00:07:25.59 --> 00:07:28. here in the heart of silicon valley here same story 00:07:28.26 --> 00:07:30. you know you get the money from the investors and 00:07:30.31 --> 00:07:32. go man we gotta move we got to get this thing to happen 00:07:32.37 --> 00:07:34. we've got to get close because and everybody starts 00:07:34.62 --> 00:07:38. pounding me so time is a big reason why you need to 00:07:38.75 --> 00:07:41. be great it networking you know do any of you folks 00:07:41.76 --> 00:07:45. in here feel pressure of time? Okay imagine how I 00:07:45.74 --> 00:07:49. feel, okay all right uh it's something that you can 00:07:49.12 --> 00:07:51. you can never get it back so it's important so networking 00:07:51.76 --> 00:07:55. is important because ofthe that time element okay, 00:07:56.56 --> 00:07:57. networking 00:07:58.66 --> 00:08:01. I know the answer of this I'm going to ask how old 00:08:01.09 --> 00:08:03. were you when you got started and because that's something that I know a lot of people worry about am I too old to get started? Age is something we can spend the whole time you're never too old to start I think but the age thing becomes an issue because it takes time for these things to develop and as you get older you get you start adding baggage wives, girlfriends, kids you know jobs and so forth and so on. So it's not the age so much is that the baggage you acquire is you get a little bit older and the guys back there brought johnny you got that picture? I'm going to show you what I looked like back when I was twenty two. You got that picture there it is all right uh how about that okay okay that was when I was dreaming folks okay this is what it looks like when you've been doing for thirty six years okay time doesn't work here's the other thing about never ring why it's important right I'm not the smartest guy in the world I know that I'm also not the dumbest guy in the world I know that as well but when you're starting to do something big okay I'll just tell you this been my experience that hanging out with smart people makes you smarter okay hanging out with talented people makes you better if I go on play with great golfers and watch them swing all day I get better so networking can help speed the process because it could get you in touch with smarter people for any you watching out there neil fifteen year olds know how to get you to fuse that red man and be helped me out I need some smart guys to help me on my little mission here okay. Last night I was out with a guy named tim chang big vc in town I'm not looking for his money that just a guy I met networking doing my rent man and be thing smart guy sent him a note this morning hey tim was great getting together with you because you just make me think man I said I was thinking all night long just about because he's a smart guy okay jack conti a musician here from town of band called problemas I just met him through a friend of a friend as I'm out networking trying to help my little mission with my website finds it turns out he's a stanford graduate who the freakin heck new right close not there okay andi and so another smart guy who really got me thinking about stuff so this idea of networking being important is because you can get to smarter people and you need that toe happen okay I want to play another little clip you real quick we talked about this importance of networking from a musician's point of view right but it's also too if you're a business guy lots of people want to be a and r guys I met a young guy by the name of aaron baschuk who's a terrific guy where'd I meet him playing golf ok anyway aaron is the a and r guy he's been doing it for a long time and he's in our guy for bruno mars okay everybody sees bruno mars bruno mars has been bouncing around for eight nine years erin baschuk took this guy to the label two or three times couldn't get him signed but aaron baschuk understands the notion of networking so if we have that networking clip back there guys you got it aaron baschuk this idea of networking and making friends in the business in doing it in a very ritual kind of almost you know, relentless way you never know when it's gonna pay off how do you go and meet all of these people? These producers the hip hop r tell you where the relation having great relationships is the there's no more important thing to being a successfully in our person than having great relationships, period there's no other way to do it. I remember I got my first promotion of being an artist and I thought I was the coolest guy in the world. I would just sit in my office, pick up the phone called timberline and say, hey, I'm aaron base like I manana yeah, right you're going to get hung up on you'll never know I may have gotten stuff in sent to me on e mail, but it was never the quality stuff you have to have relationships with people you have to have them trust you before they're really going to put forth their best effort in their best work and I get my relationships by going and spending time with the people I want to have the relationship with it's not just about picking up the phone and saying, you know, what are you working on? And you send me something it's about going to see them in their studio going too see their process getting on a plane if you're interested in an artist or songwriter in london, get on a plane and go to london like that's how you're really going to get a full sense of who that person is and what they're capable of, and they're going to respect you for that. So I'm not a schmoozer kind of relationship guy, that part of the business I usually stay away from, I'm not out at night, you know, having cocktails and doing that sort of thing. I just prefer to be in the studio and develop relationships with the creative people. They're the people that are that I respect the most are the ones making the music, and you need them in your corner and and that's, and I think you go to them always great advice right there, smart guy, mr aaron baschuk. Okay, we're okay, so we get the picture networking is important for musicians it's, important for professionals, it's, important because of time, it's, important, because you need to get around smart people, you know.
Ratings and Reviews
Unbelievable course. Steve easy to listen to. He's funny, easy going but incredibly smart. I'm not a musician but have worked with many in photography and this man knows his stuff. Any creative should take this course and take notes.
Student Work