Start Post Processing in Photoshop
Matt Kloskowski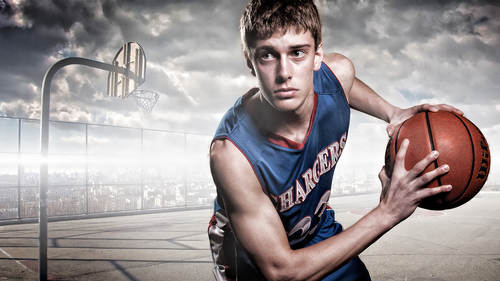 Start Post Processing in Photoshop
Matt Kloskowski
Lesson Info
8. Start Post Processing in Photoshop
Lesson Info
Start Post Processing in Photoshop
again. I'm thinking like if somebody gave me this project, I'm thinking magazine cover. Somebody says, Hey, you know, we want a backpacker on a magazine cover, so it's actually gonna look a little bit little bit staged a little bit posed, which, you know, that if you look at this photo versus something like this where she's kind of walking away So that's why I That's why I went with this one. We used the quick selection tool. If you guys remember and I outlined her, I went ahead and I saved that selection. So I'm just going to go to select load selection and you can see here I can go to basic outline number one, which is what we had saved. Click. OK, so that brings up the selection now. At that point, if you guys remember, it was just just the edges, the hair, the hair is nowhere near near selected yet so but I did spend some time to make sure the edges look good. We go into select and mask. All right, if you're using an older version of photo shop, um, it's called refine Edge, so they...
're the same thing. Selected Mask has a couple of other features inside of it that I like. So we just go ahead and click on it and you'll see it's gonna open up a whole panel over here on the right hand side. Quick. Run through the first thing somebody had asked me. It was you, sir. You asked if I if I do the selection before going here or wait, wait until I get in here. So here's the deal, and I don't know. It could be just cause I like it. I'm teaching, But I think like when you guys see this stuff happen, you'll want to see it to the problem. It's got a quick selection tool in here, right? Appear in the top left. It's the same tool. It's back in the regular interface and photo shop. The problem is, is there is a before and after up here. There's a little before and after. So if I make only is going to do a quick a quick change here, I'll zoom in. All right, so I'll zoom in and I'll show you. That's what we came in here with. This is what Just moving. One slider got all right. So you can see it started to work on the hair. The problem is, is if I come in here without doing that based selection, you know why Before is nothing. Because there was no selection when it came in here. So the before is just blank, and then it jumps to the after. So again, from a teaching perspective, it's kind of cool. So you guys can see the before and after, But even like, I think we kind of geek out over things. Sometimes we like to look at that. So you want to see you want to see the beauty of your hair selections? Um, that's what I usually do. That selection first. All right, so let's take a look at our Let's take a look at a couple of things that we have in here. I want to run through this dialogue because this is this is the I think the Holy Grail of selections anywhere out there. Um, you know, I've used them all. I've downloaded the selection plug ins and used other programs, and I've I've gone through the pain of trying all these things out, I can tell you that. I think this is the easiest in the fastest way to do it, so I think it's worth spending a little bit of time about what's going on inside of here.
Class Materials
Ultimate Fighter Look Presets
Ratings and Reviews
Matt is just so easy to listen to and follow, this course was particularly good to give you a well prepared framework to create a composite. Really fine step by step details on unifying the composite, creating lighting & atmosphere. His tips are clever and give great results.
The class was good for me as a beginner in this field, it covered the studio shot well and the use of photoshop, lightroom is clearly very powerful. I would have liked a segment on shooting the background particularly getting the angles correct so that the subject fits the background, just the pitfalls and must do's would have been nice. But overall I learnt a lot. Justin
Not a big fan of this class...didn't offer much
Student Work