BONUS: Constructing V-Flats
Sue Bryce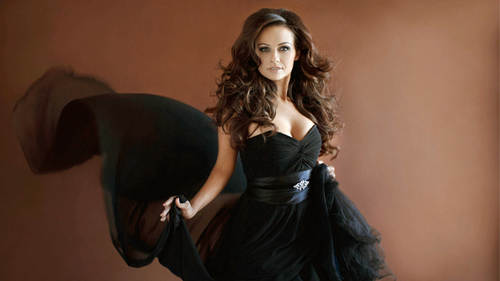 BONUS: Constructing V-Flats
Sue Bryce
Lesson Info
3. BONUS: Constructing V-Flats
Lesson Info
BONUS: Constructing V-Flats
So, I just wanna talk to you a little bit about what just unfolded there, because it all happened so fast, and I would like to, you know, get people more on the flow pose. For starters, I couldn't do what I just did then, without Tiffany. Because she was following me with a reflector and pushing hair back as fast as I was shooting. And I never once told her to take her hands out of the frame, which means she wasn't wasting my time, she was working faster than me, and she was there with a reflector every single time. So, when I work with a big reflector board, I don't need to have that constant movement. But the one thing I get when I work with another photographer, another assistant, is that they can just do that, they can zhoosh, and they can reflect. And two things happen, one of them is I get a great shot every time cause I've got good reflected light back to the face, and my client feels really pampered when we're all sitting, building that energy. To me, a two man team shooting is...
way better than one on one. I used to think that one on one was better, but I was constantly walking around my camera to fix hair and it becomes bothersome and it really interrupts your shooting flow. When someone can be right there, hands in, and you saw how close I shoot all the time, that's how close I shoot with all my clients. So, I have the benefit of working with the most amazing friends and photographers, and Tiffany is here to assist me all week, because when I work with Tiffany in LA, she designs sets and backdrops for me, so you're gonna see them unfold over the next three days. Tiffany is also a photographer that has her own business, so she'd been shooting my style this year, which she's actually infused with her own fashion style. So, she already had a bit of a fashion thing going on in her brand, and she's incorporated my style also with her fashion style, as well as the rest of her business, which is amazing. So, when I work with people like that and help me, I just have to say thank you, because I didn't thank you and I couldn't have done that without you. Same as when I work with Samona. I couldn't have done that without her beautiful hair and makeup. When she walked into set, I just could not believe her before and afterwards, so beautiful. Rose just said to me, her husband said to her this morning, what are you doing this for? you're a volleyball player, (laughs) you're not a model. So, I think he'll feel differently after he sees those series of images. This is the most asked question from my first CreativeLive, yes is the most asked question since my first CreativeLive. Where do you get the v flats, the polyboards, and the backdrops from? Okay, it is the single most irritating email that I get in my inbox 80 times a week. And, I've put it on my blog, but I get the same question, same question. So, Tiffany and Mark, my friends in LA, decided that they would answer that question for me. And so, they went out and did this. Hey guys, so I'm gonna show you how I make the reflectors that I use for photography, and also the backdrops that we use in the studio. And I'm in the sheet insulation department, and this product is actually insulation for home use. But we're gonna use it for some photography work. So, this is called polystyrene, and I'm using the inch and a half version. The front of this has a thin plastic on it, with writing. And I usually paint that side, so that I had a backdrop on one side, and then the other side also has a thin plastic on it, but this one needs to get peeled off. So just peel that plastic off if you're gonna use one side as a reflector. Now, they don't obviously, as you can see, stand up by themselves, so we've put feet on the bottom of ours, and I'm gonna show you how I do that. We're gonna head over to a different department and I'll show you what I use to make this stand up straight. So I'm in the shelving department, and that's where I get these brackets that I need for the base of my poly do is mount two of these to the sides of the polystyrene. So, these are eight inches by 10 inch. I have the 10 inch going vertical, so this side gets screwed straight into that polystyrene, while the eight inch side goes into a two by four that spans the whole length. Now, when you screw these into the polystyrene, it's important that you get a screw that's greater than an inch and a half because the screw has to go all the way through the polystyrene, and then you have to put a nut on the back side, so that this doesn't pull back outta your foam core. So, once you have these screwed into the polystyrene, and screwed into your two by four, then you're gonna do the same thing for the other side. So, you need four of these, two two by fours, and your screws to screw this all together. And then you'll have a base that you can move your polystyrene around the studio. That was amazing. Tiffany, thank you. (claps) You just answered thousands of emails for me. I believe you went into Lowes, and you can do it at Home Depot, you can do it at a million different places. Where any city I go to in the world, I Google polystyrene sheets. Now, you might think that is a very odd conversation to have, but the truth is, is my entire studio, for 23 years, has had these polystyrene sheets in them. I never learnt to use another reflector, because I shot in a studio that had these big stand ups, and when I started to leave that studio, after 10 years, I was like, well, what do other photographers use. And, I realized, suddenly, other photographers don't really use, they use you know, silver or gold reflectors, and so I started to use them. And I just found for natural light beauty work, it put a glow on everybody that I did not like. And so, for the inside of a window, the ultimate reflector for me is that poly sheet. I can halve it, cut them in half. Every now and then I halve them, and put them in the car, so that I can take them to locations with me. I v flat them, and I use them as backdrops. And then I paint them with house paint. So, I just wanna show you one thing. I asked Tiffany to come and join me in Seattle this week. I asked her to make me three backdrops. Now, I have three significant corners, colored corners, in my studio, actually I have five. One is white, one is dark gray, but here we have a dark gray black. Okay, then I have three colors. I have a beige gold, a muted beige gold. I have a powder blue, and I have this gray green. Now, I do not know the colors of this, cause this is how I work. Every time I go to a new city, or setup a new studio, I buy new polystyrene sheets, I go to the local hardware store and I go through the color chart until I find the gray green that I like. And it is exactly the same color in every country, but it's just called something different, cause it's always a different brand. I got this at Seattle Hardware, they were so wonderful. I wanted to pick three colors. And the gold, which you're gonna see tomorrow, shot tomorrow, there's no gold up there yet. I'm bringing that on for the portrait couture shoot. Is called Peanut Shell, C20, this is all on your PDF. And it's just a beautiful muted beige gold. And I just find to shoot on, it is not my most popular color, but it puts a warmth into my images, when I am a naturally, if you look at my work, cold shooter. So, I like my work to look cold. I think it gives it more of a fashion look, when you put skin tones into cold. When I warm up skin tones, I feel it's more portrait, but a lot of people don't like cold work, so I am definitely, definitely pull all my work towards cyan. So, that is a secret in my editing that gives me a little bit of a fashion look. It's not for everybody, I just think it looks really good on skin tone, but that's my preference. The second color I picked was Dresden Blue. I want a blue that's almost white, with a little hint of powder blue. Because I really loved the images I took yesterday of the girls when they were wearing white or gray, the blue just has a little bit more mood than a white corner does, correct? Alright, I just think that powder blue very lightly just does it for me, in terms of that sort of beauty style. Because I like to shoot towards cyan, I feel that the light blue takes my image colder. And then the second one was Sadyhook, and it's that gray green. That's the green gray that you can see on the corner, on the v flat that we shot on this morning. It's just a beautiful gray green. What I like about that corner, is it cold, it's not a warm blue gray, cause I do not like a blue gray, I prefer a green gray, I like the colder tones. It puts me more towards the yellow, and I just think it's a really good tone, easy to find. So, these three colors we bought together, cost us $71. And, for $71, we bought our polystyrene sheets for $15 each. You can paint one side gray green, and on side gold, so you may only have to buy two to get two different backdrops. So, roughly, on average, for $40, you get a double backdrop that you can stand up and, you know, also an ultimate reflector. Also, the poly boards stack well against the wall, they look funky, they also block the client, make them feel safe when they're in that little cocoon of shooting. And, I just find as a substrate or a fabric to work with, I would never choose anything over that. When I first came to CreativeLive, they have foam core v flats, so they have the black and the white. I'm gonna get them to put on the PDF where they buy those from, because that was my next second question. Sue uses polystyrene, CreativeLive use v flat foam core. Where do you buy those from. So, I'll get the CreativeLive team to tell me that, or they can put it in the chat, they can whatever they do, put it on their blog, but they can feature this and show you because this is just something that's so easy for us to buy and set up a little studio, and so easy to create. We just get them, Sue, from our local camera store. Oh, really? Our local camera shop down the street. Fantastic. And the boys gaffer tape them together? Yup. So that they are a v and they can be opened up, and they just sit up in the corner there, and they come white on one side and black on the other, or they do come full black and full white. And they stand up when they're in a v, taped together. Good old gaffer tape. So, Tiffany came in this week with me, we bought some poly boards, we picked our colors, she rolled them out. For $71, we got three beautiful backdrops. We got a roller, and we set up in the beautiful big prop room upstairs, and we made our backdrops, and we're ready to shoot. If you gave me the opportunity to only have two colors, if I'd only had the gray and the blue, not the white and not the black, I've already done five, six shoots with just those two colors. I do not need any more. Now, ultimately, my shoots are gonna all look the same, over a period of time and they're not gonna differ, and I'm gonna very bored, but my clients will never get bored. Because I'm not photographing the backdrop. So, if I photograph a barn door and I shoot in front of that barn door, I might get sick of the barn door, my clients might see the barn door a lot in the advertising, but you know, you have to use a backdrop, out use it, before you move on. Don't try and reinvent the wheel every time you shoot. Just get them in there, change the tones, use the light, use the curtains to change the light. You will sell images that are beautiful if you're focusing on that posing connection. Bonnie. When you're picking the paint, does it matter if it's satin or mat, or glossy, or any of those details? You must get interior paint, and it must be the lowest sheen you can possibly get. The mattest you can possibly buy. It does not eat the polystyrene, cause it's interior paint. It's a little bit smelly for a day, so do them outside, or do them in your garage, or somewhere where it's not going to, you know, annoy you, and it's easy. And, one pot, now we call it a liter, and you call it a quart. A quart. One quart does one side, almost two coats. It's like a thick coat, and then a thin coat. So, just like that, you've got some colors, you've got some colors to work with, you've got some different styles. What you're gonna see over the next three days, is how I use some different colors. I'll the black, I'll use the paper one, I'll use the gold. How did the dark gray carpet affect any lighting? It seemed like it didn't Bother you at all. It didn't. Cause, Tiffany was reflecting light back to her face, she was bouncing it using the window light, and she was moving with the light. So, it wasn't just sitting still. If anything, if it was a white floor, you would get a glow that comes up sometimes, in strong light, and that can really hinder you. If you had a skylight, that can hinder you, cause you're getting shadows lower on the face. It's no different than setting studio lights, I'm just trying to manipulate sunlight.
Class Materials
Sue Bryce Keynote Slides Day 1.pdf
Sue Bryce 101 Poses Guide.pdf
Sue Bryce Couture Posing Guide.pdf
Ratings and Reviews
Deeper deeper deeper on women beauty, how to keep connection and create intimacy moment on the pictures you take ! This is perfect suite to the sue bryce workshop. After a few weeks of practicing the workshop I bought this inside glamour session. An d i continue to improve my photographs and have more efficient and better communication with models. Thank Sue and Creative Live for that. I definitively a great fan of CL ! Roland Grall http://www.rolandgrall.book.fr/
Absolutely love her... the first time I saw her on creative live I was inspired just by her clips... Made sure I watched her everynight after work on the re-watch.. and I loved everything that I saw.. I just had to buy it.. I also put a plug for this in a portfolio building group that I belong to as well... Told this is a must buy.. with the posing guide.. and Sue's enthusiasm is so inspiring...
I purchased this course (actually the collection) for a few reasons. First, the amount of experience you can pick up by studying and practicing these poses is overwhelming. You cannot get this on the first watch, it will take subsequent watches and practice, practice, practice! Just the PDFs alone make this worth it. But the other reason is that Sue has to be one of the most inspiring people in the entire industry. Plus she's a smart cookie, a business woman and her experience in that area is priceless. Lastly, Simona Janek is an awesome lady as well. Her knowledge with make-up has already expanded my appreciation and knowledge of the area and it's key importance to the final image. Thank you CL for bringing this to us!!
Student Work