Connecting Your Landing Page to Your Email List
Sarah Doody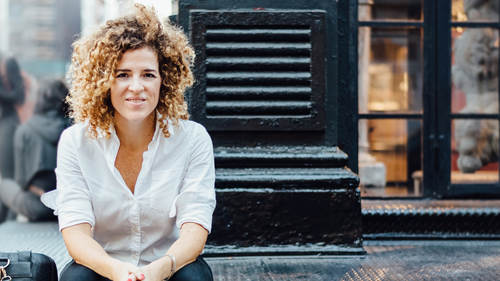 Connecting Your Landing Page to Your Email List
Sarah Doody
Lesson Info
16. Connecting Your Landing Page to Your Email List
Lesson Info
Connecting Your Landing Page to Your Email List
Now you're wondering, okay, how do we actually go about connecting it to the email system and we're going to go through all that in detail but basically, what happens is when we sign up for this, if we are out in the internet, let's pretend. We're gonna have to do a little hacking here but let's say we're here, let's say I put my email address in, Sarah@sarahdoody.com, and then, we'll see if this will actually submit. Okay. There is normally a thank you page but we're in demo mode, so we're not seeing that right now but the important thing to remember, actually let me show you, is that we always want to make sure that you make a thank you page because it's an opportunity to connect with the people more and kind of form a little bit of a branding moment, if you will. So, in this case, what we did was, okay, if we signed up, it's gonna say, Roger that, nice to meet you. And then this awesome GIF comes floating by and I found this on some GIF website but imagine, you've filled out that fo...
rm and then you get this. Like, it's unexpected, we were thoughtful enough to take the time to play off the Roger name and have this dog GIF and then, know the smile on your face right now? That's how you'll feel when you see your lawn after we get our hands on it. Check your email for more details on how to get 50% off your first lawn mowing with us and then our little Roger logo. So, that thank you page is so crucial because if you don't do that, what will happen is what just happened in our other demo where I hit yes and it just like flashed the page or something like that. This... Whoops, not that one, too many tabs. This one... I mean, we got laughter, so, you're probably laughing as well, watching this. So, that is something to not forget and some other things you could do on this thank you page, once you're maybe doing more marketing and let's say you have a Facebook page or something like that. I often, on my thank you pages, will direct people to my Facebook page, or my Facebook group, or go follow me on Twitter, or if you really want to, you could say like, have three friends that need their lawn mowed? Tell them about Roger and then you could have social buttons where it could go when they click, and it's gonna post to Facebook, or post to Twitter, and things like that. So, the thank you page is kinda this really great opportunity that a lot of people don't think about but when you're designing anything, even though your title does not include designer, probably, you need to think of the whole experience and so this thank you page is a really, really great opportunity to have an awesome moment to connect with your people, and be a lot more memorable. So then, what email would they get? We are not gonna pull it up in my gmail, right now. You're gonna learn all about this thing that I'm in right now but I just wanna show you the email of what they would get. So, we would get an email, let's click in here, that looks, just focus on the right of the screen, so because I wanna read you the text. It would say, boom, your lawn is going to be awesome. That'll be our subject line. Then we're saying, hey, it's Roger. Thanks for signing up. We're here to take the hassle out of mowing your lawn, whether you struggle with killing off weeds, finding time to mow your lawn, or frankly hate the household chore, we have you covered. And then, the dog again, because it's cool to repeat that step and it's memorable. And I just like GIFs. And then, as you know, we're new on the block. In the spirit of being good neighbors, we're gonna give you 50% off. So, what are we doing in this email? We're welcoming them, we're making them smile, we're having a little bit of a branding moment, we're reminding them what we do, and we're telling them this promise. We're setting the expectation that they're going to hear from us soon and what's happening next? We're getting ready. We're gonna be in touch but here's the other thing. Can you do me a quick favor? Reply to this email and complete this sentence. The biggest problem I have taking care of my lawn is... This is a great tactic to continue the conversation of research because maybe they didn't fill out your survey, initially, and if they did, they probably forgot what they wrote, anyway. So, this is a great opportunity. To continue learning in our cycle of launch and learn. You could also send people to a survey. Maybe you have another survey. Sometimes, a little trick, you could move this down here. Just, I know this from email marketing. These things. P.S. Just, for some reason, because a lot of people open up email and what do they do? They don't read it. They scroll up and down. And then if there's a P.S., they're like oh, what's that? So, if you have some other action you want them to take, that would be a great place to do that. So, let's jump back over to our insert page. So, I think we covered everything that I wanted to cover. We went through the templates. We went through how to create it, kind of how you can move things without needing to know how to code. Being able to do the mobile, so you can make sure, look how terrible this one looks. This is great we did this, so this is what happens and this is why you need to check because it doesn't automatically, you know, it's not that smart. So, we need to think to ourselves, oh man, how are we gonna make this look better? This is a long one but okay. Let's first of all... Grab this, grab this. There's the button, so we need to put that there. Not sure what we'll do with that black thing. Then we'll need to move all these up. Hopefully, you're not getting too dizzy and then, let's see, what else will we do? Pull this down. Now I'm remembering what this looks like. So, the other thing is... I don't know if this is very obvious but you can pull these little guys up to make that section shorter, so. Pulling up, pulling up. Whoops. The mouse is backwards from what I'm normally used to. Okay. Then we're gonna finish this out. These forms, too wide. I don't like them. So make them shorter and I think we can pull that up. And we want to make sure people know about our awesome 50% off, so we'll pull that up there. Now it's more readable. Again, I would spend a lot more time on this, perfectionist in me would but you can see how quickly, now it looks a heck of a lot better for mobile and the other little thing is... How do we do this? If we wanted to change font sizes and things, we could, but we're not gonna worry about that. So, now, I'm glad we clicked over there. Now, look's good, let's see then. In desktop. And mobile, which is super important. So, then don't forget if you're finding that people are not signing up, you need to break down all the variables that could be contributing to that and I would start with images, headlines, and just basic things like is the text readable? It's black on white, that's readable. If it was the green background we had with some other greenish text, not readable. So, it sounds basic but I see these mistakes so much where you think to yourself, no one could ever read that text. Why is it green on green? So don't be that person. So, I think we will jump over because we have a few more things to cover but we will come back to the details of what do you do with that thing? That email address thing. How does it hook it up? So, it goes into this other system that we were in and how do we make all this other stuff happen? Don't worry, we're gonna get to that.
Class Materials
Get Started with Adobe Stock
Ratings and Reviews
The immensely valuable information in these videos teach exactly how to validate, promote and sell product to your target audience. This course is a few years of marketing school nicely wrapped in the perfect course bundle for every type of business from entrepreneur to enterprise. I have a decade of marketing experience and learned new tricks to immediately use. Wantpraneurs will gain all the knowledge needed to get started with their new business idea in clear, do-able steps. If you are in dev, marketing, UX or business, or want to be, I strongly suggest this class to you.
I have taken several CreativeLive courses on how to start a business. This one has some of the best content and practical information on the "what" AND the "how" of validating your products. I highly recommend. The one thing I wish she would have gone into more depth on is how to find people for market research. She covers where to find them, but not enough detail about how to engage them. Even with that missing I would still highly recommend.
The course is really complete and interesting. She shared a lot of useful tools and techniques that can be applied.
Student Work