Creating a Landing Page with Instapage
Sarah Doody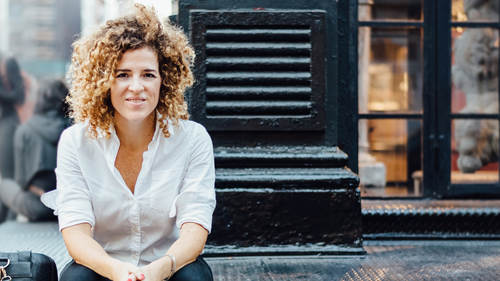 Creating a Landing Page with Instapage
Sarah Doody
Lesson Info
15. Creating a Landing Page with Instapage
Lesson Info
Creating a Landing Page with Instapage
Once you have all of those benefits and features lined out then you can start creating your landing page. And I would say that you don't want to just jump over and start creating your landing page first. You wanna focus on the content first. I tell this to every one of my clients, we have to focus on the content first, I will not start working with you until we know your content. 'Cause otherwise you'll sit at your computer and rewrite a headline 17 times and then two hours will go by and you'll have nothing. So write your headlines, try and write your copy first, but I thought now we would jump over and do some of the landing page components. But first I wanna talk through some of the things we will see. So we're gonna use a tool called Instapage. It's a landing page builder with a bunch of templates that we can chose from. And I wanna show you how you can go through choosing a template, adding your own content, you can customize things very easily. Show you how easy it is to make sur...
e this is going to work on mobile, because as nice as it looks on a computer screen, you need to make sure it works on mobile, because chances are people will at some point look at this on mobile. And then I wanna just show you how easy it is to do A/B testing. You might be freaking out about that, but it's very, very simple. And then we're gonna go through how you do the email collection. And after this we'll do a deeper dive into the actual email collection tool, which is called ConvertKit. And Instapage has a 14 day free trial, so you can try it out and if you like it, great, and if you don't you'll at least know kind of the bones of creating a landing page on your own. So we're gonna jump to Instapage. So we are inside Instapage and I have already created some test ones, but first I wanted to just show you, let's kind of create one from scratch initially. So when you sign up for Instapage you come in and then we would create a new page. And you're able to choose a bunch of different pages. We would wanna create a Standard Page. These other two, don't worry about them for now. It doesn't matter. So we're gonna create a Standard Page. And look at this, templates. And we love templates now, 'cause I've told you all the benefits. So you can go through and notice you can have all templates and then they have different types of templates. So for us I really recommend in Instapage Lead Generation is a good one, because look, there's all these premade ones. And I think they default do it by best ones, best performing ones. Oh, maybe new. Anyway, look at all the options, you have tons of options and they're all done for you. So there's no reason for you to feel like you need to hire a designer to do this and I say this and I'm a designer. So I really have confidence in a lot of these premade templates that are out there. So let's see which one, oh, let's choose this one. So you would choose this and then what you have to do is you have to say Edit Page, well, you need to name it. Lawn Mowing Mike. Cool. So that's how you can easily go through and choose a template. And if you have a design background you can start from scratch, which is completely fine, there was an option that said blank, so you're more than free to do that. But then what you can do, let's scroll down and see what all is on the page. So notice, whoops, no navigation at the top, great headline, they have a logo. We don't need a logo. I would say for your landing page I honestly wouldn't spend the time, energy, and money to go make a logo. Plus, you will probably spend four weeks debating what you should name your company, 'cause I've done that myself. And in the beginning it does not matter. We could have a great debate about that, but I think it doesn't matter right now. So if you wanted to make a logo, fine, make a logo, but no navigation, headline, right. Major headline. And what is this headline? Best tool in the world just got better with you. I don't even know what this is about, I didn't preselect this, but think about it. As we come to this page not tons of text, the headline is jumping out at us, then we're getting a little bit more. We will see how this is kind of a benefit for us on our landing page. And then the call to action. 30-Day Free Trial, Name, Email, Get Started Today. And then this one's a little longer. They tell you more about some of the features and benefits, which I wouldn't recommend you make yours this complicated in the beginning. But let's jump over to some of the ones that I already made. But I just wanted to show you how easy it is to get started. So let's go to Roger landing page. And I premade a bunch of different versions for us and I used a very similar template, so we're seeing a similar layout here. I decided to call it Roger. Don't ask me why I named the lawn mowing company Roger, but there's Roger. Roger looks like a friendly lawn person. And we'd probably change the logo like 17 times as we work with a designer. But let's break this down. Again, no navigation, and then let's just kind of go top to bottom. So headline, subheadline, call to action, offer, and that's it. So for the first version of my landing page I would do something as simple, simple as this. Don't get pulled into the thinking that you need to create some giant, giant long, long landing page, 'cause I just don't think that's necessary at this point. But what else is being communicated here? So we have green, obviously lawns, but we've also selected some great stock photography in the background, so you can allude to this dream of the perfect backyard lawn where your kids are playing and everyone is happy and you're enjoying a barbecue and not sweating mowing the lawn on Saturday. So we're communicating in not a lot even without the words. But let's go to that headline. So have the lawn your neighbors dream of. That's interesting, that's a good headline and that was one of the goals that we heard in the research. And then how does that happen? Find, schedule, and pay for lawn mowing from the best in town. Getting into some of the what of it, but we're hooking them in with some type of headline that's offering a promise or you can kind of like funny sometimes and try and humor and things, but headline, subheadline, get the email, and then some type of offer. So in this case we wanted to tell people you'll get 50% of your first lawn service and we're not ready yet. We're launching on July 12th, so you can be the first in line, so that people are clear and they don't get made at us when they give us their email and say, but I need my lawn done tomorrow. So this is kind of the basics of Instapage. But if we wanted to change the title you just click in, it's very easy, but I said we wanted to make sure this looks good on mobile, because a large percent of people will be doing that. So what you can do is you can click in and then see how it's going to look on mobile. And sometimes when you do this things will not look very good, so you can rearrange things, it's simple drag and drop. So we don't need to know how to code or anything. So we can change how this looks on mobile, maybe bring things up a little bit, 'cause we don't want people to have to scroll too much. Maybe I realize I don't wanna show the logo on mobile for whatever reason, so I can hide things on mobile, which is pretty cool. And then I'm just gonna save that. And then I can see what it looks like, if I go over to Preview, we can see what it looks like in the context of the phone, which is pretty awesome. Yeah, we can scroll there and see the whole thing. Now if I was working with a collaborator on this I would be able to leave comments with each other, so I could say, well, what about, let's see if we can do it. Yeah, I could say hey, Jenna, what do you think of this headline? Or can you rewrite this? And it's great for collaboration too. But this is kind of our first simple, simple, simple version. Now as you're doing this I would really encourage you to have a lot of different versions of the landing page, so you can be testing out maybe, and you might think this sounds crazy, but depending on the image that you put in the background that could have a huge impact on what people do. Depending on the color of that button that could impact, the headline. So I wanted to show you how easy it is to do different versions, and also just give you some examples of other versions as well. So what I've done is I have already created other versions that we can talk through. So we're on the little short first version. Next, I wanted to go to kind of a longer version. We talked about maybe having longer ones. And let's just view it in real life. Well, pretend real life. Demo mode. So okay, looks totally different. It actually is the same image, it just doesn't have the green thing over top of it. And then have the lawn your neighbors dream of, same text, just different design at the top, right. Get 50% off your first lawn service, we'll be ready for you July 12th. This to me stands out a little bit more than the other version, 'cause we're putting this kind of offer, deal, promo thing in this box. But who knows which one would perform better. I don't know, 'cause I didn't put these out into the world. But that's why we would wanna have multiple versions to play around with it and see. And then let's say we wanted one version that was a little longer, we could add other sections and this kind of is like going down a weird humorous level, but don't be that house on the block with a dead and dreary jungle lawn. And again, maybe someone used this text in the survey, and you might laugh at this, but people would probably use this language. So you might think it's crazy, but if you use that language it's going to connect more with people, because this is what is going through their head when they're thinking about their lawn that needs a rehab. So then maybe we have copy like this. We know how busy life gets, weekends shouldn't be spent on mowing your lawn and things like that. So with Roger you can reclaim your weekends with your on demand lawn mowing service. And you can stop stressing about your lawn and start enjoying it and using it. And so we're not talking about the features, we're talking about the benefits, we're talking about the outcome and what you are honestly really trying to do is you're really trying to paint a picture in the people's mind of what their life will be like after they use your product or service. So we wanna paint the picture of that third column that we saw in our chart earlier where we are saying to people, or where we're listening to where they want to be in the future. So using text, notice it's not four paragraphs, simple text, short sentences, very easy to read, and trying to get them into that emotional state of oh yeah, that's where I wanna be, that's the outcome I want. Then maybe we could go into some more how, some benefits, or some feature stories. So vetted professionals, mow it now or schedule it later, and having a little bit more text to explain that. And then maybe we realize in our research secure payments is an issue. Maybe people have felt like they've been scammed or things in the past, they're not sure, so we really wanna emphasize this security or this cashless component or you know, you don't have to worry about having the money on hand, you can just pay online, it's just like a ride share service or something like that. And then maybe another section where you're again using a headline to emphasize the outcomes, the benefits. Take your weekends back. Again, this would all be text that came from or was influenced by the text that you had in the survey. And again, showing how you can use different imagery to really convey some of these sayings. Maybe you're sending, this landing page is really tailored to people maybe in suburbia with kids and thinks like that, and maybe you have a different landing page that is tailored to a different type of consumer, maybe someone with like a smaller lawn, but they're more organicy and their lawn needs all kinds of special attention or something. And so you would use different imagery and different language to try and connect with that person individually. Because yes, you're going after the group of people who wanna have their lawn mowed, but underneath that there are probably subgroups of people. So you would wanna try and create different landing pages that might connect with those subgroups of people, if that makes sense. And then down below, we talked about social proof before, testimonials. And like I said, maybe you have not mowed their lawn officially under the name of this new idea you have, but maybe you're just like the nice neighbor who mows lawns. You could go to those people and get testimonials from them, I think that's completely fine, and use that as evidence to your potential customers that you have done this before and that people trust you. So even if no one has paid you to do this, maybe you're a photographer and you've kind of just been taking pictures of your kids on the side or your friends' kids, go ask your friends, like can you give me a testimonial or something? I'm sure they would be glad to do that. But you want that evidence, 'cause that helps build trust with these people who have never heard of you before. And then finally, if you are going to create kind of a longer, more detailed landing page it is really effective to also have that call to action at the bottom too, so people don't need to scroll back up. And once you've told them all about it, if you think of the traditional story arch in writing and things, you want to not tell them this story, pull them down, get them all excited imagining their wonderful lawn and then they are here and like, okay, now what? And you have to expect them to scroll back up, they might do that, they might go check Facebook or something. So you need to have that final anchoring call to action at the bottom to say to them like, okay, now you're in, you're envisioning your luscious lawn, sign up now. And it's a great place to put that call to action. Some people think it's repetitive, but I've just seen in a lot of my own work and working with clients that it's fine to have these multiple calls to action, because people will use both of them and you don't wanna risk that someone gets down here and then gets busy or checks their text messages and forgets. You want them to keep scrolling, because psychologically too when you think about it people want to get to the end, they wanna get through the movie, they wanna binge the Netflix, they wanna get to the end. So put the call to action at the end. So that's kind of an example of a longer one. I wanted to just go through some other examples to help us see how we could do this differently. So same layout as that shorter one before, just different headlines. Totally changes it. Want the best lawn on the block without lifting a finger? Reclaim your weekends, benefit. Find, schedule, and pay for lawn mowing. So we've got this giant headline, one of the benefits, and then a little bit of the how. So find, schedule, and pay for lawn mowing. So if someone had never heard about us before they saw us post in the neighborhood Facebook group, hey guys, we're starting this lawn thing, come sign up, in two seconds they could glance at this page and get the gist of this. They don't have to wonder what is this about, because we've told them, you've made a promise, best lawn on the block, it's like I'm interested, reclaim your weekends, you're thinking okay, that's amazing, tell me more, find, schedule, and pay for lawn mowing, boom, give me your email. And then just to incentivize people, like we had earlier, giving that offer, that promo, that hook to get them to do the thing that we want them to do. And like I said, experiment with images, play with text. Like even if we were to just go back and edit this one. Let's do this really quick. Yeah, even if we wanted to just see what this looks like. Let's say, I don't know, let's see what a dark, instead of green. Totally different feel. Could argue it's more readable than the green. It's a lot of white text. But what if we did this, change the image. Oh, let's, I haven't put this one at the top yet. I don't know how this is gonna look, so let's see. Let's do, like that. All of a sudden that changes, nevermind, you can't read the words right now, we'll deal with that, but all of a sudden it's such a completely different feeling. The other one, the other image, let's just leave this, the other image, it's the house, it's the backyard, it's a little bit of a smaller lawn, there's no people. Even the difference between an image having people in it and not having people, it can impact the conversion rate and we are not gonna geek out on conversion rate right now, but simple, simple things like that can make a huge, huge difference. And the other thing I would point out, and this is getting a little like geeked out on design, but if you notice like the layout of this image. We've got our call to action here, email address and the button, I need lawn help, we'll change that color of that button, but if you look at the image we have the girl, we have the dog, and then we have the call to action. And that like swooping line if you know anything about photography and grids and things like that, focal points, you know that as you're looking at this you're pulling your eye of that reader from the girl to the dog to the headline to boom, click that button and give me your email. So it's getting a little in the weeds, but that's really what is happening in this image. And then if we wanted to think to ourselves, like okay, this seems like it might be a winner here. We now have the problem of hm, this text isn't really readable. And I know that trying to put that color on any of that text is not gonna work, so what we really need to do is give some background around that and you can see, I mean, how easy this is. I just wanna do it just so that we can all see. We can group those things together and then we need to bring that text to the front. So we click this to go forward, forward, forward, forward. I think it's all there. Okay, now we need to kind of design on the fly here, so let's change the color of the text. I think that would be good. I think we should make it green. Yeah, definitely. So we've got the green, we still can't read this obviously. Did we select it? Yep. And then we can make it black for now. Oh, darker. This is not an exercise in design, but we just wanna see the difference here, right. Now let's kill the logo, whatever, we don't need that for now. And then way more readable. And then maybe we would even bring this inside here. Let's bring that call to action right inside the box. Group, oh, Arrange, bring it all to the front, there we go. And then that, I would spend way more time on this, but you can see how, whoops, we gotta group these things, how we just totally changed it. We didn't change any of the content, don't worry about that stuff at the bottom, but just by swapping out the image and then maybe we would take this down just a little bit, so we can see the dog in the background a little bit. Like I said, I would spend a little bit more time on it, but even if you think to yourself, I'm not a designer, I'm terrible, I can't draw, I know nothing, there's a starting point, it's in these templates. It's going to give you a great opportunity to create that first version with really vetted designs that other people have used that we know work. Let's grab a question. Yeah sure, if your campaign is not performing very well how do you decern whether it's like a branding slash landing page slash creative issue or like the product itself? If you've created a landing page and you're not getting those email addresses then you kind of have to go into investigator mode and you have to think to yourself, what is not working? Why are people not giving me their email address? And there's many factors to this as you've seen. It could be they hate dogs and they leave the website, it could be many reasons. The image, the text. It could be, on this case it's hard to see that this is an actual form. So maybe we would wanna put a background or border color on that to make it more obvious that it's a form. Let's do that. But how do you diagnose that? So there is a couple of ways and we don't have it set up right now, but let me see if I can go back and show you. So built into a lot of these landing page builders are tools that allow you to see what people do. And so there's something called heat maps, which I know is not like hooked up right now, but let's just go back into our demo. So if heat maps were installed on this we would be able to see, kind of imagine like over top of this page there would be all kinds of dots representing where people's mouse is going and clicking. And so we might see a lot of dots like over here, 'cause people wonder about the logo, and then over here, and then we might see a lot of dots over here. And that let's us know like where people's focus is and if we're finding that there are no dots that might be an indicator that people are not even clicking anywhere, so maybe your headline is just not very exciting. Maybe people can't read the headline, because maybe we put this in a green font and there was not enough contrast. Other reasons could be maybe there is something actually broken with the form, which is why I'm always such a proponent of test, test, test, test everything to make sure that it's actually working. But to tell you more about what I would do. Let's say we have this page and we weren't sure why it wasn't performing. I would start to make duplicate pages and change things. Now you don't wanna change everything at once. So let's imagine we are curious, why is this not working? We would make a new variation right here, and we would say New Variation, we want to make a new variation based on that page we were just on. So now let's have a hypothesis and think I think it's because of the headline and I wanna test the headline. So instead of saying have the lawn your neighbors dream of, let's say have the best lawn on the block. Not drastically different, but you would be amazed at how these headlines can make a difference. And then you know what I would do? That's all. Then I would make another variation. And in that variation maybe we change the background image to be this one. I'm not sure how this will look, but there we go, we have another one. And by going through this process of changing one thing at a time and monitoring then what you can do, let's just save this, then what you can do is, and I don't know if it will show it here, but back whenever you're logged in kind of on your homepage you can go in and if we go to Analytics, it won't show us right now, but when you do have this all out in real life you can see okay, conversion rate means how many people signed up. So you can see between versions it would say, I think it doesn't say it here, because we don't have all these actually launched and deployed, but we can compare, okay, variation one, variation two, and if we saw that the one with the different image in the background with doing better then we know. So this is a great opportunity. A lot of people think, well, I'm not ready to launch because I don't know what colors this should be or I don't know what my logo would be. And the point is this is now an opportunity to start go testing that. So maybe one of them is more green and one of them is blue and one of them is yellow or I don't know what color, but that's a great way to test your branding too. Does that help? We had some other examples I wanted to, let's see if this one is the right one. Okay, we did this one. Same, same content, different imagery and different headlines. So stop envying the neighbor's lawn. We're Roger, we mow your lawn on demand. Simple, to the point, anyone could come here and be able to explain what this company is. It's not using cute marketing language like professional lawn care associates who blah, blah, blah, blah, blah. It's like just tell us what you do and get over it, so we can sign up and we can know, because we are all busy as well and we don't wanna spend 10 minutes trying to figure out what this page is about.
Class Materials
Get Started with Adobe Stock
Ratings and Reviews
The immensely valuable information in these videos teach exactly how to validate, promote and sell product to your target audience. This course is a few years of marketing school nicely wrapped in the perfect course bundle for every type of business from entrepreneur to enterprise. I have a decade of marketing experience and learned new tricks to immediately use. Wantpraneurs will gain all the knowledge needed to get started with their new business idea in clear, do-able steps. If you are in dev, marketing, UX or business, or want to be, I strongly suggest this class to you.
I have taken several CreativeLive courses on how to start a business. This one has some of the best content and practical information on the "what" AND the "how" of validating your products. I highly recommend. The one thing I wish she would have gone into more depth on is how to find people for market research. She covers where to find them, but not enough detail about how to engage them. Even with that missing I would still highly recommend.
The course is really complete and interesting. She shared a lot of useful tools and techniques that can be applied.
Student Work