Email Demo Continued: Broadcast & Automations
Sarah Doody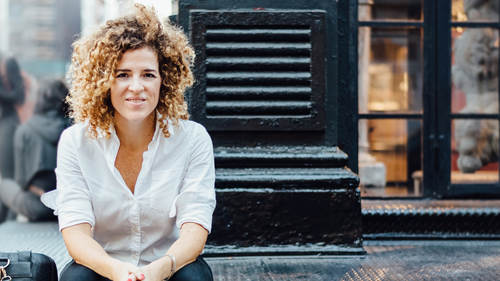 Email Demo Continued: Broadcast & Automations
Sarah Doody
Lesson Info
21. Email Demo Continued: Broadcast & Automations
Lesson Info
Email Demo Continued: Broadcast & Automations
What I also wanted to do is take a little bit of time to talk through how else we might use this in the world of testing our idea but also keeping people excited about our business so that they don't sign up for something and then they forget about us because we've gone dark for three months or something like that. So one thing you might want to think about is after someone signs up for your landing page what else could you do to nurture them, to form a relationship with them, to get them to trust you and just in their mind to start to come across as like a helpful entity, a helpful friend. Some people kinda think well brands shouldn't be compared to people and things like that but I think if you think of a brand like a person people trust brands because they're friendly, they're personable, they're providing advice like I like my Nike things because I like their content, I like the tips they give me, I like their apps. All about how they're helping me not putting a shoe on my foot but...
helping me as a runner as a whole. So think about whatever your topic is and consider how you can be helpful to those people who have been nice enough to give you their email address which is a feat these days because people are so freaked out with privacy and things. So first one, your lawn is going to be awesome. Everyone gets that. Then maybe four days later what we could do is maybe you send them a quiz, bracket survey but we call it a quiz 'cause it sounds more fun. So maybe you're sending them a quiz and there would be better content in there but ask them some follow up questions to figure out any other interesting information you might wanna get from that person. So come up with a quiz and sometimes maybe you don't wanna link off to a survey tool because we know people like to live in email so it'd be interesting to send some people one with a link to a quiz and maybe some people just say reply to these three questions boom, boom, boom and people will literally reply back, copy your questions and put their answers below because I get this all the time. So use email three days later as a way to maybe do some more research but then maybe let's scroll, four days later after that so now we're onto day one, five, we're on day nine now of our relationship with this new person. We are saying to them, whoops, day four, yeah four days later which is really day nine so how to not kill your lawn this summer. So why are we doing this? We're doing this because if you remember we are not ready to go mow lawns yet, we're still in the validation phase but in the interim we are providing helpful content to people to give them advice about their lawn just like you would try to do if you were their friend hopefully. So maybe this is an email that is giving tips for how to care for your lawn over the summer time or what to do with your lawn when you're away for a long weekend or that two week trip in the summer time or something like that. So in the workbook one of the activities I have for you is to go through and brainstorm different types of content that would be helpful, educational to your people so that when you are ready to say "Hey, we're ready to mow "your lawn, come book and give us your money." Then they think to themselves "Oh, I trust this person "and I did go away for two weeks and my lawn "wasn't dead when I came back, I guess they "know what they're talking about." So that's why we want to try and nurture people like this. Let's go over to the broadcast though. So sequence is, these are happening automatically. This should be clear by now, immediately, four days after, four days after. So next there's this also the ability to do what are called broadcasts. Every email system calls them something different, sometimes they're called campaigns but broadcasts are a way to just send like a one off. Maybe it's an email newsletter you're sending every week or two weeks or something like that. And so these broadcast emails again are a great opportunity for you to send helpful emails that maybe are related to a holiday, I chose Fourth of July so maybe because Fourth of July is coming up we have the mow down because it was getting really cheesy with my examples and maybe you have an email newsletter called "The Mow Down" where we are sending the best Fourth of July barbecue tips. Now does this have to deal with lawn mowing? No, but are we as a brand trying to stay relevant to the conversation at hand, the topic, the time of year? Is it Thanksgiving? Whatever it is, think about how your topic can integrate into what's happening in the world because I don't think these people really want to receive a weekly emailing from you about the logistics of lawns and all the science or something. So you kinda just need to stay top of mind but stay helpful. So "The Mow Down" with your Fourth of July barbecue recipes or when it is time to mow the lawn because this would be time sensitive, this wouldn't be something we're putting into one of our sequences 'cause we're not sure when we're ready to mow the lawn so we think okay we're ready to start accepting clients, now we're gonna send an email to all of the people. Whenever you do this, you can choose who you want to send an email to, we're going to send it to all people but if we wanted to we could get more specific. Let me show you. So remember I mentioned tags earlier, you can say everyone who is subscribed to and then you can choose the tags and maybe I have, I only have one tag but maybe I have photography people or lawn people with children or I don't know what but you can get really specific. We'll skip over that advanced. But when we were ready to mow the lawn, what might we send? Well, we'd have our title "Let's Mow! "Schedule your first lawn mowing" and then in here it would be the instructions of how to do that and we will get into the logistics of what that would look like in a little bit but this is a way where you would use these broadcast emails but remember I said we're all about testing, we're all about launching and learning. So this is an important email, this is like the money email where we're trying to get people to schedule so they're gonna sign up and pay for the lawn mowing. So we don't wanna botch the subject line and this is why it's cool because we could send this to A, B and maybe we decide, let's mow schedule your first lawn mowing, we're ready let's mow this weekend 50% off. And you know what, you can do emojis but I don't know how to do that on this keyboard but you could put emojis in there too and then what would happen is you would send this off and automatically this system is monitoring who is opening the emails and then I believe it's after four hours on this system it will automatically route every one over to the email subject that wins. So I think it starts off and sends 10% of people and then it chooses the winner which is great but that's another example of test, test, test because just like our landing page with the images and headlines these subject lines make a big difference. I mean even things, it sounds ridiculous but just doing something like lower caps like that or this or putting 50% off at the beginning, I mean all of this makes a big difference and we don't need to geek out on this but you definitely can start to see the impact of just little tweaks like that. I also wanted to jump into the automations which we talked about so automations are really just a way to see what we just did in a more visual format and if you copy the automations that are in the bonus materials, you'll see a more advanced automation that walks through us telling people we are ready for them to start booking their lawn mowing and then what happens if someone books it, well then they go on and they receive these set of emails. And what if someone doesn't book so automations are a way to kinda string together a workflow if you will. So this simple workflow that we just made, it's just nice 'cause it helps you visualize it so this welcome automation starts with a form. So when someone joins the form that we just created, we are automatically going to add them to this sequence and then that's it 'cause this is a really simple automation but if we wanted to get fancy, we could say okay they're going to get the welcome sequence and then we want to let's see, let's make this up, we want to wait a week. So we're going to put this delay. So you can see we're starting to build this workflow. We're thinking about the journey that someone's gonna have as they're receiving our emails. So we're gonna wait seven days and then maybe we make a new email sequence and maybe we're gonna make a brand new one which I think we have to do elsewhere but let's say we wanted to put them into this one 'cause let's pretend this says like we're ready, come sign up, come reserve your spot. We would do that and now you can see how we're able to use these automations to string together these forms and the email sequences that we've been creating and use logic like okay now wait seven days. You can get much more advanced and say if this happens, if that happens, we're not going to go there today. But that's the basics of the ConvertKit so that you can easily connect it to Instapage and make sure that people are automatically getting these messages and then two, you can let's see if we can see it here, you can go in and see the, oh, analytics. This little thing, icon, this is very important. I'm glad I remembered it. So you can click in and see how many people have opened that email, how many people have clicked it. We've sent eight of them for my testing purposes. This is such helpful information because then you can go back and see how effective these subject lines are if people are clicking and things like that. So we're not getting super detailed with the data here but just simple, simple analytics like this can help you make better decisions that are balanced with data not just your gut reaction, you have to have that balance of gut reaction and the numbers too. So then once that's all hooked up, then automatically once you go back to Instapage and connect it, people can put their email and then get the welcome email with the dog. So that's kind of the basics of how we set that up and start to finally collect those emails. Yeah, let's do a question. Yeah, I have a question about the ConvertKit, I use MailChimp. But ConvertKit seems so polished compared to MailChimp and intuitive, can you tell me how the two compare? The difference. And whether you prefer ConvertKit to MailChimp or Constant Contact? Mm-hmm, so yeah, I'll be honest. I, when I first started out, I used MailChimp and it was great because it allowed me to simply collect the emails and send emails very, very simple. As my business grew and I started to get more email addresses and I wanted to do more automated things like if this group of people opened the email then send them this email or getting more specific basically so that you're not sending the same group of people the same message because that's not how you talk to people in real life. When you talk to people in real life, you're always tailoring it so I use ConvertKit. I switched over, I think over a year ago, so maybe MailChimp has caught up, I'm not sure. But I just found as I wanted to speak to my audience in a more specialized way ConvertKit helped me do that a lot more efficiently but if you're first starting out, MailChimp is easy to use and does all these things and I would say go with ConvertKit or MailChimp, both of those are really, really simple to use. There's many others that are much more complicated. Ontraport, Infusionsoft, et cetera, et cetera. Those are very expensive if you're first starting out and some of them almost feel like you need like a degree to use them, they can be intimidating. That's why I recommend start with something really simple that just does a good job at collecting emails and sending emails and doesn't have all the fancy extra stuff that you don't need for that stage in your business. You don't need payment processing and really detailed analytics just yet. But both of them ConvertKit and MailChimp are great if you're just starting out with this stuff. Yeah. Great. So I want to, oh, one other thing. Let's just stay in here while we're inside ConvertKit, I mentioned the tags so you can see all my test people here but once you are inside and then you start to receive the email addresses, remember I said there's tags. Well, it's great because you can say booked a lawn mowing appointment or we could say they're on the wait list for July promo. Completely making this up but remember I said tags are like labels, they help us understand the people. So whenever you come in and view your subscribers, you can quickly gonna be able to say okay I just wanna see the wait list people but then what's nice is, to the point of trying to understand someone. Whenever you come into a person, you can see kind of their journey into your world so you can see okay how did they ever sign up, they signed up from this form which means they came in from that landing page. They've been sent these sequences, here are all the emails they received. So eventually you can click in and you can see they've been sent this email, that Fourth of July recipe thing, this Thanksgiving promo, things like that. And it's a great way to see this story that you're telling your people, this is a little bit more advanced but I wanted to point that out because we did talk about tags.
Class Materials
Get Started with Adobe Stock
Ratings and Reviews
The immensely valuable information in these videos teach exactly how to validate, promote and sell product to your target audience. This course is a few years of marketing school nicely wrapped in the perfect course bundle for every type of business from entrepreneur to enterprise. I have a decade of marketing experience and learned new tricks to immediately use. Wantpraneurs will gain all the knowledge needed to get started with their new business idea in clear, do-able steps. If you are in dev, marketing, UX or business, or want to be, I strongly suggest this class to you.
I have taken several CreativeLive courses on how to start a business. This one has some of the best content and practical information on the "what" AND the "how" of validating your products. I highly recommend. The one thing I wish she would have gone into more depth on is how to find people for market research. She covers where to find them, but not enough detail about how to engage them. Even with that missing I would still highly recommend.
The course is really complete and interesting. She shared a lot of useful tools and techniques that can be applied.
Student Work