Beginner Drone Photography
What is a Drone?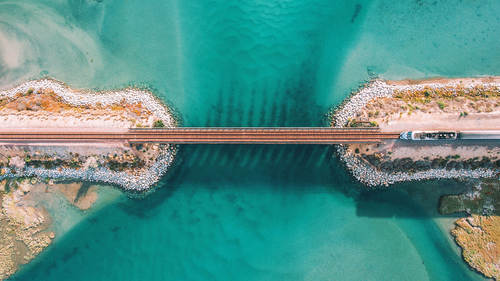 Beginner Drone Photography
What is a Drone?
Lesson Info
What is a Drone?
Let's talk about what a drone is. Make sure we're all on the same page. You can just think of a drone as an aircraft without a human onboard. So, it's being controlled remotely. And what's really interesting about this is this technology is now in our hands, a consumer. Where, you know, the early days of drones you had to be like a big military department, right, to have access to that technology. And then now we can literally pick up this technology for a few hundred dollars. It's like, what, right. This is crazy. And it has a camera that's amazing. So I wanted to just make sure that you guys know, if you ever see the term UAS, that means unmanned aircraft system. Excuse me. UAV, unmanned aerial vehicle. If it has four motors, that's a quadcopter. And then it goes on to a hex, oct, depending on how many motors there are. But generally speaking, I think that, drone's pretty much in our lexicon and that's what we're gonna, we call it. But if you ever hear those terms, especially the two...
at the top, because the FAA will refer to them as the two at the top. So when I talk to you about drone registration, and you're like, where's the word drone? It's, you're not really gonna see that verbiage. So that's why I think it's important to point this out. So, I would, just wanna walk through the various drones that there are. And I like to show this one. This little micro nano copter. These are all over like Amazon. Because these are so fun. They're super cheap. They're great stocking stuffers. If you have someone that's, you know, around the age of 10 ish or something, you could be the awesome uncle or aunt that got them this cool drone. It flies around. It'll hit walls. And you can still pick it up and fly it again. So, this is super cool. I love giving my, (laughing), my nephew these for stocking stuffers. Super cool. Next up we have a toy quadcopter. This is still considered a toy, but it's not so tiny like that little micro copter I was just talking about. And, I actually started messing around, messing around with a little toy one, in my early days, just to get a feel for when I do the sticks on the remote this way. When I do it that way. To get a feel for it. But the drones now are so smart, you can almost now skip this step. But it was handy to practice with something cheap like this because if you crash that, you didn't have to worry about crashing your thousand dollar drone, right. So I'm gonna now talk to you about some of the drones in the DJI lineup. And if you don't know what DJI is, they're, they're the leading manufacturer of drones. I'm gonna show you most of their drone line. And I just wanna let you know that you don't have to pick a DJI drone. And you don't even have to have a DJI drone. But I wanted to at least start somewhere. And if they're the company that is like the leading manufacturer, and they're the company that I personally buy my drones from, then I think it's fair to walk you through it. But again, you don't have to have this brand of drones. But I wanna walk you through it. So this is DJI's like lowest model drone. Really cheap. It actually has a camera onboard. It has about 13 minutes of flight time. And again, this could be a nicer present, if you have a little bit more money from that nano copter. You got about $100 to spend, you can get a nicer toy drone and be the cool aunt or uncle. But man, I can't believe the price of this drone and what it can do, especially considering how much my first drone was in 2014. We're talking like 25, 3 grand. $2500, 3 grand. And it's like now, you know, I can get something so small. With some decent specs. For like $100. It's like crazy. All right, the next step up. We have the DJI Spark. And this drone was DJI's like first smaller drone. It could do like, it could capture like decent imagery, considering how small it was. And this one shoots 12 megapixel images. Just JPEG. So it's something to keep in mind. If you're interested in having RAW, this may not be for you. It can shoot HD video. It has about 15 minutes of flight time. So this could be a great option if you just like to do like blogging, YouTube stuff, social media stuff. You really just travel a lot. You want it in your backpack. Something like that. Really handy drone. One of DJI's newer drones is the Mavic Air. And this is then the step up from the Spark, the last drone I just showed you. And what's neat about this drone is, this drone's really small. And it can shoot 12 megapixel images. RAW format. It can shoot 4k video, 30 frames per second. And I'm gonna show you guys the drone now. So this is the Mavic Air. And this is the remote controller. And what's neat about this drone is if you travel, I gotta make sure I demo this right. The folding is different on the other drones so I sometimes get it backwards. This drone is so tiny. And again like I mentioned that first drone, you'll spend about $2500 ish on. This, kills it. Like, and it's incredible. This is about $800. And the camera, I mean, 4k video. RAW images. So a really cool option. If you travel. If you need something compact. You could put this in a jacket pocket. I've done that numerous times. And then at this point, we basically have a lens. So if you're a photographer, and you have that 24 to 70, it's like, this is, put it right next to it. Right? And now you can have an aerial shot as well. So mind blowing, right? And fun little feature about this drone is the, I just love sharing this, the sticks can come off. And you can put them in this little compartment right here. And then you can slide it into your pocket. I mean, so we're talking like super portable, right? So pretty cool. So in some exciting news, DJI just came out with two new drones. We're just talking like, just, it's been a few weeks. And they call it the DJI Mavic 2. And there's two versions. So there's the DJI Mavic 2 Zoom. And this is the zoom. And what's interesting about this drone is you can actually zoom with the camera. So this is like DJI's first consumer level drone where you can do some zooming. So, if you're here and you wanted to get a shot closer to there just zoom in. Where before you know we would fly over. Which wasn't a big deal. But I think the coolest thing to me about this, and I haven't got to try it out yet unfortunately, the coolest thing to me is there's a feature called the Dolly Zoom. And it's inspired by Hitchcock. And it creates this really cool effect where you're pushing towards the subject, and you're zooming out at the same time, and that background changes in compression. Hard to maybe explain if you're like, what is he talking about. But you could definitely Google it. And you'll be like, whoa, that's rad. So it became really difficult for me when I had to decide which Mavic 2 to buy because I like, I really wanted that feature. I really wanted the zooming capabilities, right? But what's nice is this one shoots 4k video to 30 frames per second. 31 minutes of flight time. And I highlight the flight time because this is a big deal. My, man, I think my first Phantom, I was maybe getting 11 minutes of flight time. Somewhere in there. If I'm actually flying it around. You know, I'm getting about 11ish minutes of flight time. And that's a big deal because again, in the early days, when your battery is getting low, the only way you would know is if you brought it back and you could look at the lights. Or if you were smart enough to start a timer before you took off. Right? And sometimes I would forget to start my timer and that's how I actually lost a drone in a tree. Unfortunately. But man, 31 minutes of flight time. You might get bored by the time that battery is done. You know, that's a long time. So pretty cool. Here is the second one. So I said there's two versions. This is the DJI Mavic 2 Pro. And this is the one I opted for. So I'm gonna show you guys that now. So again, I mean, this drone is just a few weeks old. Really cool. If you guys know the camera company Hasselblad then you might be impressed to know that this is a Hasselblad lens. It has a one inch sensor. So it shoots 20 megapixel RAW images. On a flying device. Right? I mean this is crazy. This is like mind blowing to me. The technology. And, the one thing I'll say about DJI, and the reason why I generally buy their drones is because they are just like constantly innovating. Like I can't keep up. Like, you know, they're just hurting my bank account. Because they're coming out with drones all the time, you know. And the thing that's really interesting that I definitely wanna highlight about the Mavic 2 is that it does shoot 10 bit video. So you can actually shoot in the D login format, which really helps from when you're color grading you have a lot of information captured in that file so your highlights are still retained. You still have shadow detail. You can shoot 10 bit HDR video. And then what's really cool is that you have adjustable aperture on here. So if you're an on the ground photographer you know that that's a pretty helpful feature to have to be able to go to, you know, F4, or go up to F11, you know, depending on the scenario, you can adjust that. So again really crazy. And again just to highlight this, since this is their newest drone, they just launched, it does have the most sensors for obstacle avoidance. So if you see these little circles right here, these are actually cameras. Two cameras here. Cameras. And then we have sensors down here. So it's almost 360 degree obstacle avoidance protection. So what that means is if you're flying towards a wall it'll stop if you have the feature on. Really cool. The earlier version, version 1 of the Mavic, it only had the front sensors. And had the downward. So that was great. But to be honest with you, I have no idea why. But because I have so many drones I get confused probably, but I was flying my Mavic 1 backwards, and I hit a wall thinking that it was going to stop on it's own, but I'm like, oh that one doesn't have the backward sensors. Too late. Fell on the floor right? So, again, I think we're just gonna, oh, I should actually point out this sensor up here too. Sorry. Top one. What's cool is like this will eventually be standard, right? You're gonna have them, you're gonna have obstacle avoidance in all directions. Really handy. Peace of mind for those of you who are like, I'm so afraid to crash my drone. Peace of mind right there, right. So really cool. And this is the remote controller for it. And it does the same thing. You can unscrew these sticks, and you can slide it in your pocket. You will notice that this one has a little LED screen. So that can give you some information about battery life, how far away it is, what mode you're flying in. And you can just get a quick glance at that. I usually though put my cellphone in here when I'm flying because this does not show you what the camera sees. So I will usually slide my cellphone right in here and connect it with the cable. And I can see what the camera is seeing. So really cool. You can adjust the settings. And again remember I told you like when I had that GoPro, it was set to whatever it was set to, and then I just hoped that was the right setting. And I would fly away. Kind of about 11 minutes. I'd bring the car back home. And pray that there was one shot. You know, please let there be one shot. All that hard work, right? And now you know, we're just throwing it up. Gotta just set the settings. Blah, blah, blah. It's pretty, it pretty cool. All right. And then the next one is the Phantom. And until the Mavic 2, I was flying with this one a lot. And specifically because this was the one that had the 20 megapixel, one inch sensor camera. You can definitely notice the jump when you go from a one inch sensor to the smaller sensors. So I of course I want, you know, the best quality I can get. And so I was shooting with this a lot. And this one has front sensors. I have side sensors. Backward sensors. Side. I don't have a top. I do have a bottom. So what's interesting about this drone, which is still one of my favorite features though, is this is the remote controller for it. And I opted for the one with the built-in screen. You can get one without the screen. It'll be a little less expensive. And instead you could put your phone or an iPad in there. The reason why I went with this screen though is because it's one less thing for me to finagle. I don't have to remember to charge the iPad. Or bring my, you know, make sure my iPhone still has battery after using GPS and doing Instagram when I'm at 40%, right. It's like, I wanted a dedicated screen. But then too, what's really interesting is this is a much brighter screen than most cellphones and iPads or tablets. So that's really important when you guys are outside, you know trying to look at your screen. You wanna see. You know, otherwise you're like in the shade. Or, you know, under a tree. Looking under your shirt. Doing something weird right. So this is why I opted for this. And I love it. I love the Mavic 2. I just wish I didn't have to use my phone or bring a tablet. I wish, and I think that there's gonna be something that we can stay tuned for. I think there's something in the works. At least that's what the rumor mills have going. So stay tuned on that. But this is an awesome drone. I imagine this will be upgraded. This will be their next upgrade. Because they're gonna have to really distinguish what's different from the Mavic 2 and this. Like why are you gonna be paying more right. So my guess if you were gonna ask me is I think we're gonna get, you know, sensors everywhere. But I think we're gonna be able to change lenses. I think we'll be able to go wide. To telephoto. That's my guess. And I imagine there will be some kind of folding mechanism. Again, just my personal opinions. But I'm excited to see like what, what do they got cooking right. We do have an adjustable aperture with this drone. We can shoot 4k video. 60 frames per second. We have 30 minutes of flight time. So, still a very capable drone. And they actually came out with a version 2. So they call it DJI Phantom 4 Pro version 2. So you can get this one. You can get the version 2. It's 60% quieter. Which, it's actually a pretty cool feature. Because I don't know if you ever heard these things turn on but it's like, whir. Like a swarm of bees right. It could be and can be annoying. So that's welcomed. And it has an improved image transmission system for actually viewing your footage. Put this back. I do wanna let you know about another company that has a great line of drones as well. They're called Yuneec. And this is their Typhoon H Plus. And again I told you I mostly focused on DJI drones. But I at least wanted to let you know about another company. And again, I'm not gonna spend time on all the drone companies. I just wanted to highlight a few. Just to let you guys know what's out there. But this is a drone that's, as you can tell we actually have more propellors. So what's cool about this is if one of these propellors were to fail, it could still fly. It could still fly with five. Which is interesting. Whereas if one of the propellors on the drones that only have four, if one of those failed, it's gonna go down. I've never had an issue. But I'm just like letting you know. This is like a nice sale, fail safe that it has. So there's 30 minutes of flight time. So you know has some comparable stats. And I guess another cool feature I wanna highlight is the landing gear actually can retract and they go up. So you're, that camera can twist and it won't see the landing gear. Whereas on the Phantom I showed you the landing gear is fixed. That camera can't, it doesn't rotate. So, you know, pros and cons to, to each of these drones. All right, the DJI inspire 2. So this the beast, right. Such a cool drone. It shoots 24 megapixel images, RAW format. We can shoot 6k video. Right. Are you kidding me. 27 minutes of flight time. And then probably the big feature is the, interchangeable lenses. So you can see much bigger, right. It kind of looks like an alien spaceship, right. Like whoa. This will get looks when you bust it out. Right? Down here we can actually adjust, or we can change the lenses that go on here. You can go wide. You can go more telephoto. So you get a lot of control with this. And again we're talking 6k video, right. Like what? On this flying device. This is just crazy, right? Another cool feature about this is you can have two pilots. One that flies the drone. And then one that purely focuses on moving the camera, right. So pilot one fly that way. Pilot two, these landing gear when it's actually taking off will raise up. Pilot two can be like, all right, I'm gonna follow our subject while you're going forward. And do all the moves. So when I do a professional shoot, my co-pilot and I, we use the Inspire. When I'm just shooting by myself, because it's, I mean, this is a beast, the case is huge. It's like, you have to have a little crew, right. Help me bring this right. I don't backpack with this. I don't just pull up to the beach. You know, I'm like I'm bringing the Phantom. I'm bringing the Mavic, right? This is the remote controller. And again just a really cool awesome drone. Really great for very professional work. But again, the drones I mentioned over there, you can still get stunning imagery with them. It's just gonna depend on your needs and your budget. And those various factors, right? I'm gonna share with you one last drone. This is the DJI Matrice. And yes that drone, the Inspire, is a serious drone. But, you know, this is the biggie. This is like, if you're watching a film, you're looking at some setup like this, where you can attach a RED camera. You can attach a DSLR. Something like that. So this is very serious. You definitely need a crew to bring this thing around. Someone in charge of the settings and, so things get serious fast. And obviously this is really heavy. So you know you have to know your stuff. You have to be on your game when you're flying one of these because if there was some incident, you know, it's gonna get serious really quick.
Class Description
AFTER THIS CLASS YOU'LL BE ABLE TO:
Confidently fly a drone
Understand basic legal requirements
Execute simple to intermediate drone maneuvers
Adjust settings for aerial photography
Simultaneously adjust the drone and the camera
Use drones to capture a variety of still and video perspectives
Edit aerial photography and aerial videography
ABOUT DIRK'S CLASS:
Sure, drone photography looks just like playing a video game, but controlling an unmanned aerial vehicle while simultaneously working a camera takes essential know-how and practiced skills. Take off with confidence and capture aerial photography and videography at angles you never thought possible. In this beginner's class, learn essentials like safe drone flight, essential photography settings, and basic post-processing.
Work with award-winning aerial photographer Dirk Dallas as you learn to control your drone. Whether your drone is collecting dust or you've just opened the box, this class provides the essentials to fall in love with drone photography and videography. From legal restrictions to selecting and operating a drone and accessories, this class covers all the basics of aerial photography with a drone.
Explore a drone's controls, then learn exercises to help hone your flight skills. Flag potential legal restrictions in the United States. Learn settings and tips for capturing great aerial photography, then incorporate motion with video. Finally, work in image processing and video editing to fine-tune your captures. Whether you want to capture aerial images for real estate, environmental studies, commercial advertising, independent movie production, land-use planning or simply creative photography, start flying with confidence.
WHO THIS CLASS IS FOR:
Any user new to drone flight
Photographers looking to expand to aerial photography
Videographers eager to add a new angle with drones
Drone newbies that want to learn new moves and tricks
ABOUT YOUR INSTRUCTOR:
FAA licensed drone pilot Dirk Dallas uses drones to capture new angles in his commercial photography and filmmaking. Also a speaker and professor, Dirk is the founder of FromWhereIDrone.com and the host of the AdoramaTV series From Where I Drone With Dirk Dallas. Along with his creative work, he enjoys teaching and inspiring new drone pilots.
Reviews
Dirk really did a nice job taking new students thru exercises to gain confidence. The work in Lightroom and Photoshop was helpful, but I wish more time could have been focused on flying or tips. Dirk has presets that he offers. It would have been helpful to see the results using those presets. Looking forward to the free which Drone to buy class and the advanced class
I definitely recommend this course if you are thinking about getting into drone photography looking for the fundamentals. I now feel pretty confident I can get started and that my learning curve will be greatly shortened thanks to the technology available today and a great roadmap of getting started. If you are already started... follow up with his advanced topics... I know I will.
Super class. As a beginner I had little idea what to expect and never got started because of all the talk of people crashing drones right and left and losing a fortune. Dallas made it seem simple. So I bought a Tello beginners drone (great starter by the way), got hooked and am now flying a DJI Mavic Pro 2 and studying for a commercial license. Not sure, this is a great class to start with.