Top Deck: Overview
John Greengo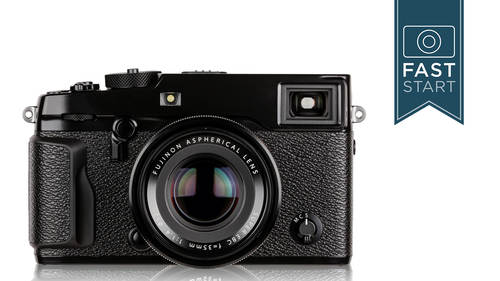 Top Deck: Overview
John Greengo
Lesson Info
6. Top Deck: Overview
Lesson Info
Top Deck: Overview
all right. Next up, right on the top of the camera is a function button, and this is one of the many buttons on the camera that we're gonna be able to program to our liking. And so in the menu system, which we will get to a little bit later. But it is in the Senate menu words under button dial setting and then the function setting. You can go in and have a large number of features that are attributed to this particular fund of button right here. And so it zone all the matter of what you use most on your camera and how you like to change the settings on your camera. Right now, it is set up as a video record button. And so if you do want to shoot video, it's just simply pressing this button, and it is going to be in the program mode. And if you want to go into the movie mode in the menu system, you'll be able to control the various resolution and frame rates that you are recording video and so you'll choose between full HD and standard. HD Camera does not have four K just in case you're ...
wondering, but you do have a number of different frame rates that you can also choose from in there, and we'll talk more about video in an upcoming section. It does have built in microphones for recording sound stereo microphones. If you do want to get great sound, you probably want to get an external microphone, but at least it has something built in to start with. We do then have a little focal plane indicator, and this is just an indication of where the sensor is in the camera. It's not really necessary for most people's photography, but in some cases you need to measure in exact distance from the focal plane to your subject, perhaps in macro photography, for instance. And if you needed to do that, that is the location and where you would be doing your measurements from. Finally, we have a hot shoe on the camera. The camera does not have a built in flash. You can add on flash to it, and there are a number of Fuji flashes that you can work with. The E F X 20 would probably be the one to go with if you want a very small built in flash. And Fuji has just recently introduced the E f X 500 which, for somebody who does more serious flash work, is probably gonna want to look at because that's the one that's been fully dedicated for this new X system of theirs. And that's gonna offer you the the ability to bounce and swivel and have quite a bit more power on it as well. And it does have actually two flashes. One is a little fill light. One is a bounce light, and so it does offer a great versatility in the way that it could be used.
Class Materials
Fuji X-Pro2 Recommended Settings
Ratings and Reviews
WOW how I wish I had this to begin with!!!! Between manual and smart tip overload via books and U Tube, as well as, class instructor snafus I pretty much felt like an idiot. After this class not so much. Great job .
I have the X Pro 2 for over a year and I thought that I might get more information on how to use it more efficiently. Boy this is a great course! I learned a lot and I loved the hidden feature :) Highly appreciated John and CL!
it's a great course would have loved to get the same quality course for my Fujifilm X-Pro3
Student Work