Lighting Essentials Workshop
Student Image Review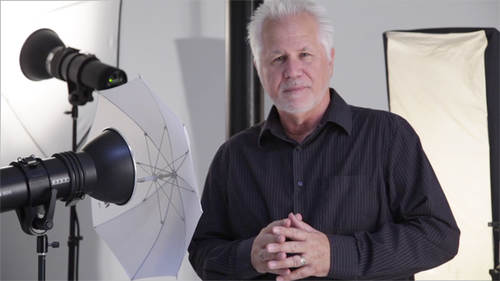 Lighting Essentials Workshop
Student Image Review
Lesson Info
Student Image Review
we're going to go through some of these shots real quick we're not in the order that necessarily that they were taken but I had the guys choose a couple of their favorite shots here so we could take a look at him I love this shot now um kimberly I think I probably would cut it right off there because it would be such a more striking shot but I love the light how the light shapes brianna's even her feet tows the dancer toes coming right over there and the arms and face looks really good like that little rooster tail next shot please that's a uh you know that's an art to be able to do that it really is to be able to catch that dancer in that spot so dance photography might be something you know skating photography might be something for you two to think about doing because I think you're obviously very good at it you had more hits than misses I wish I had more hits than misses so I'm very jealous he really know that how to get that timing down beautiful shot uh great she's absolutely thi...
s is where a dancer wants to see herself for himself executing the the move with perfection um and your sense of of I like having her almost out of the frame she's jumping out of the frame or some neat dynamics going on there we've got a little bit of a highlight back here like that a lot great light on that I think that light by the way look at the look at the transition between the true tone of her face and the shadow cast soft it is I can't say enough about those soft lighters I can't say enough I absolutely adore them if a guy can adore anything but I liked him a lot I love the light from the soft lighters I've always liked sixty inch umbrellas but I'll tell you what I've got to sixty inch umbrellas with not got the soft light panels for him just absolutely love the way they treat like yeah that's fun that's just just fun you know he's the kind of shots that you want you want to put in your portfolio you know these are the kind of shots that that you want to make a beautiful shot will move on next shot okay and we have isabel this wass laurie shot right laurie laurie shooting is about look at this classic face and laurie I don't know if you noticed this her lips air just barely parted that's that little detail I love absolutely love that it's just just a little bit her eyes or right on you your lighting is just impeccable here now you eventually move her away from the wall so the shadow wasn't there I love the shadow because the shadow gives me context shadow gives me light and dark and her hair's all caught in here I like that very very uncomplicated face but back to your group that likes the complexity there's enough on the face to definitely model it little shadow coming off of her lips here so we know that she has little full lips her nose eyes look how pretty the isar live love that shot yes and isabel has his wonderful face when you move it around all these girls have great faces when you move them around just a little bit everything changes so I can have so much fun taking photographs of someone like that because even if they move their face you know an inch different shot I love that in your light ah great smile great smile light to dark and the background isabel's kind of nice in the middle here good modeling on the face next shot uh yep when you're using hands watch that thea that your model isn't break her wrists too much there's a tendency for for models to do this with their hands and you want to keep him a little bit straighter but that doesn't that doesn't kill this shot it's just a little bit well it's not even that bad but it's just a little bit canted back in my water to loosen that up just a little bit okay pretty in here on again this slightly parted lips uh is a very it's a very sexy look for one thing it's very essential look and it's a very inviting look it's a sin on off guard because when you're you're standing there in your own garden kind of lips together right when your lips kind of come apart you kind of relaxing and become more accessible good I wanna like that shot with eyes down too like the way the soft lighter puts this great highlight right across her forehead because of that that light inside that that umbrellas bouncing everywhere then it hits that soft uh diffusion panel and just floats out and becomes a great big nice soft light shot yep and this is where white light the white bounce card from here filled in over here you've got light to dark and she just jumps off the page you see how much more dimension here the light to dark behind very nice next shot that's lovely okay and this is tracy now we have names up down tracy's shot of natalie beautiful shot and see and see how natalie does not break her wrist she keeps it nice and she keeps a good hand going there so it's not bent way back that's professionalism that's great great eyes natalie can really that we could really bring what you need to it I feel like tyra banks natalie was really bringing it wasn't she because there's nothing ever I want more than to feel like tyra banks you know all right big shot beautiful and again great hands good hands the head up fingers are are up and down and it makes it so much nicer and I know we're gonna have some people will say well what happens if you can't find a model who's done this before um then you can't there's no magic to it there's no there I can't tell you how to make it better you just excuse me gonna have to be so much in control of what's going on that you're able to train how do you do that you become deliberate in your work absolutely deliberate you don't take the shot until the fingers air right you don't take the shot till the hands right you don't take the shot until the faces looking the way you want it to look oliver blond hair I love all this cascading stuff down and remember what we used for lighting for this yes yeah right big soft box right yeah you see the soft box in the jewelry big soft box brings out that jury brings put speculators all over the jewelry where maybe a smaller light source wouldn't do that because they're very curved big shot lovely shot oh beautiful good smile nice hair separation oh yeah next shot yes even better smile look at that she's working herself to the light which is what you wanted her to do and then your grid spots coming across here and just giving us a lot of nice texture in here a lot of great texture which was your goal to do it great on that's probably my favorite shot there's dynamics in it up and down you know it's like music I like music that has dynamics like photographs that have the same type of dynamics ups and downs hills and crests and valleys all kinds of interest the lights so pretty that it even though she's bringing this collar up next to her face look what it does it doesn't even change alter the complexity of the face we still have a nice let's side a little bit of a shadow side it looks great shot good good okay now that the back of the hand is not that's not my favorite but we've already got a great shot of this so let's go the next okay and this is ian well this actually isn't ian let me check no that's not ian that's uh that's in shot and uh this is uh kind of fun because exactly what you had your mind wasn't it yeah you saw this shot before you went to do it that's cool and fun to be able to do that I think most of you are able to do that says what you you did what you saw in your head and proved the concept of visualization because once you see it all you have to do now is mouse mechanics and the mechanics is stuff that can be learned at places like creative live they teach you the mechanics we teach you how to take those mechanics and apply it to your photograph but in the end you have to do it I love that shot and everything about it little photo shop down the corner and you're good next shot and she brought her hand up to the light here and I imagine you're probably gonna cropper really nice tall vertical shot that's nice I love the way the light does this too to this thing right here however when she brought her hand up I think she blocked the light a little bit so maybe next time be aware of that and have her bring it back instead of right up to the side good next one next oh now that's my favorite and I don't know why of the three so far that's my favorite maybe it's very statuesque way she appears there in the light maybe it's the way the light hits her face maybe it's just this cool kind of angle that she has shoulders drop back there and yet this foot forward got a nice feel to it love the light on this nothing nothing can beat that big soft box there's just if you don't have a four by six you might want to think about it next one and this is the one where we added the diffuser but we brought it up close so this diffusers right out of the picture when we did one before where we just simply defused the light a little bit harder edge to it but this one's right out this looks really great through here and you can see how this proof of concept yeah we got bad for the whole bit but the proof of concept is you can do this shot and you do this shot perfectly in a situation maybe some seamless to get her to drop back on the same list cycle psych wall anything yeah but you could remember how you did that by making sure that your blue light was the first thing that you captured and their subject has to be far enough from away from the back wall that you don't contaminate that wall with this we have to totally different lighting schemes going on here one for the wall on one for natalie pretty um I didn't want to say about that shot it's just lovely just really pretty look it's a girl looking off camera and stuff um natalie is uh very good at what she does you're wonderful at what you do that's a great look natalie beautiful mrs mo's shot says bree and the captured wall of light got a nice feeling to it got a little bit of a flair going on but I like it I'm good with it because it has a it's a a fun feel to it not every shot has to be crystal clear some shots look really good flared out moe I think you pulled it off look at the light from back there little subtle things that catch my eye is this light looking on her arm that how it defines her arm right over here pulls into the muscle the eyes isar are a little dark we can fix that in photo shop just pull it up a bit but the teeth are nice and white hair looks good next shot good pose good again good pose your are getting flare back over the shoulders but that's kind of a neat look remember is the rules flares and bad it just is do you want it you don't want it it's up to you did we do a shot with flair yesterday guys was I just thinking about it we were walking around yes we did that's right we did flare was that yesterday my god wow way so I like flare so that's sort of a bias I have next shot that's fun shot a good smile for bree very nice holding this up this is good good flare all the way around we get the nice light on the face and we get a nice fun line s curve fine that works really well okay probably my favorite no what I'm sorry I was lost in the picture three thing yeah I think that that you shot next one that's fun he's got it and you know what the key to these are doing it again and again and again and again there's no magic to it there's no I can't tell you to tell the girl the whipper hair one way or another I can't there's no magic just got to keep doing it to get the shot yet
Class Description
Learn how to light in any situation. This special 3-day workshop will introduce you to lighting by learning the basics. Don helps you start evaluating light from a subject centric approach — teaching you to identify how your light will react to your subject. Don Giannatti's workshop is perfect for photographers working to find their vision and their own perspective. You'll learn to use this knowledge of light to create perfect photographs. This workshop is a non-stop, hands-on weekend.
Reviews
I just finished watching this course, and with teary eyes can say, without reserve, this class has been fantastic! Don's last session would be great to watch in the beginning and the end because it helps to understand his thoughts on being a photographer. The rest of the class is full of great information on lighting and Don is able to explain his thoughts and his processes with ease. I hope I will always think ahead and plan how I want my final results and how I want my subject to reflect light. Learning this was one of my "aha" moments during this class. I own over 30 Creative Live photography courses and this class is one of the top classes I own. I already plan on rewatching the whole class. Well worth the investment! I feel it is not a beginner course, but a intermediate to advanced one. Don has set a high standard in lighting...a goal to reach for...a goal that is possible for each person willing to take the time to learn and practice. Thanks Don and thanks CreativeLive!
I am so glad I took this course. I'll be honest, it took a few lessons for me to warm up to this series but I'm glad I stuck with it. I have had a couple cheap speedlights, softboxes/umbrellas, and reflectors for many months now and was too intimidated to start using them. After going through this I am not only downright excited to use them, and confident that I can have spectacular outcomes, I'm also confident about shooting in natural light indoors and outdoors. It's also given me the tools and confidence to start shooting in manual vs aperture priority and to nail the general calculations in my head. I appreciate that Don used mostly budget or unorthodox equipment like speedlights, foam core, work lights, curtains, etc. because that's what I can afford and have been using to try to replicate expensive gear. Other classes use thousands of dollars in lighting and Don proves you don't need that for excellent shots. I also appreciate his advice for directing your "models" and insights into his overall process. This class was invaluable to me as a novice. Thank you!
I thank very much CL that I could see the wonderful material on the light in photography, in fact everything became clearer, Don you are the great teacher, great stuff, very interesting and fantastic lecture, very helpful ! Thank you one more time !!!