Lighting Essentials Workshop
Student Shoot: Lori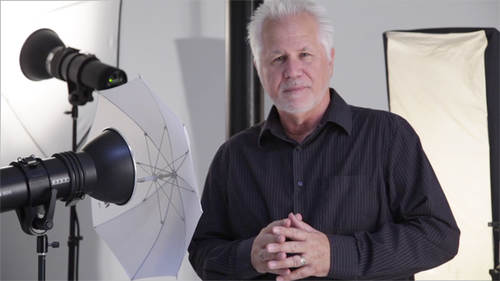 Lighting Essentials Workshop
Student Shoot: Lori
Lesson Info
Student Shoot: Lori
laurie what you got planned okay um I want teo to shots I wantto do a headshot and um I'm gonna have her against the wall coming kind of shoot down the wall um for another one where she's gonna be on this stool okay so we're going to kind of get the jeans look in and get it ok so you're doing a head shot from where now words there we're gonna I'm gonna stand in this area and she's gonna be standing against get along this wall kind of a little forward okay okay let's try that out over there in position and we're going to be using this light only because we're going to switch over to the full length and and so to create more yes phil wait we can also move this light in very close yes ok for the head shot it doesn't have to be back this far and depending on how it happens probably goingto feeling a little bit under her face so I can kind of get shut milky little under your filling in under face one of the things that you're going to notice about a light source this large and especially a ...
soft lighter is it may not even need it because we're going to bring this light in a little bit closer to her which means this lights actually down below where that card would have been ok right so let's bring this light in right about but I'm looking in her eyes beautiful eyes king it now can you shoot past this now are you able to get past it for your headshot yeah should be now you're coming sideways to the bricks you want come straight at the brick so they don't fall off okay so if I need to move this out I'll move it out a little bit okay uh we have lorries mike on okay you're on okay all right let me bring us over just a little bit so you're conf it right under there there we go so this lights in very close on this white wall we're getting just a little bit of shadow but notice how nice it's coming up and you want to if I mean if this is in your way you tell me you want straight at that wall okay okay so I need to come this way a little bit yes all right how's that okay way and we need to meet a reading all right let's pop the little pocket wizard thing right on the back it says test that's that little guy right there what's one more time here we go we're on f sixteen okay okay if I were you I would open up a third of a stop and shoot it out fourteen okay and let's see what we got this is without anything but this big beautiful diffused umbrella thes soft lighters air fantastic because of how they produce the light of your hair a little bit for the photographer we run back out really pretty well this over here okay and then bring your jacket so that it's in a little a little more so that your fur comes together a little bit more yeah that's good ok way doing back your camera say doesn't so it doesn't show anything what's your shutter speed I'm at one hundred and fourteen oh there it is okay one hundred fourteen let's look at this critically right okay you've got some nice highlights on the thie side of the face the question is are they too bright I think so you think might they might be yes I think they might be a cz well so let's go to sixteen okay and you got real pretty modeling on the face so we've got some nice light to dark on the face which works on right in there and you've got a great look at cnn this is another thing that these soft lighters do these big sixty inch lights whether they're soft lighters or umbrellas look at the great highlights that come right across the hair write it down the size of the hair the light is big enough that's wrapping around on this side fantastic catch light in the eyes okay guys take a bad photograph of this will know that it's all possible can we pull it develop step two step okay that's going to give you shadow that's put some light behind her head I think before the shadow happens which is already very pretty go ahead now she brought her forward there you go okay we've got a match that with the light right right we just change the distance of the light but not that far okay wait got any questions you know always okay I think there's a little bit too much shadow coming here I know I don't think so no I don't know but she's such a guy great beautiful face that was good here when she's straight on now if you want to you can actually fill in just her without doing the wall okay by bringing your fill card will use this big v card in front of the wall and in front of her than that shadow that you're working with you want that shadow well still exist because it's going to go back behind this this card and cards only gonna light her up okay yeah I like it already I can see it okay guys I think people are just loving it loving it loving this model as well and some books are asking about if you could talk about when you're hope posing about some coaching tips for opposing especially when folks aren't models that they're shooting um good point what I like to do is to start my talent in some position somewhere you have to start somewhere I was pretty great smile sister such pretty people um you have to start somewhere so find somewhere bri can I use you for second one of the things that that uh that I like to do is to start out with feats kind of apart and then drop it ah hip right so she just kind of drops a hip either side and yep that dress doesn't show the hip very much there we go to do that if uh girls wearing jeans or something get the feet place just pretty much shoulder placement and to give a hip and didn't just sort of relax and twist from there I like military feat right together to the side right and she looks better than I do is um twist to the side and then work with that what I I don't like is when the models break the legs this thing you know or they that one way don't do that but just start somewhere it's it shows if you don't know it shows so much if you don't know what where to start so start your person somewhere and keep them moving things going on over here moving the uh model where oh there she is perfect perfect how you're running you said you're running down the wall yeah I'm gonna go over here and try to run down the wall a little bit so you might have to back up just a little more okay lorry while you're doing this can I do a little bit of posing with her sort of a constant explanation I'm gonna go ahead and do wow look back like this I love it uh oh no no you signed a contract you can you have her eyes we'll see if we get that photograph of it for you with your legs this way and then we're going kind of back that way and where you gonna be back over in here I'm gonna be over here do you want to move her down more you're gonna be pretty tight yeah you can yeah yeah you re pretty tight out there I think that's what we actually started with her testing yeah there you go okay on and she's gonna be right up against the yeah let's put your job remember how you were doing that you're leaving against wei go ahead and bring us back just a tiny bit more okay all right so you're going right back to get your meter reading because you changed let's get a pop off that uh off that test button there right towards the camera uh f eight okay hold on this is really embarrassing that one yes eight point eight names of ten don't quite have that nine out of ten I'm actually set up for the third okay what is on your okay always talking to your modeling thing always talks to your talent again whether it's seo this one so that it was more than this one gotcha whether it's a real estate agent that you're photographing or a model talk to them should your hair I'm gonna get it out so we can see it ok and I love those banks let's see what we've got here when you're constantly talking to your your sub way too bright too bright yeah yeah whatever yuria I'm a date right now should be only almost eleven it was it was intense oh sorry okay I read it along and show you bring my shutter speed maybe up a little bit of speed's not gonna make any no okay no difference now okay it's good to learn ok yeah more towards me yourself out a little bit dark thing this fool it's kind of like dark shadow right behind isabel yeah yeah okay going hold on for second we're going to bring this up close so you see a dark shadow here look back here you're forgetting the look shot back there right yeah let's separate her by bringing that shadow up to her okay we're gonna bring this forward of her right about here is that in your shot like that I'm dealing with are our volcano is that in your shot now okay we done we moved that panel forward and we're gonna hope to drop that shadow than back behind is about to give her more dimension in the shop as it comes up here yes now if she leans out a little bit she's actually going to go out into that shadow which be pretty cools okay okay so however kind of lean into that area there get a couple more shots okay I'll set up over here good this way towards me yeah exacting and yeah into that space there is a bell thank you yeah little more exaggerate towards me with the other shoulder like you had it coming back yeah okay laurie where are you shooting are you shooting all her hands and everything yes do you need that in this picture to make it make the picture uh no phil to do kind of going to take a look ok I don't think you need that I think it's extraneous yeah yeah oh yeah go right into the bottom of her hair okay I mean that's the shot okay okay we're getting ready over here I do like more shots and we're moving over and won this well oh yes okay beautiful good yeah yeah like I just wanted to test out the more of the body kind of things to see where we were at it you can see how this like really does beauty view beautiful job going all the way down okay keeping it that's the soft lighter that's that special look that it has okay now what this one we have the front wall definitely got a little too hi no no I see it I see detail in there I think photo shop would bring you back a little bit deeper there some curves adjustment you be good okay yeah all right excellent before we move on to the next one over here we've got something over you want to take a couple questions especially if it's about this or the last shots were done well I think I think maybe we'll take one because we are sure trying to get to a lunch break um and I guess that's could you just remind us of what the set up actually is here go through that trend and perhaps the power settings too this is a soft lighter on a pro photo single pro photo head and john hasn't said it full power big side training set we're going to check uh yep we're full power essential power no fool that I am because twelve hundred pack yet so it's six hundred white seconds of light that gave us uh f ten f eleven of sixteen right in there we've got the light about eight feet from the wall and we've got isabelle about one foot from the wall we use this big panel here to block off the light from this part of the soft box here from striking that part of the wall so this part is hitting actually this white card which served as a fill card and when you look at the shot of isabelle you'll be able to see how that phil card lights up her hair see right down the side there look at that that's the hair coming from this phil card you can see and feel the dimension of the light coming from this side so again this is a one light set up that has the benefit of doing um yeoman's work they're basically doing two lights because of how we've set these cards cooler living around you're very welcome
Class Description
Learn how to light in any situation. This special 3-day workshop will introduce you to lighting by learning the basics. Don helps you start evaluating light from a subject centric approach — teaching you to identify how your light will react to your subject. Don Giannatti's workshop is perfect for photographers working to find their vision and their own perspective. You'll learn to use this knowledge of light to create perfect photographs. This workshop is a non-stop, hands-on weekend.
Reviews
I just finished watching this course, and with teary eyes can say, without reserve, this class has been fantastic! Don's last session would be great to watch in the beginning and the end because it helps to understand his thoughts on being a photographer. The rest of the class is full of great information on lighting and Don is able to explain his thoughts and his processes with ease. I hope I will always think ahead and plan how I want my final results and how I want my subject to reflect light. Learning this was one of my "aha" moments during this class. I own over 30 Creative Live photography courses and this class is one of the top classes I own. I already plan on rewatching the whole class. Well worth the investment! I feel it is not a beginner course, but a intermediate to advanced one. Don has set a high standard in lighting...a goal to reach for...a goal that is possible for each person willing to take the time to learn and practice. Thanks Don and thanks CreativeLive!
I am so glad I took this course. I'll be honest, it took a few lessons for me to warm up to this series but I'm glad I stuck with it. I have had a couple cheap speedlights, softboxes/umbrellas, and reflectors for many months now and was too intimidated to start using them. After going through this I am not only downright excited to use them, and confident that I can have spectacular outcomes, I'm also confident about shooting in natural light indoors and outdoors. It's also given me the tools and confidence to start shooting in manual vs aperture priority and to nail the general calculations in my head. I appreciate that Don used mostly budget or unorthodox equipment like speedlights, foam core, work lights, curtains, etc. because that's what I can afford and have been using to try to replicate expensive gear. Other classes use thousands of dollars in lighting and Don proves you don't need that for excellent shots. I also appreciate his advice for directing your "models" and insights into his overall process. This class was invaluable to me as a novice. Thank you!
I thank very much CL that I could see the wonderful material on the light in photography, in fact everything became clearer, Don you are the great teacher, great stuff, very interesting and fantastic lecture, very helpful ! Thank you one more time !!!