Lighting Essentials Workshop
Student Shoot: Kimberly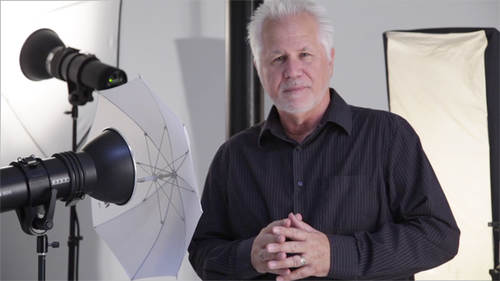 Lighting Essentials Workshop
Student Shoot: Kimberly
Lesson Info
Student Shoot: Kimberly
kimberly's shooting grew from phoenix floating levitating girl the levitating girl okay now you do understand if she floats too long she gets a bad headache it's terrible tried out I'll try not to make eleven so okay so what you got going here I am going to do a jump shot with her okay now now you have your light set to where you got your umbrella coming right into her face and what do you going to do with her she's gonna jump for me okay let me go back again you have the umbrella like perfectly let right into her face and what's she gonna do for you she's gonna keep her face that way but what is she gonna dio he's jumping so what happens to her face it wasn't a shot up in a test and I really like you like it it works for you that's why does it work because he's a lighter yeah because the whole thing so what I what what I normally do is the same thing but I would take it up a little bit so that she jumped into the center of my light okay don't lighter for where she's is when a lighter ...
for where she's going to bay but the soft lighter because it's a scream in front of that umbrella evens the entire umbrella out we don't have that hot center spot that we would have it was an umbrella right okay and I'm thinking of you and you you have her a little bit away from the background no why I kind of want to that kind of fall off I won't have a kind of pop off that okay feel like it was too white it's to stark okay all right so it's not going to be quite a real white background also not gonna have a shadow from her right we no actually we do have a little bit of a shadow we dio that okay let's see all right you ready jump shots mean you've got to be anticipatory you all know that that digital cameras are thirty five millimeter did dslr all have a digital delay they're not like shooting film cameras yeah you definitely got her in the air there didn't you there not like shooting film cameras when you push the button they don't instantly take the photograph there is a delay ah lot quicker than say a point and shoot camera where you push the button you could make a ham sandwich while it's waiting to do its thing but it still has it so with digital photography you have to anticipate where she's going today dancers and gymnasts and those folks who are that really active they know how they looked good you can't shoot a uh well read or dance you can't shoot a dancer into splits if they're not perfect right then rather not show them because when we look at a photograph we see what we see and we think maybe she can't do great split so when you're working with someone like that you've got a perfectly horizontal leg perfect great okay good see what else let's see you do you have anything else that was it that's my sign I got it I know that happens a lot with some models um yeah he asked him to jump they do when you get one perfect and go how can I beat that well you you probably can let's try another one you trying different jump anyone's trying the same one okay sounds great notice how um kimberly has chosen a single light emphasize that that isn't I love your hair and love the way your hair with carol has chosen a single light to emphasize the shape and drama of the jump we have light and shadow across bree and little things you know when you look at photographs you ever find that you you look a little things that you like a lot one of things I love is that is this highlight coming across the arm going into the shadow here and then having the light back behind her little tiny places on a photograph that just mean a lot to make that's really really nice let me ask you this how how comfortable you are you would you be laying on the ground lay down sideways because is where you're shooting we're getting a lot of carpet right the lower you are the less carpet the less foreground we have and and when you lay down really low bree can actually jump higher or at least seems to hold on one second okay go for it I have an early maybe a little early yep let's try to get yeah I could feel it your assistant should watch the shot because your assistant can see the flash go off okay all right here we go okay go ahead yes think you got it neither the leg was up when that flash fight yes it wass yes and you see how much higher she looks and that's that's because we've just basically lowered the camera and shot up a little bit eliminating a lot of this foreground if you want to create drama and your photographs even in studio photographs or or or situations like this try an angle that isn't normal ok and for me I find that the lower I get my camera on the ground the more interesting my photographs become and that's because I'm eliminating that foreground and creating much more space above okay you've got a jumper so get a try maybe over your shoulder bree would try something like that yep yep awhile yeah we're gonna have a job all right uh yes yes yeah I do too late lay sideways so you're not struggling with your your focus there you go there you go and make sure that background is absolutely oblique to you so we don't we're not running off and try that same shot again I went to look right do another one if you know it didn't work tio into another one thank god that seemed like it worked you're quite good at this kimberly have seen people struggle with this so you're definitely yeah there you go there you go very dynamic that soft little shadow back there and the soft lighter look at what the soft lighters doing it is because of the angle on guys having followed with me over here what I'm looking at is this wall is a semi matte finish right do you see look at the shot do you see a very soft speculum on this wall right behind her yes and on this side of her yes right in here that's that angle of this this hitting the wall being brighter there because it's really trying to become a speculum and then it falls off all around her the way you positioned her here back into that light for me very metaphorical there's a story in the picture we planning on cropping it like a square yeah very cool take a few more and we'll see what's going on over on this side she's been known to jump for hours at a time for no reason that's that's the scary okay please who I think you may have missed it but I think what you got might be very cool I saw the hair up when the flash went off yeah try that again that's very cool try vertical though try very cold so you can get her up in the air that's uh that's very dynamic that's seem to be okay cut out the corner of my eye he'll love it yeah one more and we'll move on to the next fiver I think that's very nice king very dynamic look att yeah you got at that time I saw the hand write it that right toe at the point yep cool dan shot yes I see you guys up that means there's questions that would ask if you got a theory about the jump shots how is how is how are we locking the focus was kimberly locking the focus kimberly I'm walking it before she jumps ok because I know where she's going and I know she's jumping straight up and my my aperture is wide and that people that I could get her even if she goes for it a little bit back what do you shooting I'm shooting at ft yeah so even if she came forward a couple inches in the jump she's still gonna be within that field of focus on that are you pre focusing on this type of shot or press the shutter at the height point to get it sharp I'm focusing before she jumped I do the same I do a pre focus and keep my finger on the button so could you talk again just a little bit about the shutter speed uh folks are asking is for maurice ella is one one twenty fifth isn't enough to freeze the motion let's find out would you turn your pocket wizard off okay would you take another shot of re jumping okay what and what your shutter speed when twenty okay one twenty five at faa that's so much you think this's what happens this next shot is what happens yeah that is f eight at s o two hundred and one one twenty fifth of a second in other words there is no shot other than the flash shutter speed has nothing to do with it the flash is freezing her so whether we shot at uh one twenty fifth or two fifty or one hundredth of a second because we're at f ate we have no light so there is no blur it is on ly the freezing action of the stroke so this is a what we have the pro photo on john full power so we put what about a hundredth of a second yeah I think I think eight hundred maybe twelve hundred of a second so we're really shooting this shot at twelve hundredth of a second think of it this way the shutter opens the flash goes off and then the shutter closes so in slow motion it would be breeze up in the air in the dark and the dark pink in the dark in the dark it's that one twelve hundredth of a second rate hundredth of a second that we froze her so there is no shot at faa at one one twenty fifth hope that and that's a long way of saying no I really like that little visual yes just think of it as curtains opening a flash pops and the curtains close that's all that's happening with it and can you go into a little bit more detail about the blur on the legs and some of the images that's because the blur on the legs because that the length of the flash is not a fast enough tow to freeze that absolute outward appendage so in other words it would make any difference I want them to know we're making a difference if we shot a sixty eight were shot at one hundred twenty fifth or shot in two fifty it doesn't make any difference the on ly thing that matters is the flash and the flash isn't fast enough in duration to freeze her ballet dancers uh ice skaters you get right out to the end of that hand and it's traveling pretty fast so a couple questions from one from same cocks and also satti avm um does the power level of the flash affect the durations and then our strobes faster at lower power setting well it depends on your strokes and then one of the things that you'll notice when you got to buy strobes is that some costs more than others that's a cost factor they can yes bill this strobe where it has a very fast ramp up very fast dropped down that's gently not going to be one hundred fifty dollar light it's going to be very much more expensive and I think the john you're probably more pro photo savvy and I am the top of the line pro photo that knew was at seven seven days or something they have the point of that is the absolute a tiny flash duration which is why they cost so much money yes absolutely and the cheaper the flash probably the slower the duration wrong color has really yes really wrong color also has sliced the price of the profile uh simon from new york city how can you make this shot in natural lighting well let's let's think about it in natural light we've got window light coming in your f ate right um I imagine when we had this light coming in john what were we getting we're getting like f four at one hundred twenty second hundredth of a second right so afford a hundredth of a second I have two point eight two hundredth of a second f one point four at a four hundred of a second so about a four hundred of a second would be all we could get if we shooting with a one point four at I s o one hundred so if we went to two hundred we could go to a hundredth of a second it's for because of that one for the focus shift with the jump the pre focusing going to be tough for very I mean outdoors we could do it yes but in the studio here just using daylight's going teo just losing daylight but what you do is you want to move your eyes so up until you were shooting somewhere around I f or at twelve hundredth of a second anyway you get the best ways to bring a strobe well before we move on to the next photographer I just want to say folks and on the online want to know how they can train their models to jump like you'll have to ask bri she does that all on her own and I'm just one of those lucky people who get to photograph it now and then and now so are you um yeah they're fine dancers debris is a dancer for your most your life right modern jazz modern ballet and that kind of stuff she teaches zoom by now zimba um so yeah find answers that's a great place to find people to photograph or dancers dancers and gymnasts have a blast
Class Description
Learn how to light in any situation. This special 3-day workshop will introduce you to lighting by learning the basics. Don helps you start evaluating light from a subject centric approach — teaching you to identify how your light will react to your subject. Don Giannatti's workshop is perfect for photographers working to find their vision and their own perspective. You'll learn to use this knowledge of light to create perfect photographs. This workshop is a non-stop, hands-on weekend.
Reviews
I just finished watching this course, and with teary eyes can say, without reserve, this class has been fantastic! Don's last session would be great to watch in the beginning and the end because it helps to understand his thoughts on being a photographer. The rest of the class is full of great information on lighting and Don is able to explain his thoughts and his processes with ease. I hope I will always think ahead and plan how I want my final results and how I want my subject to reflect light. Learning this was one of my "aha" moments during this class. I own over 30 Creative Live photography courses and this class is one of the top classes I own. I already plan on rewatching the whole class. Well worth the investment! I feel it is not a beginner course, but a intermediate to advanced one. Don has set a high standard in lighting...a goal to reach for...a goal that is possible for each person willing to take the time to learn and practice. Thanks Don and thanks CreativeLive!
I am so glad I took this course. I'll be honest, it took a few lessons for me to warm up to this series but I'm glad I stuck with it. I have had a couple cheap speedlights, softboxes/umbrellas, and reflectors for many months now and was too intimidated to start using them. After going through this I am not only downright excited to use them, and confident that I can have spectacular outcomes, I'm also confident about shooting in natural light indoors and outdoors. It's also given me the tools and confidence to start shooting in manual vs aperture priority and to nail the general calculations in my head. I appreciate that Don used mostly budget or unorthodox equipment like speedlights, foam core, work lights, curtains, etc. because that's what I can afford and have been using to try to replicate expensive gear. Other classes use thousands of dollars in lighting and Don proves you don't need that for excellent shots. I also appreciate his advice for directing your "models" and insights into his overall process. This class was invaluable to me as a novice. Thank you!
I thank very much CL that I could see the wonderful material on the light in photography, in fact everything became clearer, Don you are the great teacher, great stuff, very interesting and fantastic lecture, very helpful ! Thank you one more time !!!