Lighting Essentials Workshop
Student Shoot: Ian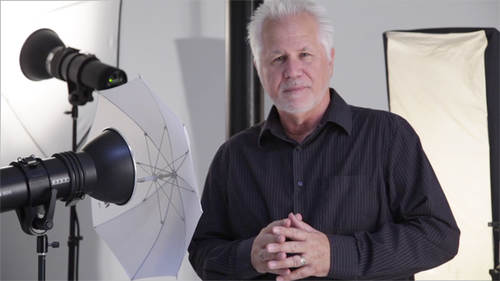 Lighting Essentials Workshop
Student Shoot: Ian
Lesson Info
Student Shoot: Ian
in see if I can't get clear here of the chords and ian who were you shooting with natalie I'm hoping I'm not getting your name wrong now that I'm on camera fantastic definitely in blue you know you sniped my idea I talked to her about a high key shot and you saw immediately it looking at her that that was just such a wonderful shot and I'm going to try something a little bit different I'm gonna try to go for a little bit of color and so the idea is to joel the background okay they've got it flied off from the soft box so that we can get a little color in the background as opposed to the white wall with the tux shirt and the white wall without any texas okay andi wanting to go for something that's just really really saw her eyes were just absolutely lovely but also I'm starting off with a fifty so I'm thinking a full body shot you know dealing with this in post but I'm trying to get something a little bit okay longer okay that's all right yeah let's get this court out of the way here on...
the floor um the er have you tested your blue background you have not tested any all right let's turn this one off okay see what we can get with the blue without this okay first we want when we're working with any kind of gels any kind of modified light like this we must know what that light's going to do first this light we know all about we know how to control this we can flag it weaken grit it we can do all kinds of we've got to find out what's going on back there first to see if it's gonna work can you're gonna need a l paquito wizard oh yeah channel seventeen try to get a shot on channel seventeen it's amazing we reserved channel seventeen really for our most special models you could pull that cord off for the pocket wizard give it to me all right thank you so just testing the background yeah let's see what because what we want to do is find that blue first was just like finding the ambien first we're gonna find the blue exposure so it turned all the way down uh it could go down a little more let's take it down a little more we're getting a little bit of a hot spot there on it leave the same exposure you have okay let's try to get so I'm at eight okay I take that back on the line why did you choose nine for a reason I started off with it because I wanted teo get some depth of field just to make sure that it was blowing out the back not that there's texture there and see this okay much bluer that's nice you got a nice little sort of ah halo thing from one side take a look upon that we could go down on you let's go out and personally I don't like you I mean what do you think I like it and it's not just blew right right and what you were talking about yesterday with having the background kind of graduated on more depth more depth and this the soft box should give that that juxtaposition of values so if it comes on soft and if it's natural light and warm it'll bring up the skin tones and my at least that's what exactly so our next our next problem our next challenge is to get this this from not contaminating the back right right that's just engineering it's not magic it's not science all it is science it's not magic it's not photography anymore it's just engineering we've got to engineer a way to get this light on her thought contaminating the back what is your way feelings let's make sure man flash I just want to shoot you not on auto flash place that we're good all right so if we take her where she is right now and walk her one step forward we already know that this light's not contaminating the back okay have we meet her dislike you haven't okay you started looking for my meter and it's hanging here sound guys were probably wanted to strangle me about now aren't they he's got that meter on all right you've got a smile just lights up the room excellent way moved her in front of that flight we already fortuitously saw that the flag is keeping the light off the back good pop the flesh from your leader from the red carpet was and five six point six just under eight and you shooting at eight I'm shooting at nine way could bring this up um I can double it for you bring the clicks up it's gonna click up the background got it I'll bring it in just so you double this power I'm going to okay back it up a little bit right yep let's try that try it right about here it's getting another meter reading and that's still within twice the diameter so we're still yes you still have a nice soft box feel to it life six three really let's bring it in one more for four point seven so we want to come to nine so we want to bring you bring it in bring it in come we were at eight before I pulled it back and we went less what to us all right we want less because of that even even yeah I convey I don't let's go tonight let's take it and still saying it even all right that is absolutely lovely here right about their wish I could I could take credit for killing that you've got a good eye trying to date all right try today because I'm afraid if we try to get it anymore we are going to contaminate your field today no really pretty this that's really pretty however to get your falling shot your your card's going to be in the shot flag that off okay so I'm thinking you need to change your have stopped from eight to five six can we go you can go down on that anymore can we yeah I can go down on the front of blow on the blue blue is yes you can go down on the blue walls go all way down on the blue light just try to five point six let's back this up so he could go to five six and get that cart out of the picture and ian yes your point of view here is getting a lot of floor so it's john dropped down and that should also um it has the effect of making your longer she's gonna raise up yes when you're with a few out of fifty I'm on a fifty right yeah you change that up if we have time kids okay sorry loathe yeah I can see what we're gonna do we're gonna have to just that background light and you know what and yes look at the shot here you have a lot in this picture that we don't need right so much space around the top right so if you come in and so you make the composition is tight as you can make it then you're probably going to lose that card on the right okay and you're gonna lose all that space at the top and that little bit of flair over there so I don't come in and frame her as tight as you can make her you don't want it where she's touching the top you want some space but this's where in the studio you want to have one of those mechanic things that you could like roll around on the mechanics creeper yeah well you want to have one of those anyway I mean you know seriously and can you turn just a little bit more towards for light your eyes more total light okay yeah you can really see what your fifties doing link thing wise there you go muchmore while muchmore interesting john let's take that blue sea the the highlight let's put the highlight behind her head is this where you're gonna shot that sounds great and guy right here I'm losing that angle okay now watch through your camera so you can tell him where to put that highlight I really like that I'd like to try that pose one more time if we could get that white right and then we'll try something different uh uh absolutely lovely I'm moving this back a little bit so it's not in your show yeah howdy is awesome I think that that's great if you bring that I would like to try that wow there you go wow there you go what do you think that's beautiful that's absolutely beautiful I want to try to get in a little bit tighter I like this but I want to go for another looks I'm just gonna come before you do that let's talk about your image okay first of all you have this lovely creature here and you say wow I love that okay are you that the only shot you're going to do of that shot that you love well I'd seen her leaning forward on her front foot in the last shot and I think you should take about ten or fifteen ten or fifteen oh absolutely that's frying beautiful girl standing here you've got to get some because she's going to do something that you would have missed if you'd stop now that's my experiences market this is this bring it bring your arm up and watch the light the light through the fabric just bring it up slow boom keep going up keep going up look at that some saying number take one take a bunch and once it's up it loses itself itself so yet there you up again we'll hire please and john only way having a beautiful profile let's put a little soda with a great we're gonna split light hurt just with a hard hard like confessed that's wonderful when you're assisting for a photographer and the flash dozen fire you want to say no fire too fast assumption bless them know that the flash didn't fire they don't they shouldn't have to ask you turn this put out that's good directly at me would be great right iced tea please asymmetrical so back hand raised up we're going to get a we'll try and hang for second yeah I think while you were moving her she moved forward a little bit ok when you come back to touch my hand right there right there okay I'll get you a little more around the front get just a little bit lower come in how about a great big smile for me I think we look off camera real quick on eyes back to me that she's looking away from the light it now turn your head towards the light you go beautiful okay now look at your shop you have very lits side in a very dark side and you've got that wonderful glow back there right yes what if we made it look like that glow was actually lighting her up and separated her a little more from that dark side would be great so it's not just take the angle no we're going to take one more head here okay and we're going to put it back here hard light okay back here far enough back that we're just going to put a little ej dax I see so we're going to go dark light dark light right across her excellent excellent you could take it down that'd be wonderful yugo I love the variation this's where I'm a little bit off I need to be be surrounded by people is telling it is you this is such a treat yeah my goodness like uh we're gonna put it right back they're coming this way by the blue who would not want to be surrounded by people like her for whatever just reasons aren't even important no argument for me all right we're going toe defuse this a little bit let's get it back so it's not bleeding on that wall at all and we'll bring it really in tight here was this on low this is half of that wine expert okay all right let's see what this looks like it might be just a tad too much pull it back a little bit oh no it's not too much works just fine does that's wonderful see how that is a second a little bit more dimension to it we've got some nice highlight back on her leg on her arm you still have a dark area watch her don't let this happen here what's going on oh okay she's turned a little bit yeah that see if we can fix that over here john what will do is bring that forward about a foot alright write up about that no I'm towards me yeah right about there and notice how close I'm putting it I'm not trying to create a light source but I'll tell you what you want if you want to see it I'll do both very good both okay well I'm keeping it I wanted to make it quick diffuser shot one I'm right here okay now you can see the difference between the two okay I think we're good yes here we go we're going to see that if you shot next yeah look at that yeah diffused the diffuser against the head creates a kind of a striking edge when I brought it close tour what did I do increase the size of a light sources and when I crease the light size of light source it really affects the shadows in her cheek to here yes but we end up her face is beautifully softly lit because we have a very smooth transition from true value to shado way have a faster one on this side and a slower went on this I love what that's done to so it becomes really deliberate that's gorgeous alright can I'm wait a minute you got a couple shots I've got a couple shots I just want to be able to switch out for an eighty five year old quickly get all right thank you so much it's okay we will just roll with it but I want to get do you want a little bit closer diffuser in closer do you want it from what the diffuser in close okay now I hope that the folks on the internet are watching and seeing what a difference of three feet made on that shot of the diffuser yeah we're just going to be going directed the camera it's just I would kill myself I would regret it for him I didn't get this shot we're pulling up some head shots here and maybe bring your head over torching zac's off a little bit that's wonderful uh there we go yeah I'm wanting to see cem air again yes please all right all right move the hair around a little bit just like you always grab a piece of foam core something like this I don't like to use fans because it dries them out okay we good some pretty shots were happiness we did
Class Description
Learn how to light in any situation. This special 3-day workshop will introduce you to lighting by learning the basics. Don helps you start evaluating light from a subject centric approach — teaching you to identify how your light will react to your subject. Don Giannatti's workshop is perfect for photographers working to find their vision and their own perspective. You'll learn to use this knowledge of light to create perfect photographs. This workshop is a non-stop, hands-on weekend.
Reviews
I just finished watching this course, and with teary eyes can say, without reserve, this class has been fantastic! Don's last session would be great to watch in the beginning and the end because it helps to understand his thoughts on being a photographer. The rest of the class is full of great information on lighting and Don is able to explain his thoughts and his processes with ease. I hope I will always think ahead and plan how I want my final results and how I want my subject to reflect light. Learning this was one of my "aha" moments during this class. I own over 30 Creative Live photography courses and this class is one of the top classes I own. I already plan on rewatching the whole class. Well worth the investment! I feel it is not a beginner course, but a intermediate to advanced one. Don has set a high standard in lighting...a goal to reach for...a goal that is possible for each person willing to take the time to learn and practice. Thanks Don and thanks CreativeLive!
I am so glad I took this course. I'll be honest, it took a few lessons for me to warm up to this series but I'm glad I stuck with it. I have had a couple cheap speedlights, softboxes/umbrellas, and reflectors for many months now and was too intimidated to start using them. After going through this I am not only downright excited to use them, and confident that I can have spectacular outcomes, I'm also confident about shooting in natural light indoors and outdoors. It's also given me the tools and confidence to start shooting in manual vs aperture priority and to nail the general calculations in my head. I appreciate that Don used mostly budget or unorthodox equipment like speedlights, foam core, work lights, curtains, etc. because that's what I can afford and have been using to try to replicate expensive gear. Other classes use thousands of dollars in lighting and Don proves you don't need that for excellent shots. I also appreciate his advice for directing your "models" and insights into his overall process. This class was invaluable to me as a novice. Thank you!
I thank very much CL that I could see the wonderful material on the light in photography, in fact everything became clearer, Don you are the great teacher, great stuff, very interesting and fantastic lecture, very helpful ! Thank you one more time !!!