Composition Critique of Student Images
Scott Robert Lim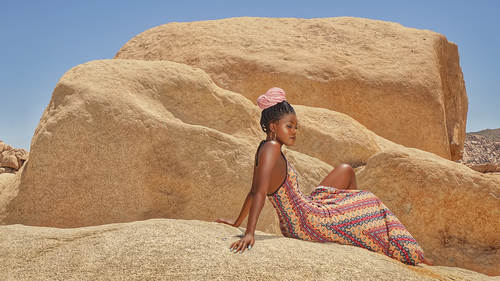 Composition Critique of Student Images
Scott Robert Lim
Lesson Info
9. Composition Critique of Student Images
Lesson Info
Composition Critique of Student Images
Composition critique So here is some of your imagery and let's take a look at it and you see those shapes and see how well they are doing it or if we can kinda help these people, let's just run through it really quick, okay? So here's our first image and I like it, right? Don't you see the couple pop off right away They've got some foreground of the water reflection and then you've got a space right there that's perfect, it's like on a third of the frame there which is really nice, I love it, okay? So great image, okay? This image, I see what they are trying to do with the mood actually, the light is there right? I think the background there is a bit distracting still, even though it's blurred out. I think if this person actually posed the subject a little bit differently instead of if they were down or up because the lighting is there, right? It's just, I feel like the posing can be improved a little bit there and that will make it and then the background is a little bit distracting f...
ix those elements and I think you've got the makings of a good shot still, but gotta work with it. Here, they've got a lot going on, right? It definitely catches your eye with all the detail and everything but then you are trying to look for the subject here because that subject is not in a clean spot. So this little guy right here, actually it's out of focus a bit too, so they are focusing on that but this is the main subject and that became out of focus if let's say this little area was all red, then it would pop off a little bit more. But I would try to make that subject a little bit bigger and put it in a clean area and that would execute it a little bit better. Next shot, beautiful gal here, I love that rim lighting in the light on her, actually but, I think this can be improved because there's some distracting elements in the background, Right? She just doesn't snap clean back there so either go more shallow depth to feel, to blur that out or put her in a position where it's a cleaner spot where she is. Here's a good composition, you see a nice leading line here. I think though it could be cropped a little bit more because I think they've got two ideas here going, You've got the road coming in but then you also have these elements here and you are trying to kind of get both but I think it would be stronger if we just focused on the road and we kind of cropped it in this area here so you just focus on that road there and that's a perfect spot if you had a subject too, could pose them right there that would look really nice. Here's another photo, I love the mood here, And you can see they are trying to use that framing there and almost actually the trees look like a heart there, but all, everything is down here, okay? So, really we would, see how this is competing here, If that head was right here, this would be a lot stronger and maybe even if you cropped it, you can in Photoshop change these things and arrange them where the information is a little bit more around here and their head was a little bit higher, that would be even stronger. So, it's got a good idea, it just needs this head needs to be more in that clean spot right there. This photo too, I love the toning of it, has a nice feel to it, actually I think there is some sharpness issues here because this looks sharper than her face here, but as you can see we have a distracting element right through the head. Where would you put the subject after looking at that clearly, it's right here, right? So if we take the subject and put her in that clean spot, that would be better, or we position ourselves so her head is maybe here and we shift the entire frame up where her head is over here, possibly where there's a larger spot then that would work for you but that line through there is very distracting and so you have to find her a little bit cleaner spot. And this shot, wow, this has excellent potential with it right? It's a landscape shot, there's more but I like the lighting to pop them off. I actually feel that this is unwanted space here, so if we had this shot and it was cropped like this, I think it would be much stronger and you would still get the feel of everything, But in this case I feel that this is just dead area there and you crop that out, I think it would be a really powerful photo, I know how they are trying to think of it more of a symmetrical feel to it, but when you do a dead center, I feel that there has to be strong elements on each side and this element is nice, this element is distracting, so just get rid of that. But that's excellent image but thank you for those critics, submitting those photos, that was great and I'm sure people at home learned a lot with that.
Class Materials
Alien Skin Software Discount Code
Ratings and Reviews
This course is amazing! Scott is extremely straightforward. He goes directly to practical problems, tips and etc. He explains every thing very clearly, and he is also very funny and charismatic, making you laugh as you learn. He shows that you don't need a lot of expensive gear to make very nice pictures. So I have saved some money as well, cause I was about to buy some gear that I wouldn't need right now. It is for sure one of the best photography courses I have ever attended to! I highly recommend! Thanks a lot Scott! You are the best!
I have purchased a number of classes, this being one of them. The quality of the information was good and the level at which Scott spoke was appropriate for me. Having a course sylibus would add greatly to the value, which usually is not part of the programs I've purchased including this one, unless I've missed it. I believe the speaker should be required to provide one. After watching the videos, much of material can be recaptured by seeing it in writing. I would like to hear back from Creativelive their thoughts. In sum, good topic, good speaker, good technical audio and video quality by Creativelive
Another fantastic class with Scott Robert Lim! The combination of his knowledge, willingness to share, passion & entertaining personality makes him a top choice for photography education. Learning not only the "what", but the "why" & "how" can transform one's entire approach towards MAKING pictures. A constant inspiration to get better & better through practice.
Student Work