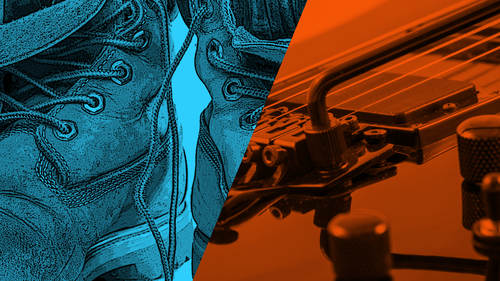 Lesson Info
Hoops
Okay, so there's one more contributing, or two more contributing factors to the drum characteristic sounds, besides the three major ones. These are where it starts to get a little bit more subtle in what they do. So the hoop's better on the drum, have a sound as well. Timber provides on these drums die cast hoops for their toms, their tom-toms. Die cast hoops are very rigid and sturdy, so the characteristics for die cast hoop, they're easier to tune. They hold the head a little bit more evenly, 'cause even as you're tuning this drum, right, this lug over here, it's also pulling the whole side of the drum down. So it's a little bit easier to tune and refine. Sound-wise, die cast hoops, they're heavier and they actually kind of focus the tone a little bit more, which is good in our case. We're looking for every little thing that we can to help refine and focus the tone of the drum and to get that punchy quality. The other type of hoop that is commonly found is a triple flange hoop, which...
is, probably, most people see this all the time on almost all the drums. The triple flange hoop is not as rigid as the die cast. So it's a little bit more finicky when it comes to tuning, because as you're tuning this one, yes it's pulling over here, but it also has a little bit more flex. So the tuning becomes a little bit more not challenging. Just a little bit more finicky with these hoops. The characteristics, sound-wise of these hoops is a little bit more open. It has a little bit more, I guess open is the only way to describe it. It's not focusing the overtones. It's actually letting all the overtones happen on the drum, which often times on snare drums when you see this type of hoop, you'll hear a lot more overtones than you would if the same drum had die cast hoops on it. It provides not as much of the crack side on a snare drum as a die cast hoop would. A die cast hoop has a little bit more rim shot crack to it. But these all contribute to the sound of the drum itself.
Class Materials
Eyal Levi Bootcamp Bonuses
Ratings and Reviews
I'm on lesson 19! Already worth every dollar!!! Priceless insight! I have already incorporated some of the ideas (preproduction common sense stuff that I never thought of, but damn). VERY HAPPY with this course! ALWAYS LEARNING and looking forward to the next 50 (or whatever) lessons!!! Excellent course! GREAT PRODUCER/ENGINEER, GREAT DRUM TECH, and GREAT BAND!!!! THANK YOU!!!!!!!!
I'm just part way though and I'm blown away by the quality approach Eyal takes to getting the best out of the sessions. I love how well everything is explained and Eyals calm manner is just awesome it really makes you want to listen to the gems of wisdom he offers.
Wow is all I can say. This bootcamp goes in so much depth from tuning drums, setting up guitars, to recording and mixing. I have learned so much by participating in this bootcamp. It has taught me some new recording techniques and signal routing for my mixes. I just want to thank Eyal, Monuments, and Creative Live for taking the time to do this. It has been amazing and I will keep going back to these videos.
Student Work