Intro and the Tone Pie
Eyal Levi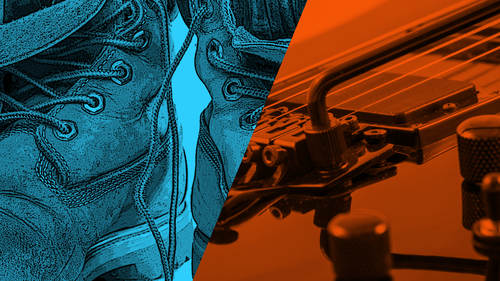 Intro and the Tone Pie
Eyal Levi
Lesson Info
8. Intro and the Tone Pie
Lesson Info
Intro and the Tone Pie
Welcome to day two of the metal recording boot camp. As you can see are not at CreativeLive Studios anymore. We're actually at Clear Lake Audio in LA. This is where we're actually gonna be doing the deed, and right next to me is Matt Brown. He's going to be drum-teching this session. He's actually a phenomenal drum tech. Anything that you've heard me do in the past two years, or that's come out of Audio Hammer Studios in the past two years, this guy is, in a big way, responsible for the drum tones. Also happens to be a great drummer and a great engineer, so bringing that knowledge to the table really really helps. So if I don't know an engineering trick, he definitely knows it. He's also done a lot of other stuff on his own that's pretty noteworthy. You can see it in the slide right here. So, yeah, if you ever need a great drum tech, hire this guy. So anyways, today what we're gonna be going through, is we're gonna get a lay of the land of the studio because this is a new place for me.
I've never been here before, except for yesterday when we did some set up. We're gonna take a look at the gear, what we have available, what works, what doesn't work, mic selection, all that, drum selection. We're just gonna see what's going on. And then, once we're done with that, we're gonna get straight to actually working on drums. We're gonna go through drum selection, head selection, tuning, sticks, all of the above, getting some basic tones, taking samples. From that point on, if we have time today, we'll get on to cymbals and getting the rest of a badass drum sound. Anybody that's watched CreativeLive before, watched my old drum class, or watched the Andrew Wade guitar class, which is actually really, really good, that was about the tone pie, and the idea there, is that it takes multiple things, multiple elements put together to get any one sound. So, you're trying to get a really, really good drum sound. It's not just the microphone you choose, or the preamp. Actually, I'd say it's 50% drummer right? Yeah, you know, the saying is the sound is in the hands, and that's really true of the drummer, moreso than almost any other instrument. But, that alone is not gonna do it. If you're in a-- No. Terrible room, terrible gear, terrible drums, terrible heads Yeah. All that. Doesn't matter how good the, there are some great drummers that can make everything sound good, but for this kind of context you have to have everything working together. For sure. Yeah, so we're gonna show exactly how that all works together. Luckily we have Anup Sastry here, the drummer for Monuments, and who is just a beast of a drummer. So we have the drum side of it, the drummer side of it, well taken care of. So from here on out, if we get bad drum sound, we know that it's on our end, which is always a really good thing because there's plenty of times where we've been working together, where we'll be miking up a drum kit and we know we're doing everything right, but it just doesn't sound that good. Yeah. And it's the drummer. I'll have him go in and play and hit something, and it sounds amazing. Then you have the drummer come in and play it, and it doesn't sound that good, so you know the drummer is messing it up. In this case, we have the luxury of knowing the drummer's not gonna mess it up. (laughing) Right, exactly. So if there's any engineering problems, it's gonna be on our end. But yeah, we're gonna go through the importance of the actual drums, the heads, the sticks, the mics, the pre's, and the room. And then also gonna get into the actual construction of the drum. Yeah. Like the wood types, bearing edge, and all that. So I think before anything else, we kinda need to define the goals for the session. One thing that we always do is we talk about how we want the actual drums to sound. Yeah. Yeah, I think that because Monuments is a really, really heavy band, downtune stuff, but also very, very busy, we need to take into account that the drums need to cut through giant wall of guitars. But they also need to be very, very articulate, because Anup does a lot of ghost notes, a lot of little articulations. So we need something that's gonna be very clear and punchy, but also huge. Right. So that's kind of what we're going for. Yeah.
Class Materials
Eyal Levi Bootcamp Bonuses
Ratings and Reviews
I'm on lesson 19! Already worth every dollar!!! Priceless insight! I have already incorporated some of the ideas (preproduction common sense stuff that I never thought of, but damn). VERY HAPPY with this course! ALWAYS LEARNING and looking forward to the next 50 (or whatever) lessons!!! Excellent course! GREAT PRODUCER/ENGINEER, GREAT DRUM TECH, and GREAT BAND!!!! THANK YOU!!!!!!!!
I'm just part way though and I'm blown away by the quality approach Eyal takes to getting the best out of the sessions. I love how well everything is explained and Eyals calm manner is just awesome it really makes you want to listen to the gems of wisdom he offers.
Wow is all I can say. This bootcamp goes in so much depth from tuning drums, setting up guitars, to recording and mixing. I have learned so much by participating in this bootcamp. It has taught me some new recording techniques and signal routing for my mixes. I just want to thank Eyal, Monuments, and Creative Live for taking the time to do this. It has been amazing and I will keep going back to these videos.
Student Work