Who is Going to Illustrate Your Story Best
Tania Ketenjian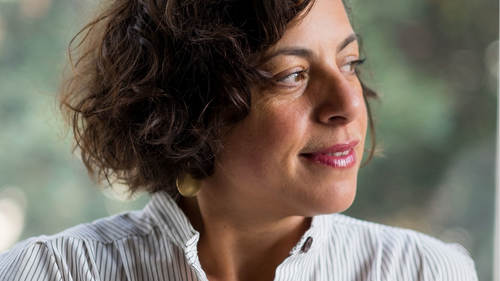 Who is Going to Illustrate Your Story Best
Tania Ketenjian
Lesson Info
4. Who is Going to Illustrate Your Story Best
Lesson Info
Who is Going to Illustrate Your Story Best
Who's gonna illustrate your story best? So usually when we think of an interview, we think of two people, and we'll be talking about that dynamic between one and two. But also, podcasters, radio people, people creating works in audio are storytellers. And who, when you're thinking of a story that you want to create, who is going to illustrate your story best? Taking, for example, Prisoner of the Heart. As I had said earlier, Doug could've thought, well, maybe I'll interview some of the guards at the museum, (laughs) at the museum. At the jail. Maybe I'll interview other ancillary people that have to do with this story. But instead he focused on the two main characters, because they were strong enough. So the two main characters in that case were the mother and the daughter. But because this is audio, you also wanna kind of think about who has a great and interesting voice. You're gonna be listening to this person. And Ray spoke really well about getting a great recording of that person...
. But you're gonna be listening to this person for a little while. So who has a great voice? Who has a really intriguing voice? There's a great piece called the Sunshine Motel from Sound Portraits that I'd love for you to check out, and there are some fantastic voices in there. I was gonna excerpt one of them and then I got all nervous about rights. (laughs) But... But I want to play you something that actually we, we're creating, we took a pay phone in Sausalito, which is a waterfront town across the street, across the bridge from San Francisco, and we've turned it into a magazine. So each button, every time you press a button, it has a different story or soundscape or, you know, or a recipe or tales from this place that is a pretty iconic place. You know, Fleetwood Mac, Led Zepplin, the whole '60s movement really came, late '60s, early '70s music and sort of counter-culture movement went there, and there are people living on houseboats, and they've lived there for many years. And there's this great woman named Harriet who, well, you'll hear her story. She's, but the reason I'm pointing this out is not necessarily for her story. It's the quality of her voice. When I got outta Brooklyn College, it was June of '67. I had just turned and I was already done. What happened was my parents gave me a gift to come out for the summer. So I originally got here, Summer of Love, 1967. My brother, you know, he was in the village in the '60s going to NYU, and he said to me, (imitates deep voice) sister, you should go to Sausalito. And that was, like, my whole life changed. And, you know, it was crazy, because I had no intention of moving here, of anything, but the minute I, I'll tell you what did it. I swear to you, when you go over the Golden Gate Bridge, when you go over that bridge and you see those green hills and you see that tunnel, I said to myself, oh my God. It was magic. It was just like being home. And look, I come from brick. I'm not, like, a nature person at all. So it's ironic and crazy that this means so much to me, this view. I mean, she's just such a great, (imitates raspy voice) my name is Harriet. (audience laughs) I'm from New York. I've never lost my accent. I just love her. And she's also, you know, you can hear in her voice that she, I mean, this, I met with her a couple weeks ago 'cause after starting this project with Chibo and this phone booth, yeah, this pay phone, Harriet realized that she has so many stories to tell. And so when I met with her, she was wearing, you know, a rainbow shirt, rainbow skirt, rainbow purse. She hasn't lost her accent. You know, so you can tell that that's what she might potentially look like based on her, based on her voice and her excitement. You wanna get some, you wanna have, you know, it's great to have someone with a great voice 'cause they add a, you know, completely different dynamic to the story and to the interview. When you're thinking of who's gonna illustrate your story best, there are the main characters, and then who are the people that you hadn't thought of? Who are the people that are gonna give you details that you might not otherwise get? So the friend of a main character or the person that works the local coffee shop that sees them every day, or the, all the seemingly ancillary stuff that seems like you should, you can just completely put it aside, actually is the fruit and depth of a great story. And then what are the unexpected angles? So back to Prisoner of the Heart, there's a great podcast called Ear Hustle, which is out of San Quentin. I don't know if you saw Julie Shapiro. I was just emailing with her and saying that she's known around here as the goddess of audio, which is true. She's incredible. And she started Ear Hustle, and it's very interesting to see the angles that they choose to tell a great story. So they did a piece on your cell mate and how that shapes your experience there, and they've, you know, they do some great pieces around certain angles. They illustrate how you can have an interesting angle to a story that you didn't expect. So what are the unexpected angles, and then that's, and the one thing I wanna leave you here that's not on this is throughout all that you do, throughout every interview, every story, every email, it's you. It's you. This is your story in the sense that you're bringing your specialness to it. You're bringing your character, your interest, and no one else has that, you know, because it's unique to who you are. So trust in that. Trust that, you know, just by virtue of you being here today and being interested in storytelling and radio and podcasting, you're already bringing something special to the table. So just a little reminder.
Ratings and Reviews
I've just started a podcast - Beyond the mountains podcast. I am really enjoying the process. This is a great class for anyone who wants to become a better interviewer. I am 6 episodes in and I am learning that the magic starts about 15mins into the interview. Now I am trying to be an active listener and just have the courage to go off script and see where the conversation goes. This is a good class for any podcasters and interviewers.
What a great class! The instructor is wonderful to listen to and her samples of interviews are excellent. Definitely recommended.
I loved Tania's passion. I was curious to take a class about the Art of the Interview. I'm glad this class exists. This course is the perfect companion to my copy of Lawrence Grobel's The Art of the Interview.
Student Work