Think Bigger, Make More
Jason W Womack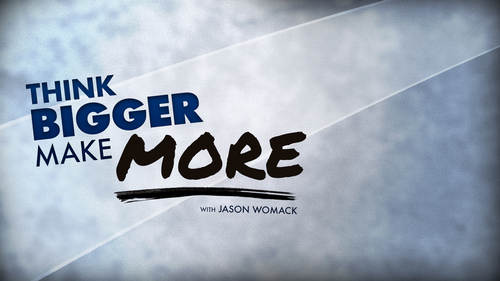 Think Bigger, Make More
Jason W Womack
Class Description
Are you ready to stop wasting time and do more of what you love? In this workshop, Jason Womack will teach you how to be YOU, more.
Jason will cover the basic principles of human performance, share insights from positive organizational psychology, and reveal tips from his book, Your Best Just Got Better. You'll learn the mindset for success, how to gain more customers, and how to be braver on a daily basis.
By the end of this workshop, you'll be equipped with the tools to impress your clients, get more referrals, increase sales and get more work done — without draining your energy, time, or happiness.
Class Materials
Your Best Just Got Better - Chapter 1.pdf
7 Keys to a More Productive Day.pdf
Ratings and Reviews
As a staunchly creative person, I have never been that interested in many of the business-minded productivity books, blogs and websites out there. I find them too dry and too focused on doing less and making more (money). I am at a point in my life where I want to do more and hopefully make some money doing it. But the "more" is the most important element. Jason Womack is the first person to help me encapsulate and identify just what "more" means to me. I have always been great at envisioning the big picture and I'm constantly daydreaming about my Ideal Day, but I get hung up on the details of how to get there. For me, the envisioning and organizing myself in a way to make it happen, seem like utilizing two sides of my brain and I find it nearly impossible to make the two halves work together. A stalemate ensues, and once again, I'll find I've done nothing to advance my own cause. Jason's method of unpacking, and breaking things down into elements, each with its own set of exercises, is perfect for my type of mindset. Even though there are exercises to complete, they are part of an ongoing process of organization and behavior modification. There are no cookie cutter answers here, and last time I checked, life didn't work that way. The exercises are meant to be ongoing and fulfilling; teaching you why you do the things you do, as well as understanding the people around you. The methodology here can be applied to any business, including, and probably most importantly, the business of you, creative or otherwise. The workshop is, at times, an emotional experience, forcing you to really dig down to what matters and why. It reminds me of being a child, daydreaming about what I wanted to be when I grew up, never once thinking that anything would ever stand in my way. I feel the wall breaking down, and the two halves are talking. Thank you, Jason, for helping me get out of my own way.
If you want to make more time in your life and you want to create more of what you've been wanting -- whatever it is -- this course is for you. Jason has created some very doable tools, even for the non-habit-prone, ADD-minded, to help you prioritize, focus and get more of what you want (yes, by thinking bigger!) I attended the live program and have turned much of what I learned into habits, something I rarely do!
LOVED this presentation by Jason Womack. Inspiring, encouraging and achievable.
Student Work