General Wedding Q&A
Joe Buissink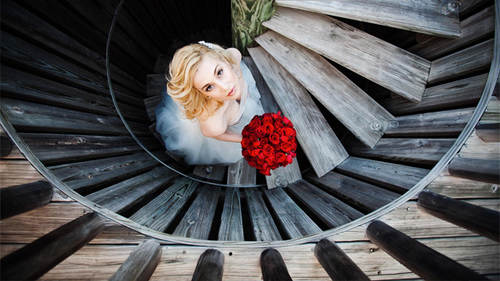 General Wedding Q&A
Joe Buissink
Lesson Info
15. General Wedding Q&A
Lesson Info
General Wedding Q&A
Okay, Joe, we did have some questions that came through up again about balancing light. So I'm just gonna ask another one so we could do a little recaptured for people that still have questions. Okay, Susan Kelly had asked, How big does the room have to be for bounce to no longer work? I'm thinking of a large, semi circular sanctuary with a high black ceiling. What would you do then? I'm never concerned about black ceilings. My bounces never off the ceiling. So and typical churches and large ones I work with in L. A. The cathedral's those ceilings go way up there. So I'm always looking for pillars that that's that's what I'm looking for. Wall and Pillar. That's what I'm looking for. Anything clearly, if it's a white pillar, the best for me and it could be just a small peril, or like this size right here. Um, I've never had an issue with bounds. I think what I've You know what? I'm gonna I'm gonna show it to you just now, but I have not had a church wide enough to where I couldn't bounc...
e off of the wall. So let's just say if that was at the other end, the ill. And that is my wall or pillar two bounds office. I'm gonna do that right now. I'm gonna show you how I do that. Okay? So in a second s Oh, yeah, there's no problem. That said, if there is absolutely no way that's all black or the pillars air dark, dark brown and the lights not gonna bounce your relegated to having that assistant I had bounce from the front flat lighting in the front. It's that, or you put on your, uh, Gary Fong diffuser stove and whatever you have and you shoot straight on, that's what you do. I mean, you don't have a choice sometimes. Thank you. Uh, and there are at least four or five of these similar questions coming up so we can talk about this now. Ive Ford says, Hi, Joe. Thanks so much for this workshop. What do you do if there's a wedding guest with a big fancy camera gear who is behaving like a hired photographer? Circling the church during the ceremony is always in your line of sight. Even wants to be at the close set parts of the day. Do you shut him down and how and people call them our Uncle Joe's. But we can say Uncle Bob, Bob, Uncle Bob's There is always Uncle Bob at every wedding. There's always one. They usually don't bother me and what I tend to do, they tend to really focus on the formals and kind of hover around like vultures. Um, So what I do is I set up the formals first, and I say, OK, Bob, grab that shot. And so I give Bob Harriet all of them the ability to shoot my formal first. You guys done OK. Now you need to stand down our turn. Okay, so you guys are done. Stand down. I mix it up. That's when I go do my thing. So, uh, there's a way to defuse it by allowing them just throw them together, Let him shoot it, have him sit down. That's great. Okay, a question from Pamela. Why not always just use video light? It seems easier. It of the video light if you have some light already isn't very effective at long distances. I try as much as possible not to be that intrusive into the moment or seen I'd rather documented with 72 200. So having said that, if you go to the reception hall and clearly it's darker, their video light works because it will travel a lot further in a darker area. But again, it's also a constant light. So, you know, you have to be aware of something that have you ever been to a wedding and you see the videographer and they have, like a team of three, and their lights are on constantly. You can't help but see that. So I minimize as much as I can, and I typically end up using the video light for first dance stuff from a distance. I'll stand back with my long lens and grant, and I'll show you that. Teoh this the fourth segment of today, um, and maybe cake cutting where it's already lit. The cake is already lit, so all I'm doing is adding some light. And instead of flash, which since I have a white cake, a white dress, it kind of like a no brainer. I'd rather use available light. They have a spot on the cake usually, and then if I have to add supplemental light, my assistant holds the video light and lies me wherever I wanted to be. And I shoot in P mode at that time and it's available. Uh, let's see a question from Aaron P from Eastern Washington. Do go behind the ceremony and an outdoor ceremony. Yes. Yep. Always, Um, usually they have it set up. I should a lot in Malibu, California, where it's outdoors, so I'm able to move around a little easier. The church. It's an altar. There's a wall. Um, you know, you really can't go back there and kind of hide behind the minister. It's just not cool. Doesn't work eso outside. It's usually if it's Jewish, it's a hope. Or there's an arbor of swords and I can always come from behind and shoot. And again, I'm always low. Come up, grab a couple shots and duck back out. Okay, we have a question from P. D. James, who says Joe spoke about doing things to keep him in the moment? Has there been a time when he made an adjustment to the equipment and missed an important shot because he forgot to change it back? Yeah, in the beginning, that's why. Don't change anything of my cameras anymore. That's why P Mode works for me. That's why Evaluative Meter works for me. I don't It's rare that I have to make an adjustment on here. I just don't touch my cameras at this point. Now I just have two buttons that I work with are rather two fingers, a dial in the front and a button in the back. And that's all I used to compensate an override. Nick Frieda has an interesting question. Have you ever had any equipment stolen at a wedding while you're busy getting shots or dealt with concerned where your equipment ISS? Um, I haven't but friends of mine have, uh, in L. A. There's been, you know, this was a year or two ago where there were It was a team of three people in tuxedos and tennis shoes that would kind of scour the area and in the ballroom, while this was a Jewish wedding where they do the hora, everybody's in the middle on the dance floor. Videographers, photographers, all the guests. Everything is empty, and if you leave on the periphery, your bags, they're gone. So I have an assistant that stands by my bags, and that's why that assistant is there. She doesn't leave when I'm on the dance for shooting the horror. And so is my primary shooter. She totally hugs that bag, has the cards in pocket. And even if she by chance has to go to the bathroom and she doesn't. But if she did have to leave that area in, the cameras get stolen. The cards will always be on her. Okay, I have Ah, you want Take a couple more questions. OK, Catherine de Photo asked. Do you always use your flash on the camera, or do you ever use a bracket to get up off the camera? It's now I used to use a bracket. I don't do it anymore because I'm typically bouncing this thing. It just stays on camera. And the default for this guy is usually right here so that if I do that, I can still move here. And I think I showed that yesterday. If you have it here and also you have to go this way, you're lighting the floor and it's not helpful. So usually my default is here. When I walk into the dance floor, I just shoot from this position so that if I had to do this and then tweak it somewhere I can stays on camera V cases. Has a question about your flashes. Well, how do you keep your flash firing so quickly for so long? Are using regular batteries or lower power setting on the flash? Well again, I'm using the dedicated battery packs that have eight Double A's in it for Double A's air in here Every time I come to a wedding, these air fresh set of batteries Botham. So there's 12. I'm shooting at 2.2 at the most 3.2, so it's a low f stop. So I'm asking my flash not to push a lot. It's never motor drive its single shot. And even though I go bang, bang, bang and that's fine, it'll keep up with that and then it stops. So I'm never in the motor drive situation where this thing is constantly having the push. Ah, and I used to use ah quantum battery pack for my flash. I've killed two of my flashes that way by just going too fast. Okay. You want to one more before you're in one more group, okay? And you may have answered this already, but I'm gonna ask it. Ask. Okay, Maui photo says. Does he use fill flash for outdoor weddings? Or is he is still in available light photographer, Even if the couple is backlit, like at a lake afternoon sunset wedding on the beach, I will use fill flash outside. I'm in California Beach wedding, sometimes midday. Harsh light, so I will flash. Fill it because you get sunken eyes, the shadows in the eye sockets. I will flash fill it if it's a portrait session and the light is really flat because it's it's, it's overcast and it's a bit dark. Let's say it's a winter ish wedding in California and I have a beautiful portrait session outside, but the flats just not like just not there. It's flat. I will pump it in, usually at 2/3 under the ambient light. So I will on my camera, not on my flash. I will go down minus 2/3 and flash Phil, I'm in p mode, by the way. Still so I will flash feel it, and it would just be a kiss of light. All it does is add some contrast and takes that little flatness away, or the darkness in the eyes away
Class Materials
Joe Buissink - Wedding Contract.doc
Joe Buissink - Wedding Contract.pdf
Joe Buissink - 2012 Packages.doc
Joe Buissink - 2012 Packages.pdf
Ratings and Reviews
Joe, This is a amazing course so much information. I am a wedding photographer that loves your ways. Your self and Dennis Reggie are my favorite photographers. This course is the best. Thank you for sharing all of your great information. God bless you for being such a great person hope some day to meet you so that I can thank you for everything. I look up to you every day and have also read your book wedding photography from the heart. Your a great inspiration to me which makes me love being a wedding photographer from the heart. Thanks again for everything you share. Carlos Zaldivar, New Jersey Carlos Zaldivar Photographers- www.carlos-zaldivar.com
I feel like this course with Joe Buissink is a basket of gems. Several times already I have been tearing up, because Joe is validating each one of us, as artists and professionals. Being ourselves, selling the experience, and knowing what we offer artistically IS enough. Of course we have to do the work, know our craft, and have good business sense...But what has been the most valueable to me is the sense of joy that happens when Joe says something that I have felt myself, him sharing so much with us makes reaching our goals real, because he has been there.... when he said he pitched in Dunkin Donuts and still made it an experience..I cried, I have done that myself. (And booked the client:) I remember wishing I had a studio at the time, but now I think..one day I will! To hear him say he tears up at clients weddings...I do that, and felt so silly, but now I feel proud! This is a morale boost...a shot of joy in my arm. Thank you Joe Buissink for offering up your help and advise and for being so willing to share yourself with us. You are inspiring so many...and Thank you CreativeLIVE!! To anyone who is not sure if they want to purchase this workshop...DO IT!!! It is a gem.
I always feel so grateful to have Creative Live in my life, which, in turn, has given me the opportunity to have this wonderful source of information, Joe is one of them, he made find myself as a person when it comes to dealing with yourself and with the client, he vibrates in every thing that he does, every step from beginning to the end, that is the essence, put your passion in everything you do, we love what we do, It was so touching when he said that he tears up with moments of their clients in their weddings, I do too and I thought it was wrong, show our sensitivity it only proves us that we are human, and we can break barriers created by wrong schemas letting us be who we really are and then we can be free to feel and create, and do what we like to do, thanks JOE, thank you also for all the technical information, is PRICELESS. Your course it was my Birthday present that I give to myself, and I have not regret, thank you.
Student Work