Student Shoot: Reception
Joe Buissink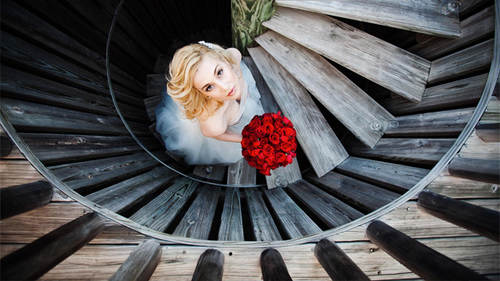 Student Shoot: Reception
Joe Buissink
Lesson Info
20. Student Shoot: Reception
Lesson Info
Student Shoot: Reception
So what she wants to do is photograph you first dance right in here like right underneath this light yet and I'm going because I'm gonna shoot from out there so the drapes are framing you okay nice now did you want to drop these curtains that what you were suggesting I think this was just just frame it yeah so you need to let me know if I'm out okay let me know when you're ready okay um okay I'm ready what's up okay so this is what I got no, I didn't get as much of the drapery and his it was a cool idea though, right yeah right so again what you need to watch out for and I know what you're trying to do it's really cool idea this is the composition right right you gotta watch your edges uh but but I like I did if you didn't have this right now try this first joe was simply gonna bury himself so go ahead and shoot them the way you wanted to shoot them. Okay, I hold I'm try taking a pee I am shooting champion awesome. We love that. So this is what I got because the s I just you know I cou...
ldn't I there's too much going on on decide to get that drink it's okay sorry it's busy it's trying to download sorry guys we're downloading were telling which lenses this twenty it's the tamron twenty eight to seventy five and it's too ate um well no no I mean what's the lows yeah, I think it's too late yeah, do it. Okay, so that's lovely. Yeah, but cia yeah yeah and so the point of what? Somebody the lighting this like relating the ideas when I was trying to point out is if this is the videographer shooting you from this from behind I'm always on the opposite end of it trying to block him out so I shoot from low on the other side so I block out his video camera while he's doing that he's always doing one of these things to me so I'm shooting from right there knocking him out of the corner but using hiss light in rim lighting situation okay? You're shooting from like, right here yeah, so I would I would get just that light just that little bit of rim light because this guy's now filming I want that expression but I wasn't over far enough to see her expression right now what I s so where you at five thousand didn't check that so that is that what gave me my shutters down? Well yeah, what you want to look at it? Yeah that's exactly right so if the shutter speed is too low, you're too low so you need to go higher than that if the shutter speeds right, because if np mode what's gonna happen is this it defaults to whatever the lighting scenario is and if it's too low the light it's going to go to two point eight all the way white open on your lens because it's gonna want to give you a ce much speed as it could so it drops you toe wide open and then if you're looking at a fortieth of a second and they're moving that's too slow okay right for available like right right? You're gonna get a blurry image, right? So you need to either jack up your eyes so don't go higher or you need to supplemented with flash at this point okay? Right. Okay and literally for me and the way that I should I do a lot of this I think that's the apelike right instead of the flash right right now also watch what I noticed about the images taken so far you see that curtain in the back? Uh increase is going right through his head it's for me it's going weighs just shutter speed put it in p isn't p mp but what I saw that there was at two. Fifty yeah, so what I have for thousands that's better okay, I got it because if you had this and now you use flash and you can right now if I were to be off of this thing go to manual leave it at say four thousand so right go to an eightieth of a second go to about three point five and fire away bouncing it behind you we hang me okay that's good that's good you're gonna nail that wall nice doesn't look like direct flash he bounced it back there you can also probably bounce it off the side if you wanted to create that little bit of lighting that I talked about is bouncing it you see this pillar here no good, right? Right. This is a really tough yeah this this room is being on tough yeah he's going now he's going cheap wait can't do that reception's not allowed now this is actually I want to work with like this is impossible because that it's hard to bounce off but that having said that you can pick up some pieces there that it will bounce off right that little bit of yellow wall so if you wanted to go let's say, do a horizontal shot and do a portrait of them as they're dancing like that right right so do it from right here but do that and do that so that you're not influencing the front of this thing doesn't turn all the way yeah, it does okay so way one forty five it's not on the air this I went to sleep yeah it's still influence from the front right? Yep, yeah and so you're still a four thousand lines up when you look through the camera right now what do you seeing it saying it for thousand I so as far as available light four thousand that's where you had it yeah it's all the way down my mind is too no it's but it's I think it's like to go under my ass tio okay? And so and you're at an eightieth, right and you're it three point two three point five okay, go to go to two point eight go wide open and at four thousand its influence it's too much forward that's why I'm saying even the slightest bit acted is gonna light them from the city going it's it's gotta bounce okay point tell me where you pointed I'm pointing right here okay nice to see that light talk yes. Okay. Anybody else want to try this? Ask me what? Down here we prefer the the frenzy light right? Is that why do you prefer just using the on camera flash up in ceremony location in and using the phrase down is just the lighting situations usually I have a lot more choice in here than in the church church is what it is it's wide usually these rooms are lit they have white everywhere a lot of my weddings have white innit? So it's easier to have my on camera flash here on that one camera dedicated to manual to do the first dance that bounce light then secondarily the long lens because I want to get intimate tight shots of them looking at each other sometimes I get a lot of their words she starts the weep and then hugs him and I have the hug while she buries her their face right there on his shoulder but I usually see her eyes a little bit records he's he's not as tall no, but let's say this with scenario you look you look at me, man what's wrong with you? No, but this is usually it right is I get a lot of these kind of shots are really sweet, so for available light long lands, you know that there are these air funny teo I'd be all over them right now shooting like crazy but that's what that long lenses for is kind of more intimate not being directly in their face with the wide angle and this particular I'm usually this close and so they know I'm there now when I back up and I have my seventy two, two hundred and it's at two hundred, I'm again dancing following with them or sometimes if I stuck because of these tables I wait for them to rotate completely around because that's what they do they always dance in a circle and so eventually and I want his face too I want him looking at her clicking getting it and then I want her expression as she's coming around in getting that and that's what the phrase eli and can you attach the phrase relate to a tripod as well so you could do you could have both on and yeah but you know what's brilliant I want a moving tripod that's my assistant so he just walks around he knows exactly where I need to have it be otherwise I'm like doing this thing where I'm like a big shot don't movement s so I I rather have because when I wanted to be I don't want to be that obvious so I want him to be able to shut that sucker down and walk away okay I got my shots as ok like me again do me from that side decay cutting can you do it from there just like what he did? He was brilliant at that he knew exactly what to do so you know he's a photographer right? Because he didn't like me like this I was going to say something but he went right overhead because he was avoiding that cake that was brilliant not only does he do that, but what does he do when he lights off the top? Don't you think about it for second if this is where he waas that's where their faces were what is he doing for me he's also partially hitting the white and having it bounce up get it it's subtle but it's there because I watch what happened to the top of the cake it got lip a little bit that white will reflect right back up in their faces and since they were looking down at cutting it up lights them that's why the image looked so beautiful I use that I don't know why you guys stuck in here but this is perfect for me you think that people would want to do it this way since the light is here I'm gonna have the bride and groom over there this is in all its glory fully lip I really don't want that's no character to it this contrary to popular belief this got shadow ally it's backlit it's actually the wrong place to put it no I like it you saw what the image look like I just need to add a little bit of light to the front to adjust for it and yet having her back lit like that with her hair her shoulders are lit it was beautiful and it was in p mode I had just one little help from over here that's it simple quick don't take a lot of time don't make it a production don't sit up tripods power packs lighting up you know it's funny because when I started and still it's done by some I will come to wedding sometimes I go to the beverly hills hotel in there's two weddings going on mine and someone else's and once they know I've got a peek who's in there I don't know I want to know so I might go in there and I'll see it doesn't matter who it was but there's been times where what's going on over there oh he's setting up and this is the guy he's got his tripods in every corner and he's got these heads that air pointing straight at the walls in the corner right there so he's got the ceiling and part of the wall it's over there on on either radio poppers they're on something and it's like maybe three corners that air covered right this room is beautifully lit this a white dance floor there uh initials are projected onto the dance floor the rest of the room is in candlelight with some very discreet pin spot lighting on the tables. The ambience is delicious. Okay, so here comes the guy he's got this all it up first dance happens and like god came down out of the heavens boom there shall be light because when he hits that thing the entire room lights up not granted you can see everybody and it's evenly lit well, it wasn't that that wasn't the point because now the candles have been drowned out by the overpowering light sources that were in the corners and is no longer the ambience that they spent thousands of dollars to get. So rather than doing that I come in with just a little bit of help and the fact that our cameras khun go so high and so all you need to do it to justice just jack up the ice so add a little bit of kiss of light to what you might want use back lining if that's what you're gonna do use the videographers light and just add tow what's already beautifully lit instead of just banging out and I'm not saying it's wrong it's just not my taste and shooting faa in the middle of the dance floor and seeing everything on earth underneath that lighting it just I think does the op is it of what the clients just sunk a lot of money in for that ambience? That romantic mood is no longer there and grant is only there for that flash but that flashes going off all night all night long I see that so if I have to with my guy with the little frizzy to go in the middle of the dance floor with me and light from the side or if I bounce my flash which I do in the middle of the dance room ah lot of my things have swag ng off the chandeliers you know these big, beautiful white swags. What brilliant, reflective material to bounce your light off of its. Absolutely amazing. So if you want to add a little light instead of all those in the corner with you two thousand watt power packs, um, why not just a little flash? Bounce it off of here? Just add a little bit of sidelining itt's, gorgeous.
Class Materials
Joe Buissink - Wedding Contract.doc
Joe Buissink - Wedding Contract.pdf
Joe Buissink - 2012 Packages.doc
Joe Buissink - 2012 Packages.pdf
Ratings and Reviews
Joe, This is a amazing course so much information. I am a wedding photographer that loves your ways. Your self and Dennis Reggie are my favorite photographers. This course is the best. Thank you for sharing all of your great information. God bless you for being such a great person hope some day to meet you so that I can thank you for everything. I look up to you every day and have also read your book wedding photography from the heart. Your a great inspiration to me which makes me love being a wedding photographer from the heart. Thanks again for everything you share. Carlos Zaldivar, New Jersey Carlos Zaldivar Photographers- www.carlos-zaldivar.com
I feel like this course with Joe Buissink is a basket of gems. Several times already I have been tearing up, because Joe is validating each one of us, as artists and professionals. Being ourselves, selling the experience, and knowing what we offer artistically IS enough. Of course we have to do the work, know our craft, and have good business sense...But what has been the most valueable to me is the sense of joy that happens when Joe says something that I have felt myself, him sharing so much with us makes reaching our goals real, because he has been there.... when he said he pitched in Dunkin Donuts and still made it an experience..I cried, I have done that myself. (And booked the client:) I remember wishing I had a studio at the time, but now I think..one day I will! To hear him say he tears up at clients weddings...I do that, and felt so silly, but now I feel proud! This is a morale boost...a shot of joy in my arm. Thank you Joe Buissink for offering up your help and advise and for being so willing to share yourself with us. You are inspiring so many...and Thank you CreativeLIVE!! To anyone who is not sure if they want to purchase this workshop...DO IT!!! It is a gem.
I always feel so grateful to have Creative Live in my life, which, in turn, has given me the opportunity to have this wonderful source of information, Joe is one of them, he made find myself as a person when it comes to dealing with yourself and with the client, he vibrates in every thing that he does, every step from beginning to the end, that is the essence, put your passion in everything you do, we love what we do, It was so touching when he said that he tears up with moments of their clients in their weddings, I do too and I thought it was wrong, show our sensitivity it only proves us that we are human, and we can break barriers created by wrong schemas letting us be who we really are and then we can be free to feel and create, and do what we like to do, thanks JOE, thank you also for all the technical information, is PRICELESS. Your course it was my Birthday present that I give to myself, and I have not regret, thank you.
Student Work