Why Should You Shoot Tethered?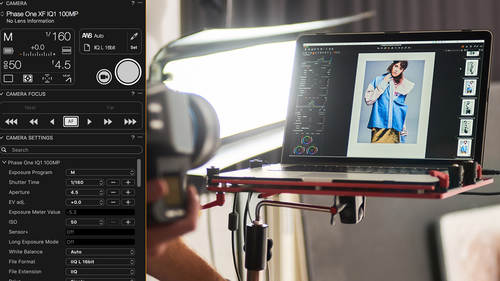 Get The Most Out of Your Photos with Capture One Pro 10
Lesson Info
Why Should You Shoot Tethered?
So why shoot tethered? Because obviously, you need to connect your camera, which we'll talk about in a minute. Is it just not easier to shoot to card, and then download to Capture One like we saw yesterday? So what's the benefit? For me, as a professional photographer, there are a lot of benefits, actually, to shooting tethered. Firstly, there's the collaborative energy that comes with that. For example, even early in my career, one of the first lessons I learned was surround yourself with the best crew. The best hair, the best makeup, the best styling, and it will raise the level of your work. And I've lived like that, I've made my living like that. With tethering now, that was back in the film days. So tethering now, it's almost been revelatory, in that it takes that collaboration to the next level. Because everybody can be looking through that camera with you, and really with you on that shot. And shape the shot. And help you create that work. Rather than, chimping around a ...
tiny little LCD display. Exactly. It takes that collaboration to the next level, and I rely on that. I want the makeup artist to be right there, and the hair stylist to be right there, and the stylist, who's doing the clothing, to be really on everything, and they can see what I'm seeing, and that's just so helpful. And 'cause we can shape how the shot is gonna look on the fly. The client gets, maybe not the final final result after retouch for example, but very close to what the final result's gonna be. My digital tech can, if there's a specific look that we're going for, or a specific recipe, as I'm shooting, they can apply that recipe. It's kind of like a little video village. Yes (chuckles). That you would find on a film set, where everybody can look, and see what the final image is going to be like. And then you know besides that, then you also have the security of shooting tethered. Where you can, instead of shooting just to a card, and having that one copy, you can download to a computer, you can go and back it up from there. I mean the security of it also brings a little bit more peace. Definitely.
Class Description
Imagine if you could capture, tether, adjust color gradient, and manage files in one program? Enter Capture One and, David Grover, a Capture One educator and expert. In this class, you'll learn how to maximize every shot. Here's what you'll learn: 
The interface and tools, so you can customize a workflow suited to your needs 
Techniques to grow a searchable and automated image catalog  
Ways to simplify your workflow so you can tether and adjust your RAW files WHILE you shoot 
Tips on using the color management tools to get that cinematic crisp look
With Capture One, manage your photos and edit all-in-one program for a simple streamlined process. 
Software Used: Capture One Pro 10, Adobe Lightroom CC 2015.4 - 2015.8